Preparation for Rebellion and Protection of Kingston
Written by
John C. Carter
posted on December 13, 2016 12:23
Patriot Chronicles Introduction:
They were trying times in Upper Canada. Between December 1837 and December 1838, one internal revolt, one uprising, and at least fourteen armed incursions from United States, made for serious disquiet, and were the focus for and subject of news in Upper Canada (see Appendix A for a chronology of these events). During this period, militia man John Mewburn Jr. of the Cobourg Rifles, explained an additional worrisome factor; "Early in the autumn [1837] all the regular troops had been sent down [by the Upper Canadian Lieutenant-Governor Sir Francis Bond Head] to Sir John Colborne (Lord Seaton), in the Lower Province [now Quebec], fighting at St. Denis, St. Charles and St. Eustache, to put down the French habitants."* Who would protect Upper Canada?
Background: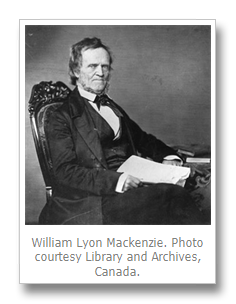 With the defeat of rebel forces in Toronto on December 7, 1837, the government of Upper Canada made efforts to put members of the militia under arms. In his Reminiscences, Galt resident James Young reflected upon this initiative and the associated challenges that were faced in Waterloo County and in other parts of Upper Canada; "This was no easy job, as the great majority of the yeomanry had little affection for the Government, whilst military duty was not attractive even to the most extreme loyalist." Certainly a vexing problem!
Soon after the occupation of Navy Island by William Lyon Mackenzie and his supporters, volunteers from Galt, Guelph and Fergus were sent to the Niagara Frontier to assist government forces. Twenty men from Galt participated on this front, the occasion being the first recorded instance of residents of Waterloo County actively involved on the loyalist side in the 1838 Upper Canadian Rebellion. Following the rebel evacuation of Navy Island on January 13, 1838, these militia men were released from duty, and the Galt volunteers returned home.
In other jurisdictions, to bolster loyalist attempts in efforts to put down these armed events, militia from several surrounding counties were called out. Men from the Huron District volunteered, and were sent to what is now Lambton County. There they valiantly defended against the four incursions that constituted the St. Clair Raids. They were joined by other local militia and Indian warriors from the Western District, to defeat Patriot forces in that part of the province (see Carter, "Hurons," and "Story," for details). At the subsequent invasion and then the Battle of Pelee Island, and with other incursions along the Detroit River, militia from Elgin County participated in actions intended to thwart the rebel threat (see Tomlinson, "Reminiscences," and Williamson, "Reminiscences," for details).** /p>
Thus it is evident that volunteers from other counties in Upper Canada engaged with their neighbours to defend against the 1838 Patriot incursions. Was this the situation early in 1838 in Frontenac County?*** What follows is a verbatim account of a meeting held in the Village of Waterloo [later re-named Cataraqui], Kingston Township, Frontenac County, on January 4, 1838. This meeting was first reported in the [Kingston] Chronicle & Gazette, and printed in that newspaper in its January 13, 1838 edition. It details an attempt to form a local militia in Kingston Township.
Report of the Meeting:
"At a meeting of the inhabitants of Waterloo and its vicinity, held at Mr. G. [George] Counter's Inn [Tavern] on Thursday, the 4th of January, 1838, [Dr.] Horace Yeomans, Esq. in the Chair and C.[Charles] Cumming, Secretary, - after the Chairman's stating the objects of the meeting, and addressing on the cited disturbances in the Province, the following resolutions were unanimously adopted:
Moved by the Secretary, and seconded by Allan McMichael,

Resolved, That on looking with serious attention on the personal posture of the political state of the Province, which, as sincere lovers of our Queen and Country we feel it our bounden duty to do, and perceiving with no small concern that traitors within, and a foreign country in the immediate vicinity are threatening to assail our rights as British subjects and as freemen, we have assembled to promulgate as a public body our unbiased sentiments on the posture in which our country now stands.

Moved by John Ovens, seconded by Dr. [F] Beamish,

Resolved, That as British subjects, we prize our privileges of freedom and liberty superior to those of the neighbouring states; and very much regret that our American neighbours should be so deceived by a few factious and designing men, whose restless and ambitious dispositions could not allow them quietude in a peaceable country, but from which their last experience is to flee, hoping to practice the same deceptions upon others that they have done upon a few of our otherwise respectable fellow subjects in this Province.

Moved by J. Ovens, seconded by Dr. Beamish,

Resolved, That much as we deprecate the interference of foreigners with our domestic concerns, we are fondly led to believe it is only the refuse of society, persons possessed of the same dispositions as their rebel leaders – full of rapine and plunder, regardless of every principle of honor and honesty, but ready to perform any act of violence in order to gratify the nefarious lust for power of their covetous masters.

Moved by Mr. Russell and seconded by Mr. [D] Dick,

Resolved, That it is with much satisfaction we have lately observed the Proclamation from the highest authority of the neighbouring state, prohibiting her citizens interfering with the concerns of this Province; conscious as we are, that if left to ourselves, every attempt to a revolution will prove futile and abortive – that as Canadian inhabitants, we are fully sensible of the blessings of our beloved institutions, and of the paternal and salutary influence of the Government that has so long protected us, and of which we were proud to say we constitute a part.

Moved by Mr. Fitch, and seconded by A. [Albert] McMichael,

Resolved, That the prompt and decided measures adopted by our worthy Governor, Sir F.B. Head, meet our entire approbation; and that we are ready at all times and at all moment's warning to obey any command from him to perform any duty that may be required for the service of our country.

Moved by [Dr.] F. Beamish, and seconded by D. Dick,

Resolved, That it is considered highly necessary by this meeting for the peace and protection of the inhabitants of this village and its neighborhood, that a Volunteer Company should be formed for the purpose of establishing a picket guard in this said village, such Company to consist of from 60 to 100 men, and that we, the undersigned, do volunteer our services for that purpose, or to perform such other duty as Lieut. Colonel [Thomas] Cubitt [,**** our Commander of the Royal Artillery at Kingston, may require.

After this resolution passed, some 50 or 60 persons immediately came forward and gave in their names, manifesting the utmost enthusiasm as true British subjects, and expressing their readiness to serve in the defence of their country. After giving three hearty cheers for the Queen, Sir F.B. Head, and for the loyal Volunteers of Upper Canada, the meeting broke up with the greatest good cheer and feeling."
Conclusion:
The calling out of the militia, as documented in these Waterloo meeting minutes, was not unusual. The first Militia Act was passed in the Upper Canadian Legislature in 1793. This system established by then Lieutenant-Governor Sir John Graves Simcoe, stayed pretty well intact into the 1830s. In an emergency, local militia would assemble and await a request from the commanding officer for volunteers. This appears to be what happened in the Village of Waterloo in Frontenac County, Upper Canada. The incorporated militia served on permanent duty for specific periods of enlistment. This occurred where a sustained effort was required to meet a threat. During this time, the militia members would receive full pay and could be moved about where needed. The sedentary militia (every able bodied man from 18 to 60), were embodied for shorter periods, served close to home, and were paid on a daily basis. In addition, both groups were provided with allowances for billeting and clothing, based on days of service. As 1837/38 was a time of economic downturn, many men enlisted for these inducements, as well as for patriotic reasons.
A list of "Independent Companies Established by December, 1838," was published in the Toronto Almanac and Royal Calendar of Upper Canada. For the Year 1838. It included the 1st Kingston Independent Company of Militia commanded by Captain C. Armstrong, the 2nd Kingston Independent Company of Militia led by Captain Robert Jackson, and the Kingston Independent Company headed by Captain ]Angus[ Cameron. On review of the wording found in the Waterloo meeting minutes, it is evident about the original intent of those in attendance wanting to form a militia. It is however not clear that what had started out at the meeting on January 4, 1838, seemingly as a positive and patriotic idea, ever came to fruition. It is probable that there was little interest locally in forming a bunch of separate companies, and as a result those interested in serving from Kingston Township were absorbed into existing militia units. The militias that were formed, would play a significant role guarding and protecting not only Kingston and Frontenac County, but in many other jurisdictions across Upper Canada. Through their efforts and later those of the regular army, Kingston and the rest of Upper Canada would be saved from the Patriot threat and foreign invasion during this border crisis!
Appendix A:
The 1838 Upper Canadian Rebellion: A Brief Chronology of Events and Incursions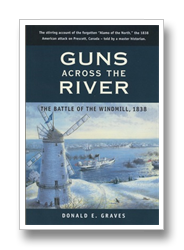 December 13, 1837 to January 4, 1838 – Niagara River - Navy Island/destruction of the Caroline
January 8/9, 1838 – Detroit River – Sugar Island, Bois Blanc Island, schooner Anne
February 22, 1838 – St. Lawrence River – Hickory Island
February 23 to 25, 1838 – Detroit River – Fighting Island
February 25 to March 3, 1838 – Lake Erie – invasion of and Battle of Pelee Island
May 29/30, 1838 - St. Lawrence River – steamboat Sir Robert Peel attacked and burned
June 6/7, 1838 – St. Lawrence River – raid on Amherst Island (Isle of Tonti)
June 10 to July 3, 1838 – Niagara River – Short Hills Raid
June 26 to 28, 1838 - St. Clair River – 4 incursions constituting the St. Clair Raids, including an attack on Goderich
November 12 to 16, 1838 – St. Lawrence River – Battle of the Windmill
December 4, 1838 – Detroit River – Battle of Windsor
Endnotes:
*Presbyterian missionary J. Carruthers, also noted that Sir Francis Bond Head had detached all the regular forces from Upper Canada in 1837 to help put down the rebellion in Lower Canada. He reflected upon this action by stating that as a result Upper Canadians "...relied upon the loyalty, gallantry, and exertions of the local troops, militia and volunteers" to defend against foreign incursions early in the 1838 rebellion. Another contemporary observer, Toronto resident William Copland, confirmed these dire circumstances, and wrote that during this period Lieutenant-Governor Bond Head had sent "...every soldier out of Upper Canada." By November 22, 1837, the last of the British regulars departed from Kingston, on their way to Lower Canada. As rumours of impending attacks continued to swirl, the defence of Kingston was left in the hands of the militia.
**To learn about the public response of the calling out of militia in the 1837 Upper Canada Rebellion, see Read & Stagg, 1837, pp. lxvii- lxxxii. For details about volunteer militia involvement in other parts of Upper Canada during 1838, see Carter-Edwards, "Promoting," Copland, Narrative, Manson, Repel, Mewburn, "Account," and n.a., "ADDRESS." For useful information about the militia in Essex County during this period, see Antal, Patriot, and Gaspar, "Black," and "Historical." For an explanation about militia participating at the Battle of the Windmill at Prescott, U.C., see Fryer, Volunteers, and Graves, Guns. See Boyce, Rebels, for details of militia action in Hastings County, and Landon, "London," for an explanation of militia and troop involvement in the London District. From December 1837 through December 1838, there were nearly 20,000 men raised in militias throughout Upper Canada.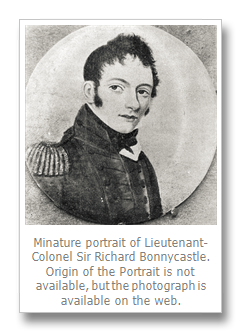 ***For information about the role of the militia and its defence of Kingston, see Grenville, "Kingston's." By December 1838, the 1st (residents of Kingston, the first and second concessions of Pittsburgh Township and Wolfe Island) and 2nd (those living in the rest of the county) Independent Companies of Militia had been established. In October 1821, the Frontenac Militia had been divided into 2 regiments ]see Kingston Chronicle (October 5, 1821)[. In January 1838, after re-division of boundaries, a Third Regiment (members drawn from Kingston Township, Pittsburgh Township and Wolfe Island) was formed ]see British Whig (February 2, 1838)[. It was headed by Colonel John Bennett Marks, Lieutenant-Colonel William Logie, and Adjutant, Captain Angus Cameron. Other companies of local militia were also established at Bath, Gananoque, Prescott and Cornwall.
****Thomas Cubitt (Cubbit), was born in 1784 and first enrolled as a Gentleman Cadet in the British Royal Regiment of Artillery on February 20, 1799. Rising through the ranks, he was eventually promoted to Lieutenant-Colonel on May 25, 1836, and subsequently was made the Commanding Officer Royal Engineers in Upper Canada and commandant of Fort Henry. He held this position from 1836 until his death on March 15, 1840. While Cubitt was the senior officer at Fort Henry, his duties were restricted because of poor health and chronic illness. Brevet Major Richard Bonnycastle, who held the rank of Colonel in the militia and was consequently "the senior officer capable of duty," became the de facto fort commandant. Bonnycastle was the Commanding Officer Royal Engineers in Upper Canada and had been appointed Lieutenant-Colonel in the militia of Upper Canada on December 13, 1837. He was given full powers and the responsibility to organize, equip, arm, clothe and discipline a sufficient force of militia as required. Aided by former regular army non-commissioned offers including Captain Angus Cameron, Lieutenant Nathaniel Bate and Quartermaster Thomas Campbell, Bonnycastle created a viable military force out of the local militia. It was estimated that by February 22, 1838, there were over 1,800 militia and Mohawk warriors stationed at Kingston (For a detailed listing of militia and volunteers in Kingston, see Bonnycastle, II, pp. 314-15). Richard Bonnycastle retained command of the militia in Kingston until June of 1838, when at that time he was replaced by Lieutenant-Colonel W. Marshall.
Bibliography and Suggested Reading:
Robert J. Andrews & Rosalyn Parker Art (eds.). A Troublesome Berth: The Journal of First Lieutenant Charles Allan Parker (Kingston: Kingston Historical Society, 2009).
Sandy Antal. The Patriot War of 1838 (Windsor: Essex County Historical Society, 2013).
Richard H. Bonnycastle, Canada As It Was, Is and May Be (London: Colburn & Co., 1852), 2 volumes.
J. Carruthers. Retrospect of Thirty-Six Years' Residence in Canada West (Hamilton: T.L. M'Intosh, 1861).
John C. Carter, "The 'Hurons' and the 1838 Upper Canadian Rebellion; From 'Bloody Useless' to 'Bloody Useful?," Huron Historical Notes (2015), v. L.
John C. Carter, "John Mewburn Jr. and Recollections of His Involvement in the Upper Canadian Rebellion," Ontario Genealogical Society Families (August, 2016), v. 55, # 3.
John C. Carter, "One Way Ticket to a Penal Colony – North American Prisoners in Van Diemen's Land," Ontario History (Autumn, 2009), v. CI, # 2.
John C. Carter, "Remembering the Sombra Raid," The St. Clair Township Beacon (August, 2016), v. 9, # 8.
John C. Carter, "Story of the 'Patriot' Raid on Goderich and other raids following the 1837 Upper Canadian Rebellion," Huron Historical Notes (2014), v. XLIX.
Dennis Carter-Edwards, "Promoting a 'Unity of Feeling,' The Rebellions of 1837/1838 and the Peterborough Region," Ontario History (Autumn, 2009), v. CI, # 2.
William Copland. Narrative of the Early Events of the Rebellion in Upper Canada (London: Holt, 1838).
Betsy Dewar Boyce. The Rebels of Hastings (Toronto: University of Toronto Press, 1992).
Charles Fothergill (ed.). The Toronto Almanac and Royal Calendar of Upper Canada. For the Year 1839 (Toronto: Palladium Office, 1839).
Mary Beacock Fryer. Volunteers and Redcoats – Rebels and Raiders (Toronto: Dundurn Press, 1987).
Robert W. Garcia, "This Period of Desperate Enterprise: British efforts to secure Kingston from rebellion in the winter of 1837-1838," Ontario History (Autumn, 2009), v. CI, # 2.
Doris Gaspar, "Black Militiamen of Captain Caldwell's and Captain Nelson's Companies During the 1837 Rebellion," Parks Canada Research Paper (2000). Doris Gaspar, "Fort Malden Historical Study," Parks Canada Research Paper (March, 2000).
Donald E. Graves. Guns Across the River (Toronto: Robin Brass Press, 2001).
John H. Grenville, "Kingston's Reaction to the Rebellion of Upper Canada: Bonnycastle & the Role of the Militia," Historic Kingston (1988), v. 36.
Edwin C. Guillet. The Lives and Times of the Patriots (Toronto: Thomas Nelson & Sons, 1938).
C.F. Hamilton, "Rebellion and Mobilization," in Canada and Its Provinces (Toronto: Glasgow, Brook & Co., 1914), v. VII, # 2.
Fred Landon, "London and Its Vicinity," Ontario Historical Society Papers & Records (1927), v. 24.
Stuart Manson. To Repel the Wicked (Cornwall: Stormont, Dundas & Glengarry Historical Society, n.d.).
n.a. "ADDRESS to His Excellency Sir Francis Bond Head by the Militia of the Midland District," ]Kingston[ Chronicle & Gazette (February 21, 1838).
n.a. "For the Chronicle & Gazette," ]Kingston[ Chronicle & Gazette (January 13, 1838).
n.a. "Late From Toronto-The Rebels Defeated by Sir F. Head and the Militia of Upper Canada," Brockville Recorder (December 21, 1837).
n.a. "The Militia of Upper Canada," ]Kingston[ Chronicle & Gazette (January 24, 1838).
Colin Read & Ronald J. Stagg (eds.). The Rebellion of 1837 (Toronto: The Champlain Society, 1985).
John Ross Robertson, "North York Militia. A Regimental Return for 1838," in Landmarks of Toronto (Toronto: J. Ross Robertson, 1908), v. 5, chapter 111.
John W. Spurr, "The Kingston Garrison, 1815 – 1870," Historic Kingston (1972), v. 20.
Roswell Tomlinson, "Roswell Tomlinson's Reminiscences of the Rebellion of '37," in Reminiscences of Early Settlers and Other Records (St. Thomas: Elgin Historical and Scientific Institute, 1911).
Samuel Williams, "Reminiscences of Samuel Williams – The Rebellion of '37," in Reminiscences of Early Settlers and Other Records (St. Thomas: Elgin Historical and Scientific Institute, 1911).
James Young. Reminiscences of the Early History of Galt and the Settlement of Dumfries (Toronto: Hunter, Rose & Co., 1880).
Acknowledgements:
The author would like to thank Sandy Antal, Dennis Carter-Edwards, Bob Garcia, John Grenville, Susan Hughes, rych mills, Chris Raible, Ron Ridley, Dave St. Onge and Susan Smith for their assistance in writing this article.
By Dr. John C. Carter, drjohncarter@bell.net
Dr. John C. Carter is a widely published Ontario author, museologist and historian, who is currently a Research Associate in the History & Classics Programme, School of Humanities, at the University of Tasmania. He is a frequent contributor to Thousand Islands Life, and can be contacted at drjohncarter@bell.net. Click here to see all of Dr. Carter's TI Life articles.
]
Comments
There are currently no comments, be the first to post one.