TI Life Photo Contest Winners
Written by
Ian Coristine
posted on December 13, 2016 12:50
You'd be amazed by how difficult judging a contest like this is. I'm immediately forced to reject images, but that's very difficult to do when there are so many good ones. It's exactly what I suffer through whenever making the selection for a book, because not all can make the cut. As in previous years, Susie gathers all the images (81 this year) and forwards them to me blind, without any indication of who took them.
It's always a treat to see the variety of scenes, all with a clear common thread - a passion for the River. These days, with the proliferation of cameras, more magic moments are being captured because so many always have some type of camera handy. Also, with ever more sophisticated equipment and software, there are more low light and night images, which are often compelling, though trickier to capture. All in all, a wide and wonderful variety and as always it is a privilege to see the River through your eyes. Thank you.
I started by looking at all the images and selected 34 that stood out, deserving a closer look. Of these, 23 made the cut to round 3. Then things got really tough. Eventually, ten more were eliminated leaving me with 13, from which 3 only must be chosen. In truth, all these finalists are winners.
Gold - Cory LaPointe
The ferry cutting a path through broken ice is the winner. I love the way the ship is framed by an abstract matte of black and white water and ice, which tends to pop the color onboard. Diagonals are typically stronger than horizontal or vertical alignments and it definitely works here. While it may not be immediately apparent, this shot was taken during the magic hour just after dawn or before sunset, adding a further "je ne sais quoi" which enhances the image considerably. It wouldn't have been remotely the same if taken in the middle of the day. Beautiful! ( Gold Medal # 70)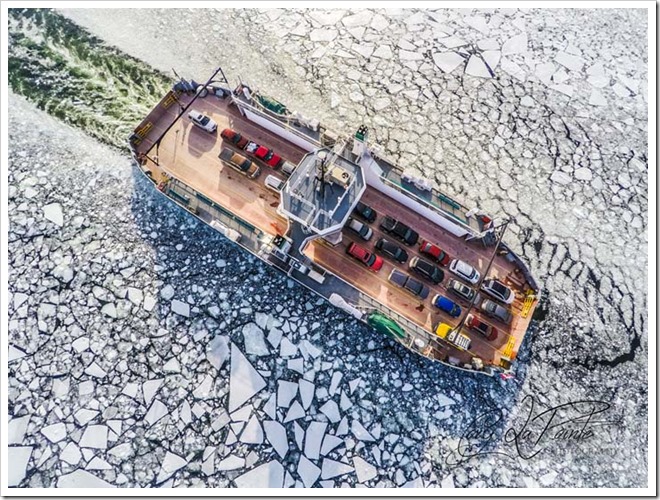 The "Wolfe Islander III" Image

The idea came to me a few days before, while I was travelling on the Amherst Island Ferry. I thought it would be great to capture the Wolfe Islander III from above, as she made her way through the large ice flow on the Lake. It took me three crossings to capture the shot I was hoping for. With frozen hands and a runny nose I couldn't get home fast enough to share the image with my friends and family.

Bio

Cory LaPointe resides in Kingston where he was born and raised.

"I realized early in school that I loved art and also a connection to the outdoors. Deciding after high school to attend Sir Sandford Fleming College, I was pursuing a career as a Conservation Officer. Later I changed programs to a higher demanding career. Graduating in 1998."

Soon after a calling would come to run the family Tile business in Kingston, ON. Years later, He started a family with his High School sweetheart. Having three amazing children together. That's when the world of photography took hold of his heart and soul.

Cory is a self taught Photographer with no limitations for capturing a moment. He enjoys all genres of Art, Music and Photography! His goal is to be unique and produce images with an artistic style.

www.corylapointephotography.com
Silver - Jason DesJardins
Second is a night image (and there were a few others that were also delightful). However, this one is absolutely sharp, no doubt because a tripod was used, but further enhanced because the water is like glass, reflecting the bridge exquisitely. It takes time for a camera to absorb a dark scene like this, as evidenced by the very slight tracing, from the couple of stars, just barely visible in the purple sky. The warm light of the shoreline, also perfectly mirrored, also contributes to this particularly impressive image. (Silver Medal # 66)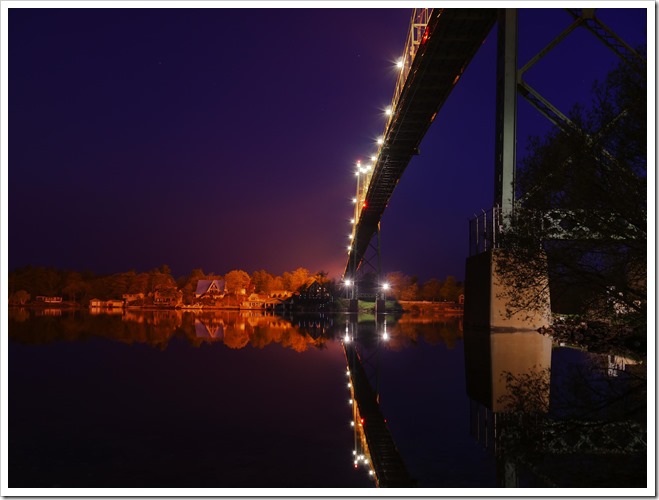 "4:00 am Under the Bridge"

I was on my way to meet Doug Tulloch to take pictures, on this early May morning. It was just after 4am and I had time to kill, so I stopped under the Thousand Islands Bridge, which has turned out to be one of my favorite spots. I am still very new to photography and was playing around with long exposure shots. This shot is a 30-second exposure that just has such a cool look to it. I was excited the second I saw the result.

Bio

Jason and his wife Amanda own and operate Horizon Aerial Media Services in Glen Park NY. During their first year in business, Michael Folsom, former marketing director of The Antique Boat Museum, asked for their help to showcase all that the Museum and the River region had to offer. After the first summer of repeatedly visiting Clayton and other River communities, a love for all things Thousand Islands was born.

Utilizing the new technology (Drones), Jason developed a new hobby of "chasing freighters" during his off time. He enjoys posting pictures to the St Lawrence Ship Watchers Forum and Facebook page. A love of Aerial photography quickly turned into a love of ground level photography, as well.

"I particularly enjoy the early morning hours when things are quiet. I look forward to going out with my friend Doug Tulloch, from Alexandria Bay, as we look for the perfect moon shot, as it is setting into the morning horizon."

Jason and Amanda's shots have been featured on the cover of both Clayton's and Alex Bay's Visitors Guides, and of course "Thousand Islands Life". The DesJardins and their three boys live in Glen Park, NY. He has worked at Watertown Savings Bank for over 26 years.
Bronze - Lindy Martin
Third was the most difficult call of all, and to be honest, I asked for a second opinion from Lyne, and her choice pleased us both. Several "magical moments" vied hard for this honor. While capturing a swimming duck may seem easier than other more fleeting moments, it is the absolute clarity and detail in this image, which once again benefits from the neutral chunks of ice highlighting the mallard's iridescent head, which carried the day. (Bronze Medal 41)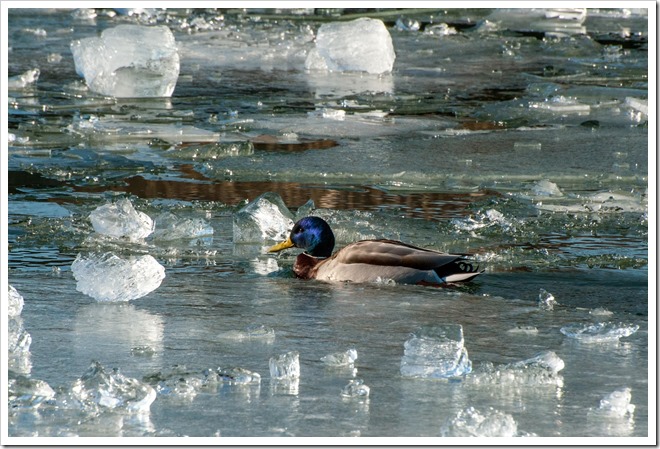 "Ice Breaker"

On a cold Spring day when the ice was breaking out around the River, I was heading over to one of the islands and got mesmerized by the sparkle of the ice. Happily, along with the ice and the cubes of ice floating, there was a mallard with beautiful colours in the middle. With the sun and the ice and the colours, I couldn't resist and had to take the picture. Light doesn't stay constant like that, all day long, and I was extremely lucky to be in the right place, at the right time.

Bio

As a serious photographer, I love to take my camera out to see different things in the world. Some of those are hood ornaments on cars, wildlife in urban areas, fast race cars and motorcycles, water crafts, wonderful sunsets, and of course animals in any setting. I once read and truly believe "A bad day behind the camera beats the best day behind a desk". While I still work full-time, you can generally see me around the Thousand Islands, camera in hand, trying to freeze the beauty in a split second, for the rest of the world to see. I am honoured that the new Providence Hospital in Kingston is displaying two of my Thousand Islands images, on 8 x 15 foot glass panels. Showcasing the Islands is a passion of mine and having local Island photos displayed that large, means more people will see our islands like we do.
We have 10 "Honorable Mentions," which we are sharing here. Impressive moments, like capturing the almost set sun silhouetting a boathouse and the starburst sun warmly lighting a wooden bridge. There's also the solitude of a heron fishing, without it taking flight (I bet it did a nanosecond later!), a sprinting coyote and speeding hydroplane frozen in time, plus a carefully staged wedding shot (where did they hide all the guests?) Wonderful timing was also evident in the two very compelling super moon shots, the fireworks and capturing the Spanish tall ship "El Galeon," passing Boldt Castle. Great stuff! (03, 06, 12, 20, 33, 36, 40, 55, 63, 71)
There are a further 10 images that may not quite have reached Honorable Mention status, but must also be shared, however, we'll hang on to them until next month. We are all proud of this beautiful area we share, but we should also be proud to have amongst us, so many outstanding photographers, who dedicate their time and effort to capturing its beauty. Thank you all for having shared your talents with the 1000 Islands community. (1, 04, 08, 11, 24, 25, 42, 56, 61, 69)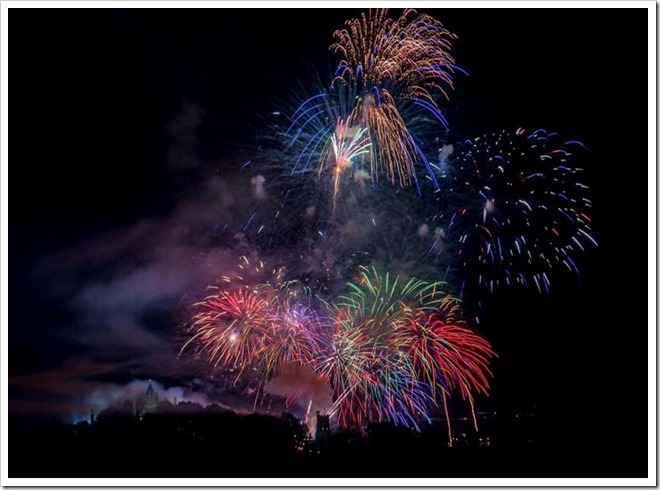 What A Blast
#03
Photo by Lindy Martin ©2016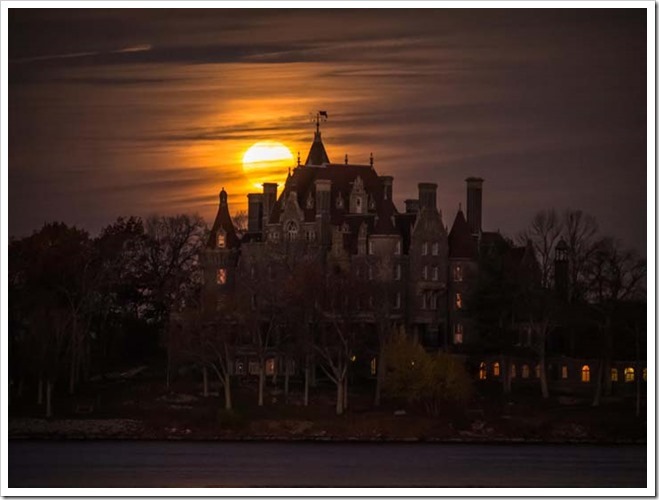 "Super Moon Setting"
Honorable Mention # 06
Photo by Jason DesJardins ©2016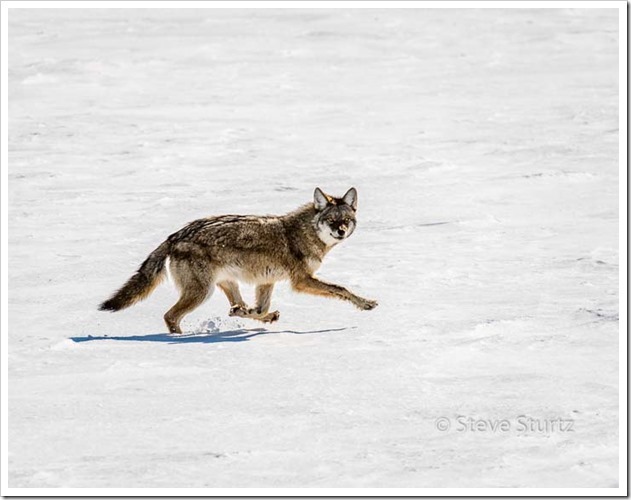 "Grocery Shopping"


Honorable Mention # 12

Photo by Steve Sturtz ©2016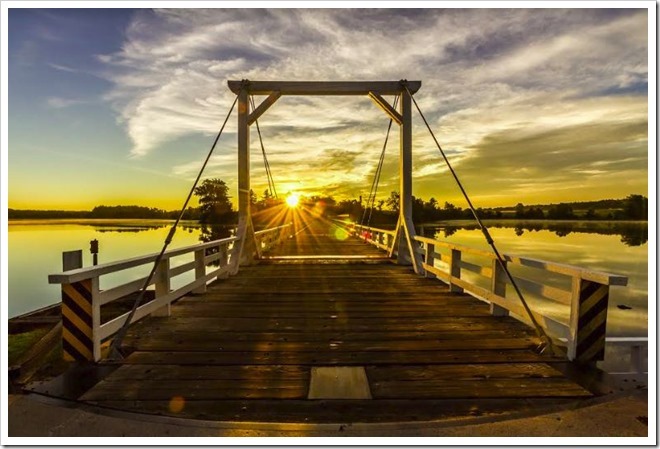 "5:00 a.m. at Brass Point Bridge along the Rideau"

Honorable Mention # 20

Photo by Cory LaPointe ©2016
"Right Place, Right Time"
Honorable Mention # 33
Photo by Doug Tulloch ©2016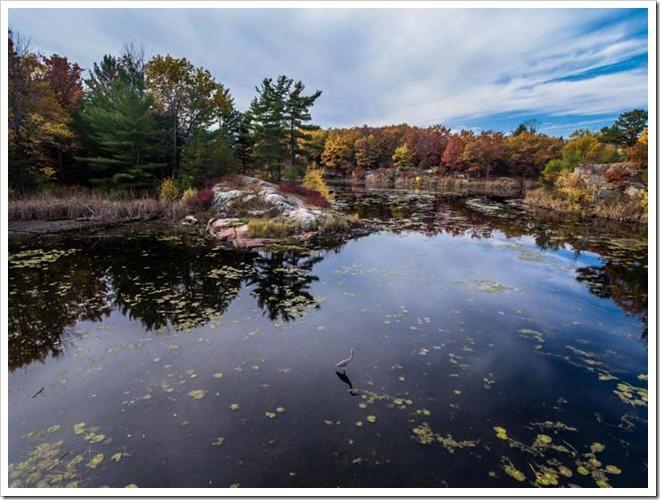 Otter Creek, Alexandria Bay, NY
Honorable Mention # 36
Photo by Jason DesJardins ©2016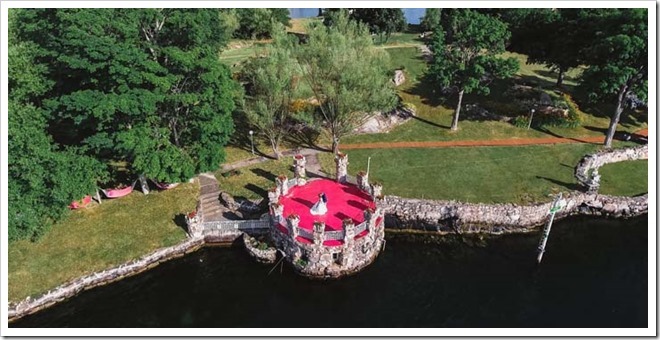 "Cherry Island Wedding"

Honorable Mention # 40

Photo by Amanda DesJardins ©2016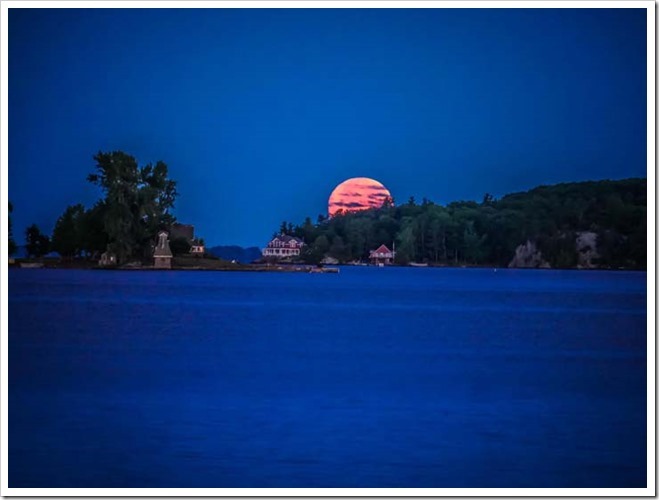 "Moon Set from TI Park"
Honorable Mention # 55
Photo by Amanda DesJardins ©2016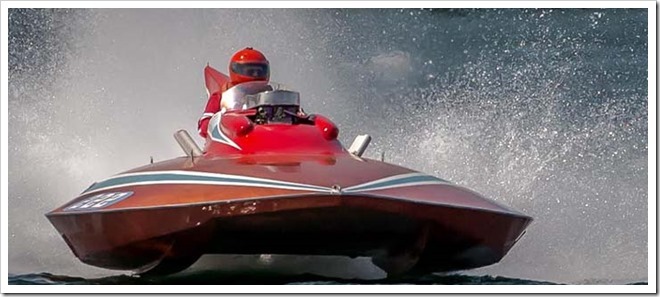 "Marvin's Hart"
Honorable Mention # 63
Photo by Steve Sturtz ©2016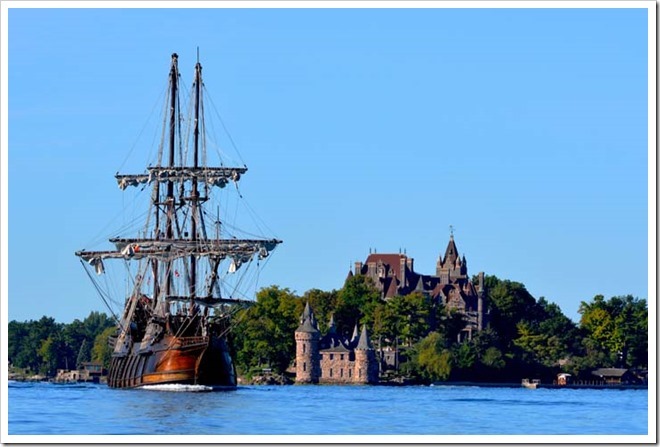 "El Galleon" Passing Boldt Castle
Honorable Mention # 71
Photo by Chris W. Piering ©2016
By Ian Coristine, Raleigh Island
Editor's Note: Process for capturing contest photographs: received three photos; each were given a random number between 1 – 85; placed in a database. Then all photographs (81) were placed in a file and sent to Ian Coristine. This ensured that all three photographs by a particular photographer were not identified. Ian has chosen the following to be featured in our January issue:
Andrew Kane (01) Alan Bickerton (04) , Amanda DesJardins (08), Howard Hart (11), Chris M. Piering (24), Duncan Rawlinson (25), Andrew Kane (42), Andrew Kane (56), Autumn Kirker (61), and Doug Tulloch ( 69).
Comments
Comment by: Michael Laprade
Left at: 12:09 AM Thursday, December 15, 2016
---
WOW!.....did I mention WOW! ?
Comment by: Brenda Clarke
Left at: 8:41 AM Thursday, December 15, 2016
---
Beautiful......did I mention we live in paradise!
Comment by: Jason DesJardins
Left at: 5:32 PM Thursday, December 15, 2016
---
All I can say is thank you and I am honored. So many great pictures here! Oh, btw Ian the Heron never flew away, it was unfazed.
Comment by: Mark McRae
Left at: 6:20 PM Thursday, December 15, 2016
---
Amazing work by all, congrats
Comment by: Anthony J. Bova
Left at: 3:49 PM Friday, December 16, 2016
---
There are some amazing photo's from several area photographers, My childhood friend Steve Sturtz has shared many of his beautiful pictures with me over the past few years and it's nice to see a couple of his made it in the 10 Honorable Mention Category....
Comment by: Cookie Sanborn
Left at: 4:01 PM Friday, December 16, 2016
---
I'm speechless!!What an absolutely,magnificient picture "Moon Set from T.I.Park by Amanda DesJardins,,Can I possibly buy a copy? Thank you,thank you I'm sitting here crying it's so reminiscence of our love of The River
Comment by: Jason DesJardins
Left at: 10:17 PM Sunday, December 18, 2016
---
Cookie Sanborn Please look us up on Facebook...Horizon Aerial Media or online at Horzionaerialmediany.com and we will take care of you.
Comment by: Mike Heberling
Left at: 12:55 PM Saturday, January 7, 2017
---
Excellent coyote photo! Most Texas coyotes are not as photogenic as northern coyotes. While coyotes are a common sight here around Fort Worth, we have encountered only two on Hill Island in recent years.
Our Hill Island neighbors have identified various unusual wildlife over the years, but one of the most unusual occurred about 15 years ago when Parks Canada posted a notice on the doors of the Hill Island East cottages that bear tracks had been discovered on our end of the island. My wife and I then hiked all of the trails and discovered that the "bear tracks" were actually tracks made by our 185 pound English Mastiff when we had hiked with him on soggy trails in May. We had just returned in June to read the "bear note" after a few weeks absence and noticed "Bubba"'s tracks were dried and still intact.