The dynamic nature of our regions avifauna continues to be shaped by human actions, positive and negative. Some species that had been greatly impacted by our activities are on the rebound as we change past bad behavior. Notably among species that have recovered spectacularly from the ravages of DDT is the Merlin. This medium sized falcon was an uncommon migrant through our region four decades ago. Since then the Merlin has exhibited rapid evolution and adaptation to this human dominated world. They now breed regularly in New York, including along the River, where they were unknown until the 1990s. Small numbers also nest and winter in urban areas, where they find abundant food in the large European Starling and House Sparrow populations. Some Merlins can now be found in Northern New York during all months of the year. This extraordinary recovery currently exceeds the species historical range and could not have been foreseen forty years ago.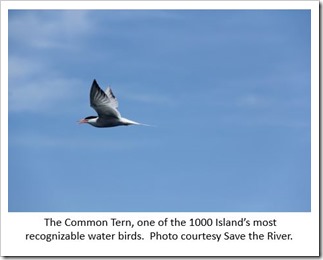 Another species whose populations on the River have nearly tripled since the mid-1970s is the Common Tern. This is due to direct intervention of humans, one in particular. Dr. Lee Harper of Massena, leading the cooperative management efforts of New York Power Authority, New York State Department of Environmental Conservation, Thousand Island Land Trust and Save The River have brought the species back from a plunge toward regional extinction. These continuing direct efforts, involving many volunteers, are assuring our breeding population remains viable well into the future. This species is the poster child for the importance of actively managing wildlife of great conservation need.
Without these efforts, Common Terns might have already disappeared from our summer skies. This species is near and dear to my heart and its loss from our wetlands, navigation buoys and shoals, would be a tragedy. Fortunately, as long as we humans are willing to work to assure the health of local colonies, this species will be with us.
Recent increases in other birds of our region have definite but indirect human involvement. Anyone who is present on the River in early spring, late fall or year-round, will notice the current massive population of Snow Goose. Where a dozen would have been a good find in 1976, a thousand, to tens of thousands now pass through the region.
The Atlantic flyway population has grown in forty years from 10,000 to over a million. The reason is modern agriculture. Survival of young birds, in their first year, has skyrocketed because of the food source of waste rice and other grains, left by modern harvesting practices. The result is we now see huge skeins of these lovely birds passing overhead.
Unfortunately, whenever humans cause rapid ecological change, the law of unintended consequences applies. This species is now so numerous that they are damaging the fragile Arctic Tundra breeding grounds, through overgrazing. This impacts other sensitive species such as breeding shorebirds. Managers are scrambling to try to bring matters back in balance, so far with limited success. Once again, I am afraid this proves the sage words from the old comic strip POGO "we have met the enemy and dey is us."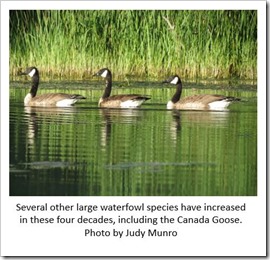 Several other large waterfowl species have increased in these four decades. These include the Canada Goose, Tundra Swan, invasive Mute Swan and newly returned Trumpeter Swan. Reasons for the increase in migrant Canada Goose may mirror those of the Snow Goose. Also shorter migrations, because of agricultural land use changes, may reduce mortality. Canada Goose flocks were unknown in winter along the river four decades ago. Now groups of up to several thousand, winter in western sections during all but the most severe winters. Arctic birds that once traveled to North Carolina, now remain in the Finger Lakes region of New York State. Combined with the resident Goose population growth, this species is now one of our most abundant year-round birds. The residents, considered a pest by cottagers and ducks alike, are a result of overzealous introduction to provide hunting fodder during the 1930s through 1950s.
Three species of swans now occur on the River, where only one was present four decades ago. That one, Tundra Swan, is an Arctic breeder and migrant to the Atlantic coast. Its population has increased locally, and flocks of over 100 may linger into, and occasionally through winter, in Northeastern Lake Ontario. Reasons for recent changes are unclear, but patterns mirror those of several other large waterfowl.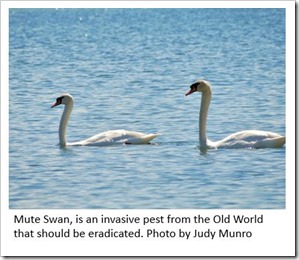 The second Swan species, the Trumpeter, has not been a local since at least the 18th century. Beginning in the 1980s, the province of Ontario began a reintroduction program for Trumpeter Swan. Offspring from that project began nesting locally by the mid-1990s, and several pair now inhabit regional wetlands. This species may be seen at a few locations all year and since young pairs pioneer their own nesting territories expansion is likely. The third species, Mute Swan, is an invasive pest from the Old World that should be eradicated. Unfortunately, NYSDEC is currently restricted from removing them because of an unwise law passed by our State legislature.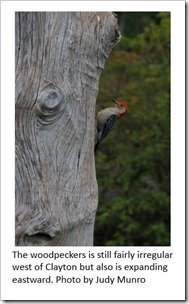 Most of the expansions discussed so far have involved large birds but populations of a few songbird species are also increasing. These birds are tolerant of human changes to the environment. Several species readily come to bird feeders for much of the year. These include the Northern Cardinal, Red-Bellied Woodpecker and Tufted Titmouse. In the mid-1970s, the Northern Cardinal was uncommon along the River, east to Morristown and quite scarce east of there. They are now common throughout.
In earlier decades, the other two species were unknown in most of Northern New York. Now the Tufted Titmouse is regular to Morristown, mirroring the Northern Cardinal range of the 1970s. The woodpeckers are still fairly irregular, west of Clayton, but also is expanding eastward. The route of invasion for all these species is from the west along Lake Ontario, then down the River. These birds are among a group of southern species, expanding their range northward. Since virtually no Northern species are expanding southward, the most likely cause of these new birds joining our avifauna, is climate change.
Many bird species are not doing well in our region. More on those next time in Part III.
By Gerry Smith
Gerald A. "Gerry" Smith, is an ornithologist who can often be found leading fellow bird enthusiasts, on guided Thousand Island Trust (TILT) tours, throughout the year.  He is a graduate of the biology program at SUNY Oswego, is one of the founding members of Derby Hill Bird Observatory, along Lake Ontario. He was the first staff ornithologist at Derby Hill, for the Onondaga Audubon Society. Gerry was President of the Onondaga Audubon Society and in 2010 he published the popular guide book, "Birding the Great Lakes Seaway Trail."