Editor's Note:  Our thanks to Martha Grimes wife of the late Hunter Grimes III (1946-2015) Martha found this article, published July 22, 1992 in the "Thousand Island Sun" and wrote; "I found this sloppily folded and dog -eared yellowed sheet, recently.  I found it tucked into the pages of a book that hadn't been opened in many years. I wondered if you would like it, as another Hunter Grimes article for Thousand Islands Life."
In addition, Martha copied the illustrations that accompanied the article when published by the TI Sun. 
Treasure Among the Islands, by Hunter Grimes, Published, July 22, 1992, Thousand Islands Sun.
A funny thing happened on the way to work. Our little crew imposed on the "Thousand Island Sun's" regular Fineview columnist and her family. The imposition got so routine that it grew to be a relationship which, happily, we all seemed to enjoy.
What we were doing in the midst of the Nunn's fine view had the makings of a story. It came to pass that Ramona Nunn decreed that the story be told and that it be told by the River Rat kid, that was closest to it. I appreciate the challenge to do it and hope that it might be fun for you, as well as worthy of Ramona Nunn's space.
I've been growing up, on the River, for forty-plus years now. The pursuit of "grown-up" status seems to be more worthy than the goal itself so I've long since quit worrying about making that grade. I have noticed a few things, though.
Up and down the River I see that things just can't stay the same and, yet some things will never change. For as long as most folks can remember there was a nondescript little River camp, partly obscured by brush and trees, perched on the end of a sliver of rock, which has very slowly been getting worn away by the current that Lyle and Ramona Nunn can look at going by anytime they want. This little camp was white, more or less, which from a distance hid the humbleness of the place.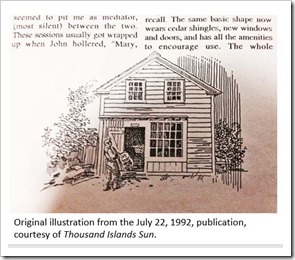 About things that never change? There never will be fewer people looking for their own piece of paradise….always more. And paradise always keeps shrinking. Naturally, when the structural object of our story appeared on the market, it got sold for a princely sum, it seemed to me.
I considered it my good fortune to be called upon by the new owners, if only because I need to and like to work, if you can call messing around on the River work! Anyway, I went forth happily to meet the prospective clients. I don't think John and Mary will mind being named. 
I have met a lot of people on the River, but never the likes of this rapid-fire duo. I've yet to decide whether it is the heights of their enthusiasm or the dizzying pace they simultaneously verbalize it, that is so……..so inspirational. The early discussions seemed to pit me as the mediator, (most silent) between the two. These sessions usually got wrapped up when John hollered,"Mary, stifle. Hunter, do it."
So, I got to build them a dock which did seem to be the first order of business. On one early site visit, John and Mary wondered out loud just what it is they have bought in the way of a camp. It seems they never looked inside the place! Mind you; these are city folks in a hurry to own a piece of paradise; details come later.
The little white camp was shuttered and shut, twisted about a door that didn't want to open….but did anyway. Things happened fast after that. Three people and fresh fall air invaded the dank, musty place. We all gasped in surprise, but for vastly different reasons.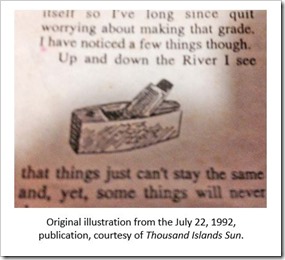 To John and Mary, the place reeked and was a dirty hovel full of junk. 
Oh, it did reek all right, but to me, it reeked of the very soul of the River. My description will not portray the scene well enough, but try to picture: a time-darkened wood interior that gets laid bare slowly by stabs of sunlight; as the hinged shutters drop away from glassless window openings; randomly exposed stud walls; wimpy 2x4 rafters. Plus, collar ties, dripping cobwebs, floors heaving in logic-defying directions and doing a good job of shedding cracked linoleum.
Over everything, was lots of genuine antique dust layered on, like some kind of earthly preservative. And then there was the stuff! 
In every corner and on every conceivable surface was this amazing stuff. It was River stuff…..a fisherman's things…. and was from a time long gone by. Magazines from the 1930's and 1940's lay about as if just read. Paddles and skiff oars, fishing equipment of all kinds and boat things piled amongst old furniture, made the scene cluttered like a museum storage space. I knew it to be a veritable treasure.
John and Mary fret over the" mess" and who will clean out all the junk. It took me about three seconds to make just such a magnanimous offer. It was a lot of work to do for free. I recall how heavy the absolutely perfect oak ice chest was, and how trying to sort through everything and decide what actually might be thrown away. (Eat your hearts out all of you antique buffs.) Now the bulk of this River booty adorns my own little museum.
A lot of time has elapsed since the clean-out. Travelers on the island road may have noticed quite a transformation. The visage of the long sleeping white camp is hard to recall. The same basic shape now wears cedar shingles, new windows, and doors, and has all the amenities to encourage use. The whole structure is embraced by deck spaces that seem to extol the virtues of fresh air and life on the River for enthusiastic people who love such things.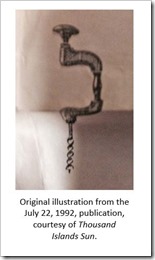 I am always a little bit sad when I take part in and even benefit by the tiny increase in stress to the River that the arrival of a John and Mary family represents. Do others depart fast enough to accommodate the new arrivals? Has the carrying capacity of the River for humans already been exceeded?
In this story, I think we can welcome John and Mary in good faith. They brought a derelict back to life in a section of the River already quite dedicated to human use. No pristine shorelines were torn apart to make way for them. No shallow marshy bay teeming with new life was wounded by the establishment of their own space in paradise.
And is the River still a paradise? John and Mary worked me so hard throughout the restoration that by May I needed a break. (O.K., so all I needed was an excuse.) I went off on a spring bear hunt to Alaska. 
I've lived and played there before. I'm drawn to it just as I am to lots of wild places. I do it to touch it and live with it for a week or so, not to win over a particular quarry or conquer some elements to reassure myself. Sure, Alaska is a paradise, but it is a specialized one.
I have been far and wide enough to have learned that there really are few earthly paradises equal to our River….so much-unsalted water, such diversity and diverse opportunity, so much for people, but so many nooks and crannies left to epitomize our hope for the permanence of the sustaining natural systems.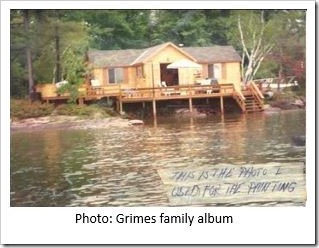 People come and go on the River. These days the arrivals seem to far outnumber the departures. It seems a little ominous and assures that things have to change. One thing that never changes is that people want to come. I think back to those first moments when we threw open the door of the place that John and Mary resurrected, to the old man who it is said rowed a skiff and fished out of that camp so long. I wonder what he would notice and worry about if he were on the River today. Maybe each generation is here such a short time, and change occurs so gradually that we don't notice the big changes. Do we really believe that all the good reasons that make people want to be here will never change?
Welcome to Fineview and the River, John and Mary. I hope you and all of those you join here will love the River well. There are many things that must not change here and love is what it will take.
I thank Mr. and Mrs. Nunn for taking the time to get to know us, helping us and making our work easier. I owe special thanks to Ramona for letting me try this. It was a different trip on the River, for sure.
By Hunter Grimes III (1946-2015)
This editor feels it is a genuine bonus to publish another Hunter Grimes article… Hunter was well known in the region and he certainly was a genuine River Rat – a reliable term given for those who spend their lives on, in or under the River.

In 1989, Canadian author Shawn Thompson wrote his book, River Rats: The People of the Thousand Islands; page 68 has the Hunter Grimes Story. Hunte,r before he died, and his wife Martha have devoted their lives to their community, both being recognized for their volunteer efforts and their leadership. 
To see other of Hunter's essays in TI Life, click here.  We especially recommend An Essay: I Hate to Burst your Bubble and the many comments he received.