Near the Borderline:
Coming of age (and then some) on the northern frontier
The morning after my return from California, I awoke late to find the sun well up and shining with startling clarity through the curtainless windows of what family members, with appropriate lack of pretense, had always referred to as "the little house:" a flat-roofed, single-storied and utterly unadorned structure overlooking a narrow channel of the River.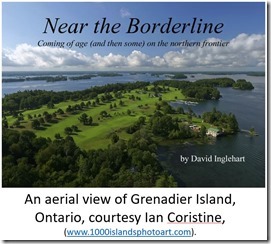 No less startling was the suddenness with which my western adventure had come to an end, for ever since leaving San Francisco five days earlier, I'd been struggling to understand why, after seven eventful months spent flying from one spectacular gliding site after another, I'd decided at the drop of a helmet, as it were, to return to so spare and static a place as the Little House. With six weeks to go before the arrival of summer, the island itself had all the appeal of a ghost town, with no one around and nothing to do except contemplate the sadly familiar subject of my uncertain future.
And yet, despite its bare-bones design and furnishings, the house had always held the most pleasant associations for me, for here, during summers in which my grandmother lived in the main house, I had formed my earliest impressions of the River. From the front of the house, a wide lawn sloped down to the water's edge, where a brief stretch of sandy beach was flanked on one side by a granite outcropping and on the other by a stand of cattails. Here, at age five I had learned to swim by crawling about in the shallows and gradually working my way out to deeper water. A natural sundeck as well as a favored fishing spot, the granite outcropping overlooked a channel some two hundred yards wide on the opposite side of which lay the boathouse of a well-kept home on the Canadian side of the border. This was Hill Island, whose shore stretched away upriver, enclosing one end of a closely confined bay known as the Lake of the Isles.
Out the back door of the cabin, a broad pasture lay surrounded by woodlands and shoreline, where my brothers and I had roamed freely on many a pioneering exploit. There were forts to be built in the undergrowth, water snakes to be hunted along the shore, and old bottles to be broken in the recesses of a nearby gravel pit. Originally part of a working farm, the pasture had once been populated by a small herd of dairy cows, and I remember getting my first lesson in animal husbandry when, after pelting the herd with the fallen fruit of a nearby apple tree, I was summarily chased up into its branches by one angry bossie, who wouldn't let me down for half an hour.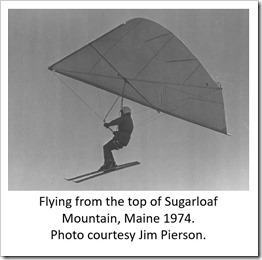 Later, the dairy operation was replaced by a riding stable, where I spent a lot of time when I was perhaps nine or ten. As the barn was within a mile of our cottage, I could walk there whenever I liked, and, after a number of supervised outings, I was eventually allowed to ride on my own, roaming freely about the nearby woods and fields and all the way back home, where I tied my mount to a tree in the yard and went inside for something to drink, "just like a cowboy."
Indeed, the novelty of these adventures was such that I soon became a nuisance around the farm, and, if only to be rid of me, the young woman in charge let me take one of the older, less active horses out for some exercise at no charge. Granted, I had to flog the poor beast to get it to move faster than a walk, but riding was riding, and nobody could say I didn't take my new duties seriously. Sadly, one day while preparing for another outing, I was patting its flank from outside a corral fence, when it suddenly stiffened, tottered slightly, then fell over heavily on its side. Upon closer inspection, it proved to be stone dead, and while I tried not to take it personally, I couldn't help but think it had expired at the prospect of another of my over-enthusiastic exercise routines.
Then too, there were all manner of water-borne adventures to be embarked upon in a wide assortment of vessels. The first boat I was allowed to paddle on my own was a double-ended, canvas-covered, flat-bottomed, and manifestly unseaworthy craft that floated me on my first tentative forays in the immediate vicinity of our boathouse. Eventually, having grown big enough to handle oars, I graduated to a sturdy rowing skiff of a design indigenous to the region, in which I ventured across the river and as far as a mile and more along both shores.
Among a number of power boats that had, over time, come into the family's possession was an early metal-hulled design with a one-cylinder, inboard power plant scarcely more advanced than a steam engine. Variously known as the Tin Boat, the Putt-Putt, and the One-Lung, the antiquated craft proved so unreliable that it scarcely ever left the dock, and one day when I was perhaps ten my father decided to put it out of his misery by towing it out to a deep spot in the channel and sinking it. Inviting myself along for the ride, I hopped aboard our reliable 22-foot Chris Craft, and soon we were on our way, the condemned hulk plowing along behind us and veering precariously from one side to the other as if in an attempt to escape its fate. When we finally arrived at a suitable spot, the ornery thing was difficult enough to maneuver alongside, at which point my father climbed aboard while I watched from the safety of the towing vessel, a bit frightened at the prospect of the impending burial-at-sea.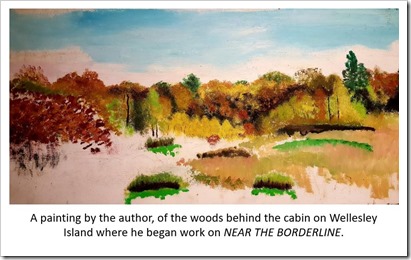 Next, having removed various intake hoses and drain plugs, my father got back into the Chris Craft and we watched as water rushed into the hull. For some reason, however, despite a long history of incessant leaking that regularly saw it awash to its gunwales, the old hulk refused to sink. Instead, it rolled over like a dead fish and wallowed bottom-up, stubbornly refusing to go down and threatening to pose a serious hazard to navigation. Armed with a crowbar, my father eventually succeeded in punching several holes through the hull, and to the prolonged hissing sound of escaping air The Tin Boat slowly disappeared into the murky darkness, sinking down and down, into the depths of memory.
At age eleven, I was allowed access to a thirteen-foot Lyman outboard with eighteen-horse motor, earning the privilege by swimming across the river immediately in front of our point and passing a written test. Thus checked-out and certified, I exercised my new privilege with a vengeance, embarking on excursions that took me as many as five miles upriver and down, a radius within which lay every sort of riverscape imaginable, from busy channels hundreds of feet deep to shallow inlets whose secluded shores revealed no sign of human presence; from wide, backwater bays to narrow passages through which the current rushed in standing waves as in a rapid; from granite cliffs to sand and sedgy beaches. Taken together, such places represented a world unto itself, a singular archetype of watery environs. When people referred to The River, they didn't mean the whole of the St. Lawrence, only that part of it containing The Islands—another instant identifier. The name didn't allow for the possibility of alternatives, yet neither did it indicate a known body of water. Instead, it represented a mutually agreed-upon abstraction in which geography, history and memory combined to signify a place as inherently mysterious as the stream of time.
By David Inglehart
David Inglehart is a native of Watertown, New York, who grew up in the Thousand Islands and helped introduce ski-flying to the area, using hang-gliders designed to be towed aloft behind a boat. A graduate of Colby College, he flew gliders as well at Sugarloaf Mountain, Maine, and went on to participate in the First World Hang-gliding Championships, held in the Austrian Alps, in March, 1975. He worked as a staff writer at the Watertown Daily Times, and later received an M.A. in English from the Breadloaf School of Middlebury College. He now lives in Bath, Maine, with his wife, Donna Inglehart, author of the popular novel Grindstone, and co-author of Ian Coristine's One in a Thousand.