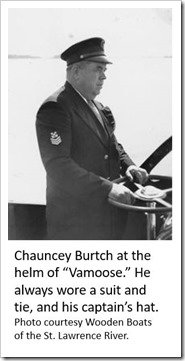 Chauncey Burtch is a name that comes up often in the tales told in Chippewa Bay. Cap, as he was known, was the man behind the complex machinery that was the Lyon household. He was boatman, bartender, chef, and concierge, behind everything that happened on Oak Island for more than 30 years.
Chauncey was born on September 26, 1895 and raised in Upstate New York. When he was 23 years-old, he married Myrtle Senecal. Before taking over the operation on Oak Island he worked for eight years as caretaker of Hadassah Island. In the thirty years working for Charles Lyon, he would be responsible for captaining some of the finest mahogany boats to ever grace the St. Lawrence River.
The "Finesse" was a 38-foot, John Hacker designed, Fitzgerald & Lee, launched in the spring of 1933. Chauncey was her master and commander until Labor Day weekend, 1935. Cap had taken the Lyons and their guests to view the boat races in Alexandria Bay. As they idled around the racecourse, the Scripps motor overheated, a loud blast was heard, and flames came pouring out of the engine compartment.
Chauncey got all thirteen passengers off "Finesse" safely, and in a timely manner. As Mrs. Lyon tried to exit the boat, with her brand-new Hudson Bay blankets, Chauncey politely took them from her and threw them back in the cabin. The women and children were taken off "Finesse", in the first available boat; the men were in the second. Chauncey threw the anchor overboard, before he exited the burning craft. The Lyons and their guests watched the custom commuter burn to the waterline, off Harbor Island.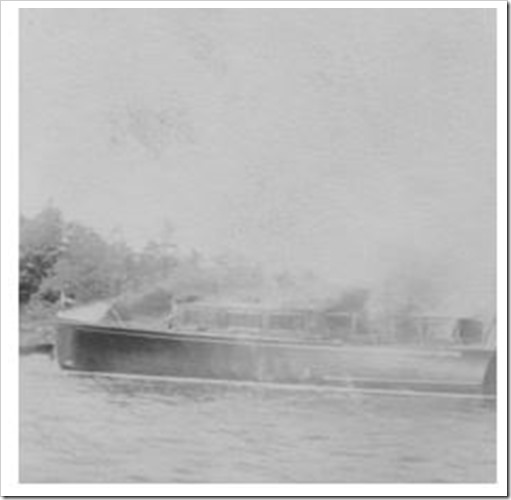 "Finesse" burned watching Labor Day boat races in Alexandria Bay, on Sunday August 25, 1935. Photo courtesy "Wooden Boats of the St. Lawrence River."
The next year Cap was given command of, arguably, the finest wooden boat to ever grace the St. Lawrence River. Vamoose was another Hacker designed commuter, also built by Fitzgerald & Lee, capable of 40 miles per hour. She was an Art Deco super cruiser that was a masterpiece of marine design.
Cap worked tirelessly to make sure" Vamoose" was in tiptop shape. From engine mechanics, to her gleaming varnished coat, he was the man responsible for her every need. One of his regular duties was to ferry guests from Ogdensburg to Oak Island, for weekend festivities. There wasn't a stretch of River, from Ogdensburg to Clayton that Chauncey didn't know like the back of his hand.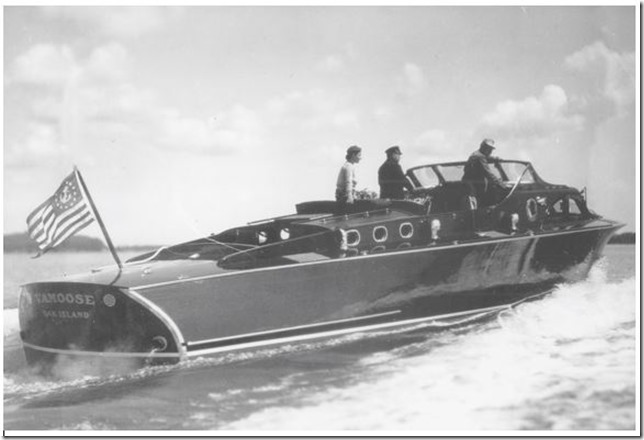 "Vamoose" was launched in the spring of 1936. She is shown here with Chauncey Burtch and Mr. & Mrs. Charles Lyon on board. Courtesy Wooden Boats of the St. Lawrence River.
Cap made things happen on Oak Island. They say he was a damn good cook, and a more than seasoned bartender! He was well known for a specialty cocktail called the French 75. After a few rounds of this sugary drink, guests would be on the lawn playing leapfrog.
Countless hours were spent on Charlie Lyon's Hutchinson utility boat, fishing for pike, bass, and whatever else they could haul in. Often times the fish caught on a days outing would be cooked for lunch or dinner.
As War broke out in Europe, Chauncey's days with "Vamoose" were numbered. It was only a matter of time before the United States became involved. When Japan attacked Pearl Harbor, Charlie Lyon immediately offered "Vamoose" to the War effort. She was never seen in the Thousand Islands again.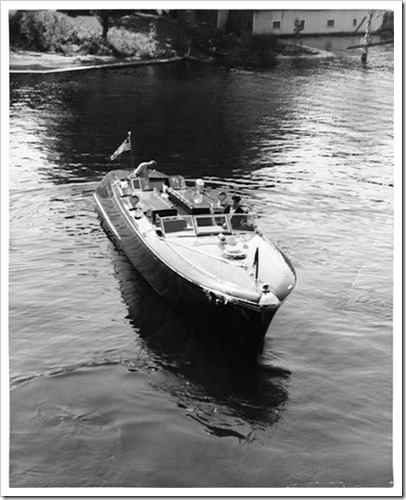 "Pardon Me" leaving Alexandria Bay, with Chauncey Burtch at the wheel. Ray Rogers is in the stern.
Photo courtesy the Antique Boat Museum, Clayton NY.
Chauncey and Charlie sailed their way through the War years. Many of the St. Lawrence River pleasure boats never even hit the water due to gas rationing. Once the War was over, Cap was tasked with captaining the exquisite, yet unpredictable, 48-foot runabout, "Pardon Me." She was built in Alexandria Bay, by Hutchinson's Boat Works, in 1947. This one-of-a-kind speedboat had a 1500 horse-powered Packard Marine Engine that could propel her to speeds of 60 miles per hour.
It should be noted that when the United States Navy used these engines in Patrol Torpedo (PT) boats, they had a dedicated mechanic on board. While capable of exceptional performance, the 4Ms were extremely complicated, and at times tricky to deal with. When Packard shipped the engine, for the "Pardon Me," it purposely came with a spare.
Chauncey would captain the 48-foot "Pardon Me" on all of Charlie Lyon's seven rides. On their first outing, the engine stalled. Before the controls could be adjusted, "Pardon Me" surged back to life. On another outing, the hydraulic steering suddenly failed and as Cap spun the wheel, "Pardon Me" would not respond. The mahogany monster came dangerously close to a passing tour boat. Charlie Lyon was so nervous, he picked the wart off the back of his hand.


These are some of the few photos with "Pardon Me" with her original chrome. She is leaving Alexandria Bay for Oak Island, to give Charles Lyon and company a ride. Photo courtesy the Antique Boat Museum, Clayton NY.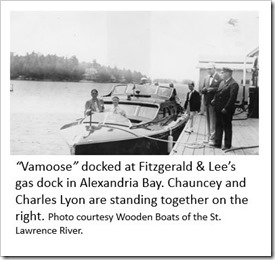 Rumors have swirled that "Pardon Me" once ran through the back of the Oak Island boathouse. Although it makes for interesting conversation, this never actually happened. The one-of-a-kind Hutchinson ended her run with the Lyon family, when Helen and Cap teamed up and persuaded Charlie that "Pardon Me" was not a craft for recreational use. Chauncey told Charlie, "Mr. Lyon, I'll never drive that boat." It was the nail in the coffin. The world's largest runabout had proved she had a mind of her own.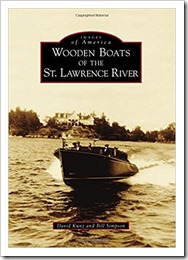 Chauncey Burtch retired from his duties on Oak Island in the early sixties. He will always be a treasured memory in the hearts of the Lyon family.
By David Kunz
David Kunz is the great-great nephew of Charles and Helen Lyon. He lives on Oak Island in Chippewa Bay, and he is the author, with Bill Simpson, of the new book, "Wooden Boats of the St. Lawrence River." This book will be available for summer 2017 and will be on sale at the Antique Boat Museum and at the Cornwall Brothers Museum in Alexandria Bay. It can be pre-ordered at Amazon.