One hundred years ago, in April 1917,  during the World War I Battle of Vimy Ridge in France, Thain Wendell MacDowell, a young resident of the St. Lawrence River village of Maitland, Ontario was awarded The Victoria Cross.
At the corner of County Road 2 and Church Street in Maitland,  an Ontario Historic Sites commemorative plaque records MacDowell's exploits at Vimy Ridge. These exploits earned him the British Empire's highest decoration for valour.  Here is his story. 
Note:  Captions to come
Major Thain MacDowell
Born in Lachute, Quebec, on September 17, 1890. Lieutenant Colonel Thain Wendell MacDowell is an outstanding example of courage and presence of mind in the Canadian Military. During World War I's strategic Battle of Vimy Ridge in northern France, Thain MacDowell was not only to immortalize his family's name and put the small village of Maitland, Ontario, in which he raised, on the map, but he was also to show, along with thousands of other Canadians, that Canada was more than just a part of Britain's old empire. Instead, it was a mature country with a fine fighting force that was able to defeat one of the world toughest armies.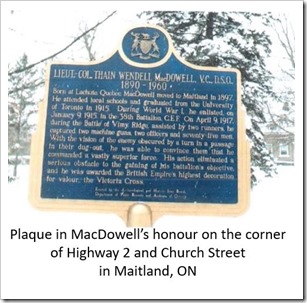 Lieutenant Colonel Thain MacDowell was born in the home of his great grandmother in Lachute. His father, a rather overly enthusiastic Methodist minister, moved his family to Lyn from Carp, Ontario the following year but died in 1894. Thain's mother fortunately remarried and moved Thain with his three brothers Cyler, Newell and Merrill and one sister, Eula to the village of Maitland in 1900. Thain's new stepfather was the local cheesemaker and to this day is credited for being an exemplary father to his ready-made family. Although the boys had the reputation of being rather fearless, there was little in Thain's childhood that forecast his distinguished military career. Educated at the local high school, Brockville Collegiate Institute, Thain then moved on to the University of Toronto where he was a famous athlete and graduated in 1915 with a Bachelor of Arts degree.
In the meantime, World War I had broken out and Thain quickly volunteered his services. He was appointed as a Provisional Lieutenant with the 41st Regiment (Brockville Rifles) on November 9, 1914 and on January 9, 1915 enlisted for overseas service as a Lieutenant with the 38th Battalion, Canadian Expeditionary Force. After intensive training in London, Bermuda and then England, he arrived in France on August 3, 1916. MacDowell was quickly sent off to the front where in the Battle of the Somme he was awarded the Distinguished Service Order for his gallantry. Here, as Captain of "B" Company, he led his battalion against the German trenches in an attack south of Ancre against Desire Trench and Desire Support Trench on November 18, 1916. Bravely, MacDowell advanced to within throwing distance of the enemy and bombed out three German machine-gun nests which had been holding up the advance. He then was able to capture, after brutal hand-to-hand combat, three Officers and 50 of the enemy and clear the way for his battalion to advance to the final objective.
After being wounded and returning to England briefly, MacDowell rejoined his battalion in the trenches in the area of Vimy Ridge in northern France in January, 1917. An escarpment rising at its highest point to 475 feet in two spurs running west and southwest, Vimy Ridge dominated the flatlands around it and was regarded as the backbone of the whole German position in France. Five German regiments from Bavarian and Prussian divisions had held the ridge for two years and turned it into an "inland Gibraltar" with gun emplacements and dugouts and an efficient communications system. The French and the British, at the expense of thousands of casualties, had tried to dislodge the Germans in several attacks but to no avail.
MacDowell waited for over four months along with other members of the 97,000- man Canadian Corps under the overall command of Lieutenant-General Sir Julian Byng for the offensive to begin. Frequent raids were sent off into enemy territory and Canadian shells bombarded the ridge. As the Canadians waited, constant training and the studying of maps and a model reproduction of the ridge pleased MacDowell. He was known as a methodical planner and had already picked out the German dugout he was going to use as his company's headquarters.
During the evening of April 8, the Canadians began to move to assembly areas, taking up position within yards of some of the German outposts. every watch of every Canadian soldier had been synchronized, and promptly at 5;30 am in the chilly early morning hours of Easter Monday, April 9, 1917, all hell must have broken loose as Canadians pounced Vimy Ridge with 983 heavy guns, howitzers and mortars. The barrage lasted three minutes, and then wave after wave of Canadians methodically advanced across No Man's Land and up the ridge through indescribable mud, shell holes and trenches.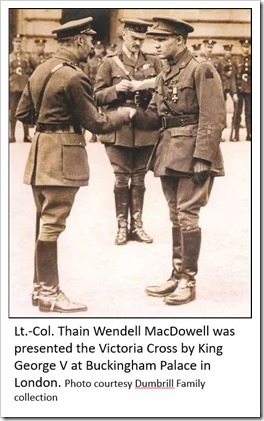 MacDowell and his battalion were part of the force that were responsible for the capture of the highest part of the ridge, called Hill 145. The going was hard, in the confusion, the battalion by-passed three large craters swarming with Germans. MacDowell reached the first enemy trench just before dawn and and fifty yards to the right of the area that he had aimed for. Most of his men, though, had gone even further to the right, and MacDowell was left with only two runners. He could see the dugout in the shell-torn trench that he wanted for his headquarters, but he could not take the time to collect his men. The first thing he had to do was silence two German machine guns which he did with well-aimed hand grenades. Reaching the dugout he found it appeared to stretch a long way underground. MacDowell shouted for any Germans to come up and surrender. With no response, MacDowell climbed down fifty two steps and rounded the corner to come face-to-face with seventy-five Prussian guards and two officers. "With the vision of the enemy obscured by a turn in the passage in their dugout, he was able to convince them that he commanded a vastly superior force.  As a result MacDowell looked back up the steps and shouted to an imaginary force.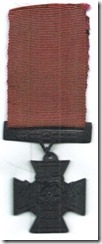 The Germans raised their hands in surrender. Now, MacDowell had to get his prisoners to the top of the dugout. He knew that if he took all seventy-seven up at once, that they would easily overpower him and his two runners waiting above. Once again, he made an on-the-spot decision to send the Germans up, in groups of a dozen. The first Prussians to reach the top, realized that they had been tricked. When one grabbed a discarded rifle, he was fired at by one of the runners, thus ending any further attempts by the Germans to reach their position. In one of four reports that MacDowell issued that day, he speaks of eventually getting help from fifteen men, but their rifles were clogged with mud and they were of little help. The London Gazette, on June 8, 1917, completes the account by saying:
Although wounded in the hand, he continued for five days to hold the position gained, in spite of heavy shell fire, until eventually relieved by his battalion.
When MacDowell had a chance to further explore the German dugout, he found wires leading to five tons of high explosives ready to be fired. Not only did MacDowell's heroism probably save many lives, but he succeeded in capturing a very strong enemy machine-gun post and greatly aided not only his own battalion's objectives but the capture of Vimy Ridge. For his heroism, MacDowell was awarded the Victoria Cross.
Suffering from trench fever and shell-shock, MacDowell returned to Canada on sick leave. Hospitalized in Brockville, sister Eula, a nurse and this writer's grandmother, recalls having at one point to hold him down as he relived the terror of his experiences at Vimy Ridge.
However, his military career was not over. He returned to England on March 1, 1918 serving at the Headquarters of the Overseas Military Forces of Canada. Then as a civilian from 1923 to 1928, he was private secretary to the Minister of National Defence and later became director of several mining companies. He died alone in Nassau, The Bahamas, on March 28, 1960, where, as his Nassau physician wrote his sister, "he was an active man and wanted to do important business" so denied his "upset stomach" was really a coronary attack - a hero to the end.
MacDowell's characteristics and actions in World War I helped to reveal a new trend in not only the Canadian military but Canadian history. Many Canadians had entered the war ill-prepared and real amateurs. MacDowell, on the other hand, was known to delight in battle detail and is described as bringing to soldiering "a dedication of purpose and an implacable determination to master the crafts of battle." MacDowell's courage even before Vimy Ridge was described by one of his peers as "remarkable." Although very retiring, he was referred to as a "tiger" when a job had to be done. As one editorial so kindly puts it:
"He (MacDowell) was perhaps a characteristic example of the citizen soldiers who won such high acclaim when they took the field against the mightiest professional cadres of all time...It has often been said that the Canadian emerged for the first time, both as an individual and as a type, on the battlefields of 1914-1918. There the sum total of his environment factors - isolation, climate and the rest - and his racial heritages combined to produce a fighting man par excellence - obdurate of purpose, canny, fierce and flexible of mind in encounter, inured to mischance, contemptuous of all but absolute victory. Of this Colonel MacDowell might well be regarded as archtype."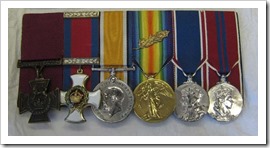 Six medals mounted on one card. Awarded to Captain Thain W. MacDowell including Victoria Cross named and dated 9-13 April 1917; Distinguished Service Order (Geo. V. issue.); British War Medal; Allied Victory medal and Mentioned-in-dispatches device; 1937 Coronation medal for King George VI; 1953 Coronation medal for Queen Elizabeth II.)
Obviously, with the new kind of citizen soldiers like MacDowell, Canada's military could no longer be called amateur. MacDowell and other soldiers like him, helped to lay the groundwork for something even bigger which was the making of a nation out of Canada. Before World War I, Canada had had little more than a railway and a Parliament to tie it together. It took a battle like Vimy Ridge which brought Canadians from all walks of life together to perform an heroic task against the mightiest force in the world to give the sense of community and commonality that was needed to turn Canada into a nation. In fact, before the war ended, this Canadian prowess and courage had not only brought Canada recognition from the Imperial War Cabinet but it had given her a place at the peace conference in Versailles. A nation is said to be "a body of people who have done great things together in the past and who expect to do great things together in the future. If this is true, Vimy Ridge and the actions of soldiers like MacDowell certainly brought nationhood to Canada and changed Canada's history forever.
By Charles Dumbrille
Charles Dumbrille was born in Brockville and grew up a few miles east in the small village of Maitland, ON.  He graduated from Queen's University with a BA (Honours) in History and earned a MA in the War Studies Department, King's College, London, UK. Charles has led organizations, including the Canadian Embassy in Washington, DC. He also worked at CNN headquarters in Atlanta at the International News Desk. His early career also saw him with the Carter Center Peace Program. Charles currently lives in Vancouver, British Columbia, with his wife and beloved cat, but returns to the Thousand Islands frequently.