Written by
Susan W. Smith
posted on April 13, 2017 12:38
Pam McKinnon has every right to paint what she likes on or beside the St. Lawrence River. You see she is a genuine River Rat, as she is the great-grandchild of Annie Jane and Frank Whitehill, who sailed from England and settled in Brockviile in the last 1890s.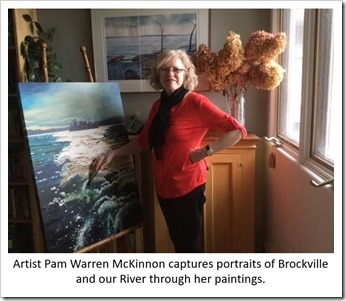 The Whitehall's purchased a little house on Water Street East, where Pam and her partner Mark, now reside. The house used to be on the River's edge in what is now Centeen Park, but was moved with horses to the North Side of the street to make way for the Brockville's waterworks pumping station.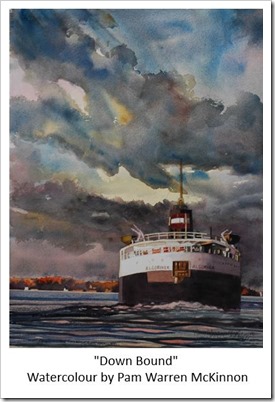 Pam did not start as an artist, but rather studied counselling, social work and gerontology as a career but in 1988 she took her first art class with the late Henry VyFinkle at St. Lawrence College. In fact, it did not take long for her to make the wise decision to quit work to paint full-time in 1993. She continued her studies, completing her Fine Art's Certificate, with distinction, in 2001.
She first started exhibiting her art with the Brockville Artist's Studio in 1990 at the Old Victoria School on Wall Street and the rest "as they say," and luckily for us, "is history." She was elected as a signature member of the Canadian Society of Painters in Watercolour and received her diploma in 2000. This national society was founded in 1925 by A.J. Casson and Franklin Carmichael and includes in its' membership many of Canada's most renowned artist's. She has also been made an honourary Fellow of the Ottawa Watercolour Society.
"The appeal of watercolour is its luminosity, where the paper rather than the pigment provides the light." She says.
Needing a challenge she has recently started painting large acrylics on canvas. "The act of painting allows me to focus on the now where I lose myself and find myself at the same time."
Concentrating on good composition, strong light, colour and shadow, she says the subject matter is limitless, but she quite often portrays her love of the region by capturing her scenes of Brockville and the River .
When I asked her if she remembered her first sales, she said, "Having sold over 1200 originals over a period of 25 years, remembering the early sales is a daunting task, but I know they were made to fellow artists who were encouraging me to continue life as an artist. For that early support, I am grateful. What I do remember is the love and friendship of the local art community."
Today Pam exhibits her paintings year-round at Tait's Fresh Start in Downtown Brockville. The next Brockville Artist's Studio exhibit will be at the Brockville Memorial Civic Centre on the first weekend of November 2017. Her art can be seen anytime on the Pam McKinnon Art Facebook page.
www.pammckinnonart.com   Visits to her home studio can also be arranged.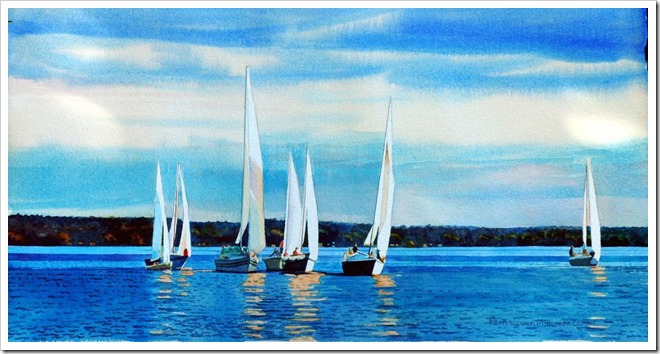 "St. Lawrence Sail"
Watercolour by Pam Warren McKinnon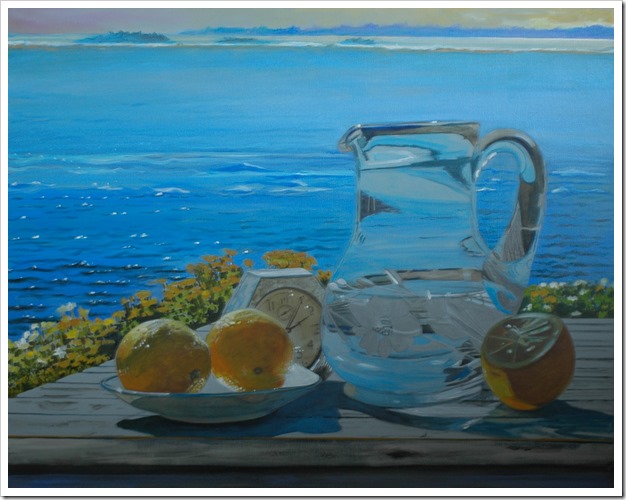 "Summertime"
Acrylic on canvas by Pam Warren McKinnon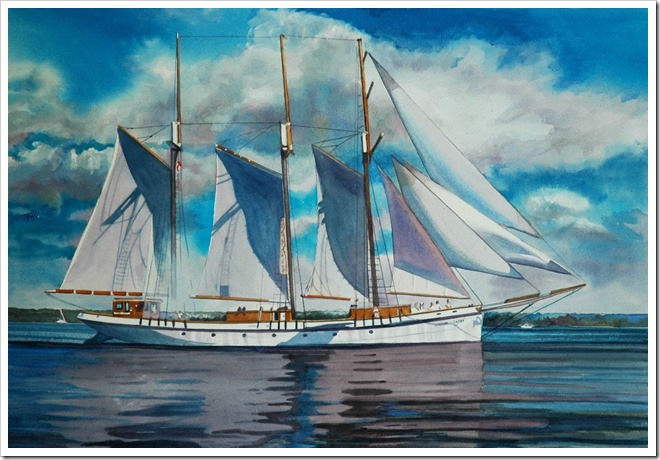 "The Empire Sandy"  
Watercolour by Pam Warren McKinnon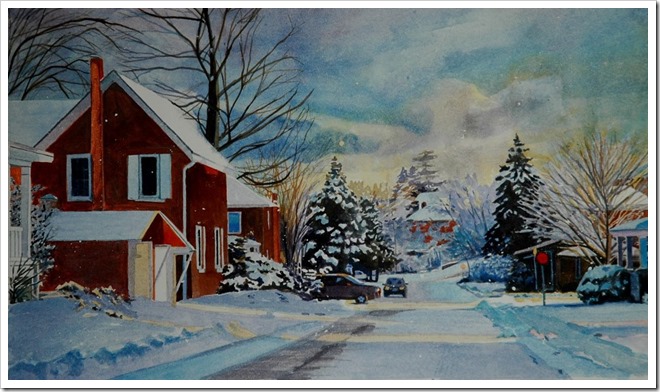 "Christmas Morn"   
Watercolour by Pam Warren McKinnon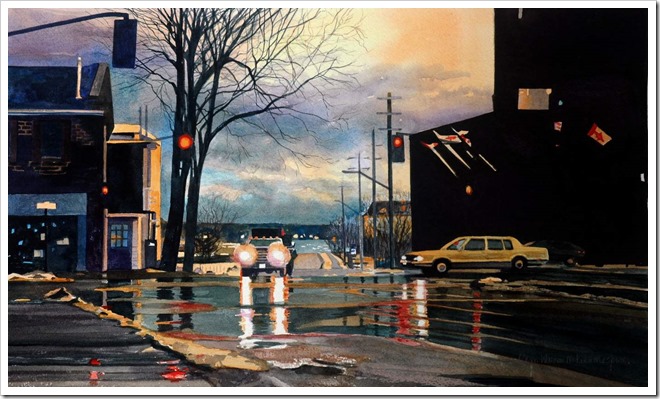 "After the Storm"     Watercolour
Watercolour by Pam Warren McKinnon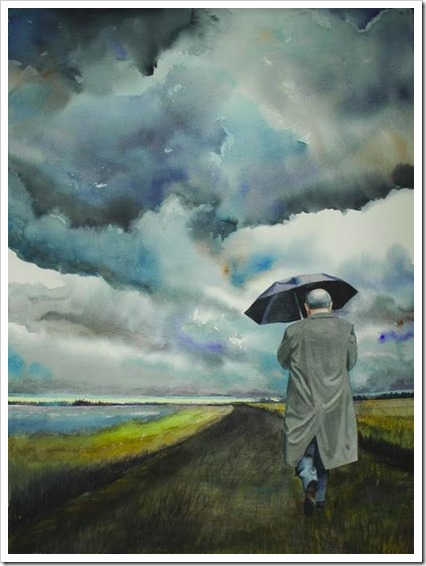 "Exposure" 
Watercolour by Pam Warren McKinnon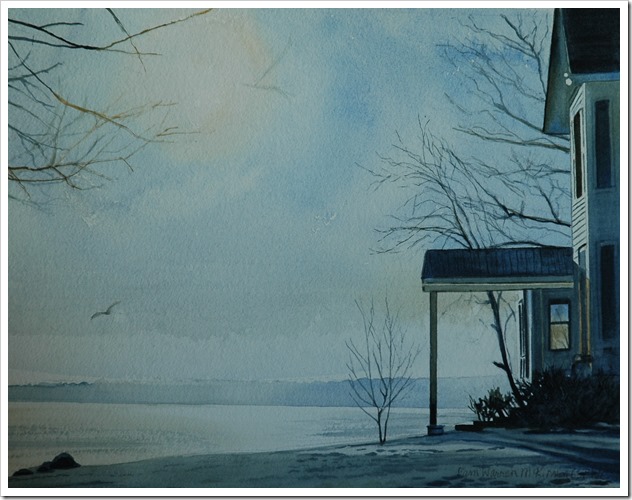 "St. Lawrence View"
Watercolour by Pam Warren McKinnon
It has been a pleasure meeting Pam Warren McKinnon and most of all to be introduced to portraits of Brockville and our river through her paintings.
By Susan W. Smith