Six guys from a local firehouse ditch their significant others, schedule time off work, buy more food than they need for a week, empty the gun supply store of ammo and set out for three days of nothing but peace and solitude, on an island near Alexandria Bay. This would be a time to reflect. Their intent was to go duck hunting.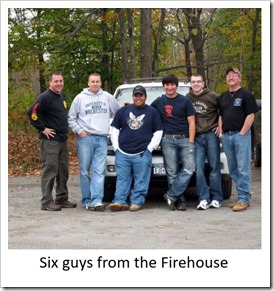 About the cast - all six guys are from the same firehouse - Chili Company One. They are diverse in age, starting with Jonny, and Patsy, then Brandon who is also referred to as "Abu". Mark is in his mid-20s, followed by the host Jim, and finally myself. They all work and train hard together, at the firehouse; they are dependent on each other for the sake of their own lives while on duty.
Although there were no life or death situations, this weekend reinforced that value, and showed the respect that they have for each other, the environment and the fact that God gave us three days to enjoy. A few more friends were invited, but due to work and family obligations, were unable to attend.
The Start
We embarked on our voyage on Friday, October 9, 2009, at about noon. Two vehicles loaded to capacity - Jim's truck with his 18' boat in tow. headed for the Thruway to make it easier hauling the boat. We had done a lot of preparation for this trip, everyone had purchased ammo, sleeping bags, clay pigeons, and Andy loaned us his AR15. We planned our meals, the last thing we wanted was to be hungry on an island! Patsy bought a 21-pound turkey he called "Tom", our Batt. Chief – Chuck, let us borrow his deep fryer. I went to Palmer's and picked up 14 ribeye steaks for Saturday's feast.
Our first stop was Routes 81 and 104, in Mexico, NY. Patsy is adopted from Guatemala, so I thought this picture was appropriate. Our very first stop involved Jim's tailgate popping open, nearly emptying the beds contents into four lanes of traffic.
A brief snack, our first group photo, and we were back on the road. Jim really had the hammer down, going through the north country, he was darn excited to be going to his hometown of Alex Bay. His family is from these parts, and he knows everyone, and he is related to most of the town. His dad and granddad owned a marina here, and built those classic wooden boats that adorn the waterways of the islands. He truly loves this place and welcomed us.
We floated the boat from the trailer, and before I could turn around, the guys had most of the contents in the boat, and Abu and Jonny were being taken to sea. Mark, Patsy and myself waited for their return and took in the quiet and peaceful surroundings of the marina. Before long, Jim was back and we finished piling in our supplies, parked the trucks and headed into the long weekend we had all been waiting months for.
Boys at Play
After arriving and noting Jim's grandfather's weather station, all we could think about was eating. We carried our equipment and food into the cabin and began preparing dinner. Patsy dove head first into learning how to prepare his turkey and we set about getting the fryer filled with oil and heating it up. It was a learning experience for all of us, but it turned out well, and we all had full tummies. A little gun play, Abu putting our pigeon thrower together and Jim had the wood stove heating up the place toasty warm. The cottage even had a satellite T.V. for entertainment, topped off with the stories that began to emerge and our plans for the weekend. We all enjoyed watching R. Lee Ermey's Lock -n-Load, which was a fitting documentary to get our gunpowder urges pumped up.
I was pretty camera happy this weekend, and wanted to practice and document all the activities. So many things to do and see; it was hard to relax. Funny thing really; we all had come to relax, but none of us had. I was eager to take a boat ride. Some of the guys wanted to shoot their guns.
Exploring
Jim let me take his boat, with the 9.9hp outboard, for a spin around the island and Abu joined me. I grew up exploring the water of Black Creek. I had spent some time on a similar boat, on the Genesee River, goose hunting. I was prepared enough to handle the boat. I wasn't prepared for the sheer joy that a little motor, on a little boat, in crystal clear water, the clear blue sky, autumn smells, crisp air, and bright colors could bring.
This is a trip I had thought about since I was a kid, reading Field and Stream and Outdoor Life magazines. It was breathtaking. I was trying so hard to take it all in and enjoy the moment at hand, I knew it would all be a memory in a couple of days, and I wanted to remember this forever.
The boat ride that started to be a quick trip around a couple of islands ended up being a full out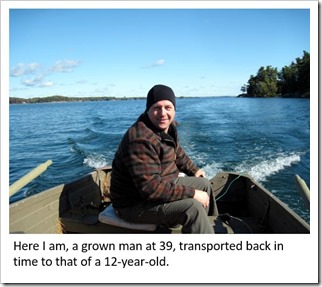 excursion. We went to Canada, Elephant Back Island, and ran the batteries out of both cameras. And then reluctantly headed back to camp. After docking, I shouted up to Jim - "we have a problem". I know what was probably running through his mind, so I quickly said, as soon as the camera batteries charge, you won't see me again till dinner time!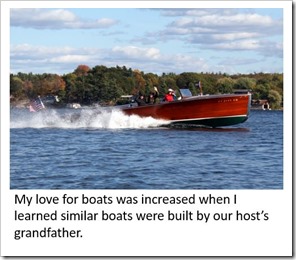 I was ready to go out boating again, so Jim grabbed a couple of trolling rods, and we set a course up River, through the islands, and then onto the main shipping channel. We agreed our destination would be Heart Island and Boldt Castle. Patsy had never been trolling before, so Jim gave him the low down and dirty ways of hooking a Muskie. We just floated along at a knot or so, occasionally checking the lures. I was just happy to be in the boat and taking in the breathtaking scenery. Most of all, the good friends and the conversation we shared. Only wrapping Jim's line in the prop once, I was a pretty good at operating that little boat. I somehow felt like a kid again.
Hunting Prowess
As we neared camp, one of the guys was waving us off. They had shot a mallard drake that we had spooked not 5 minutes before. Jonny was the guy on the trigger, and with just a little effort, we scooped up his prize and docked. Yes, one lone drake mallard was all that was brought down, in the fury of gunfire that echoed from that little island. Well, that and 300 clay pigeons, off the north shore of the island.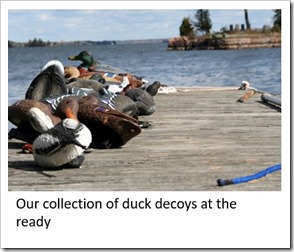 Sunday was the last day, the last day of freedom. Tomorrow was back to the ole grind; our ride back to the shore was a far cry from the peaceful calm waters we experienced the day before. Rough waves took us over an hour to out and back. On the way back, I hate to say it, but I had the ole pucker factor working. I seriously doubted my skills and wondered how big a wave, was too big a wave, for our little craft. At one point the swells were over our heads, and the motor was running at almost full tilt to stay on course.
Good times almost over
We managed to fit all of us and our gear into the Stingray. We made it across with minimal water, except for Patsy, who was wet. Unfortunately, the boat trailer didn't want to go home that afternoon. The boards that hold all the weight and guide the boat onto the trailer broke off. It took an hour and a half to get it right, I must admit I wasn't much help in this process. There were a couple of chocolate labs playing in the harbor. I had a field day trying to capture footage of them jumping off the dock after sticks.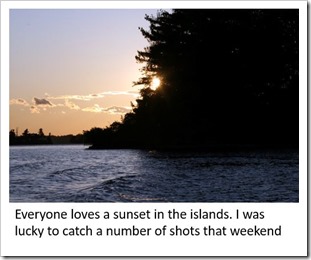 Finally! We were on the road heading home. And then, I noted a slight odor of smoke - smelled like rubber. And then, there it was, a wobbling trailer tire. I flashed Jim with my headlights... I, as well as Jim were hoping it was just a loose lug nut, but we found the inner bearing had self-destructed. A quick assessment on the phone, a couple of trips back to the marina, and the only solution was to leave the boat behind. Jim's cousin would pick the boat and trailer up the next day and make repairs. Yes, Jim had to drive back to A-Bay next weekend – poor guy!
I think we all agreed - a weekend away from responsibilities, good food, and great friends is even better in the Thousand Islands.
By John Spaulding
John Spaulding was born and raised in Rochester, NY. His father came from the North Country, so he often visited relatives. In recent years, he returned for snowmobile adventures. It was only eight years ago that he was introduced to the St. Lawrence River, by a brother firefighter. John is a full-time paramedic and a freelance writer, journalist and photographer. His work appears primarily in local newspapers. Since childhood, he has had a passion for the outdoors and protecting our natural resources.