1960. It doesn't seem that long ago to those of us who spent time at AUBREY'S THOUSAND ISLAND BOWLING CENTER (Bowling Alley), but it's a part of the history of Clayton. It's no longer here, but to many of us it was the "place to be" for fun and games (or work) in those days. Clayton was ready for a bowling center. The old lanes had closed and there was very little to occupy the evenings, especially in the Winter.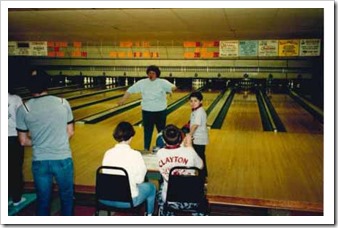 Charles (Chuck) and Dorothy Aubrey were also ready for a new venture. They owned and operated Aubrey's Market, Aubrey's Restaurant, Aubrey's Marina, and a few other ventures in Cape Vincent. They saw the opportunity and made use of it. The building now houses WHITES LUMBER AND BUILDING SUPPLY on outer James Street, but in 1960 in was brand new. There were 12 lanes for bowling, a fully stocked bar, a kitchen with a lunch counter, several booths and a few tables for the dinner crowd. The locker room and bathrooms were in the basement.
It didn't take long for things to get started. The lanes were soon scheduled for team bowling through the week, and open bowling afternoons and Saturday evenings. Monday night was for the Ladies leagues and Sunday night for couples bowling. There were those who bowled on several leagues and were dedicated to improving their scores and winning for their teams. There were others who bowled for the fun of the game and still others who just wanted a night out to have some fun. Teams came from all over the north country. There were several from Alex Bay, Lafargeville, Theresa, and of course Cape Vincent. In the Winter every night was filled, but in the Summer most of the locals were too busy to schedule regular leagues. There were a few Summer leagues, but the lanes were usually busy, anyway, with tourists. This was especially true on rainy days when there was little to do outside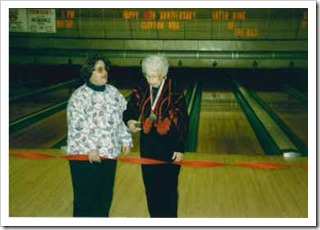 The Aubreys were busy with their businesses in the Cape, so for the most part the Bowling Alley was handled by local Clayton employees, with an occasional visit from the proprietors. For many years George Bazinett was the manager, Bernard Dine took care of the lanes and Bob Moschelle and Charlie Wood took care of the bar.
I cooked there for several years. It was a challenge. Chuck had been a cook at one time and knew how things should be done, but things moved so fast at the "Bowl" that some of the time it was just impossible to "present" a tossed salad the way he preferred. We had very intricate signals to let us know just when the boss was coming. Dorothy Aubrey came every Saturday night to give out pay checks. She always brought her Cocker Spaniel, Buffy, and would toss her mink coat on the floor so Buffy could be comfortable while she waited. I often cooked a sirloin steak for Buffy while some of the waitresses said naughty words when they tripped over him.
Some of the waitresses were there for years. Marilyn Bailey was one. She knew all the bowlers by name and many of their spouses and children. She always had a smile and a relaxed attitude that made her a favorite with the bowlers. Her husband, Gordon also tended bar some of the time. I wish I could name all of the girls who ran their legs off delivering drinks, french fries, and beer, beer, beer to the thirsty men who enjoyed their night out. Mary Ellen Rogers, Annie Calhoun, Linda LaFleur, Sally Calhoun, Jean Wynn, Brenda (Hyde) Aubertine, and many more.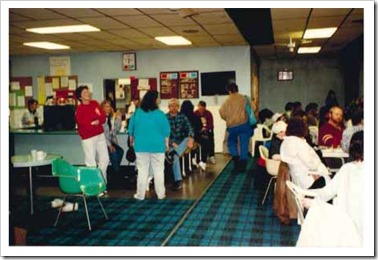 The kitchen was a busy place. They carried a full menu, everything from french fries (potatoes peeled and sliced there in the kitchen) to complete steak dinners with all the trimmings. Pizzas were a specialty. If memory serves, it was $1.95 for a large pizza with everything. The 12 inch was $1.25. The most expensive thing on the menu was the porterhouse steak for $2.95. There were pepper steaks, frizzled steaks, pork barbeques, pork chop dinners and fish fries, and of course, hamburgers and cheeseburgers. All the meat and produce was brought from Aubrey's market and was strictly fresh.
What made the Bowling Alley outstanding though, was the people who enjoyed the place. Competition on the lanes could be very interesting. There were nights when a team of dedicated bowlers would be bowling against a team who just wanted to have fun. It seemed that the more the dedicated bowlers tried to keep things serious the more the other team would try to annoy. There were times when it almost came to blows, but it never amounted to anything serious and they usually laughed it off with a beer or two after bowling.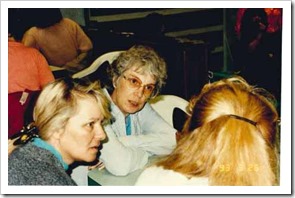 Of course the bar was busy also. On men's bowling nights a lot of beer went to the lanes, but the bar was busy from 5 o'clock on. It was a comfortable place for people to stop by after a busy day at work. The bartenders were friendly and knew how to handle a big crowd or an occasional customer who needed to be sent home safely. Watching the TV show "CHEERS," I was often reminded of the "Bowling Alley" bar. Everyone knew the friendly gossip that circulated around town, and if anything could be done to play a prank or get a good laugh it was sure to happen at the "Bowl"
And then there was our "Resident Priest", Father Kennedy. Father loved to bowl and he was an excellent bowler. He also loved his scotch, but since he was nursing an ulcer , he always drank it with milk. I always gave up sweets for lent, but Father Kennedy always gave me a "special dispensation" when someone brought in birthday cake to share.
The dinner crowd at the Bowling Alley was also very special. Many ate there several times a week. Often a golfing party would come in after a day on the links and a few of them would take pity on a busy cook. They would pour their own coffee, write down what they wanted to eat and say "Ring the bell when it's ready and we'll take care of it". Often they would clear their own table and still leave the busy waitress or cook a tip.
Stub Carlisle, owner of Carlisle's sand and gravel loved the bowling alley french fries. A few times he wanted to order a large order of fries, but they weren't peeled and ready. He'd step into the kitchen and peel and slice is own. There were many more people that made the Bowling Alley an interesting place to work. It took a special kind of waitress to handle the food and drinks at the Lanes too. There was a lot of good natured teasing and heckling which was all a part of the fun. A dropped tray would get a waitress a standing ovation. A mix up on a drink might might find it's way to the kitchen where things often got boisterous.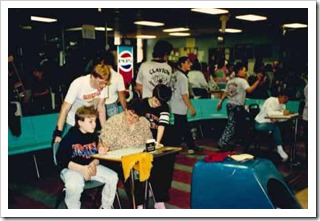 Romance sometimes bloomed at the Bowling Alley. It was a hard place to keep a secret though, so romances often failed too.
The merciless teasing that tormented a young waitress who "fell in love" brought many tears. As the Mother of teenage daughters I had the advantage of knowing every time a young man made a pass.
Eventually the Aubrey's decided they had enough to handle without the bowling lanes. They sold the business to Joe and Dorothy Stevens, who ran it for several years. Then it was sold again to Ron and Mary Dillon, and eventually it was closed.
It was "the end of an era" to those of us who spent so much time there. If you want to bowl now, Theresa and Watertown are the closest places, but AUBREY'S THOUSAND ISLAND BOWLING CENTER was a great place to bowl or spend the evening in a friendly bar. It was the place to have a good dinner or a sandwich or a pizza. Now it's a place to buy your lumber and building supplies.
By Nancy Bond
Nancy Bond began writing in high school 60+ years ago, but then family life took hold, as she and her husband, Leo, raised twelve children, on their farm in the town of Clayton. It was only recently that Nancy began writing her memories on paper, for her children to enjoy. The Thousand Islands Museum persuaded her to share these memories with the "Thousand Islands Sun" and now with "TI Life" for all to enjoy. Click here for Nancy's other articles – everyone one of them will make you smile and bring back memories if you grew up in Clayton, NY!