Eight years since TI Life first reported on Wolfe Island's wind turbines, additional industrial wind development in the Thousand Islands remains a very real and active possibility. Remarkably, it appears that many residents and visitors are unaware of this transformative and ongoing regional question.
Starting in 2009, when 86 wind turbines (each 420 feet tall) were erected on Wolfe Island, various attempts have been made to construct industrial turbine arrays in at least four towns along the American shoreline.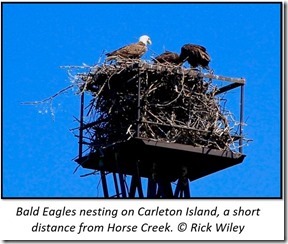 Through the passage of specific wind district laws and zoning requirements, local residents and town governments in Cape Vincent and Hammond successfully dissuaded wind developers from building additional turbines, some of which would have been constructed only 1200 feet from the St. Lawrence River.
In every instance but one, developers along the St. Lawrence River have failed, withdrawing their applications and focusing expansion efforts outside of the St. Lawrence River viewshed.
However, in early 2016, a revised version of the contentious Horse Creek Wind Project in Clayton, mothballed for almost five years, was resubmitted by Atlantic Wind LLC, an American subsidiary of Spanish multinational Iberdrola.
The revised version of Horse Creek is being considered under New York State's relatively new Article 10 industrial power generation siting process. Unlike previous project approval mechanisms, Article 10 takes away local project approval authority, known as Home Rule, and replaces the siting approval process with an administrative process controlled and decided upon by the New York State Public Service Commission in Albany.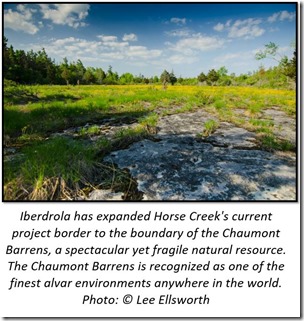 Not surprisingly, news of a revised Horse Creek Project, combined with the new Article 10 approval process, has reignited passionate debate about the future of the Thousand Islands.
The Horse Creek Wind Project was first proposed for the Town of Clayton in 2006. Then covering an area of about 9,000 acres, the project consisted of 48, nearly 500-foot turbines. However, the project was delayed over concerns about the project's impact on federally-endangered bat species, as well as by a vocal contingent of citizens who strongly opposed industrial-scale wind development. Not long after, Iberdrola pulled the project, blaming an unclear development timeline and a reevaluation of capital priorities. Local opposition and town government officials declared victory, crediting strong local resistance and the expiration of important federal subsidies for wind developers as critical reasons for their success.
However, after federal subsidies were extended in a late session of Congress in 2015, Iberdrola, via subsidiary Avangrid Renewables, quickly restarted the project in the Spring of 2016.
The revised project has expanded and now proposes 60-72 industrial wind turbines, new access roads and transmission lines spread over 14,000 acres in the riverfront Towns of Clayton and Orleans, as well as the Towns of Brownville and Lyme on Lake Ontario.
Currently, turbines up to 500 + feet are proposed. However, due to the flexibility of the Article 10 siting process, important project specifics including turbine height and number can be changed by the developer during later stages of project approval. Project opponents fear that the final Horse Creek application will call for 600 or even 700-foot tall turbines.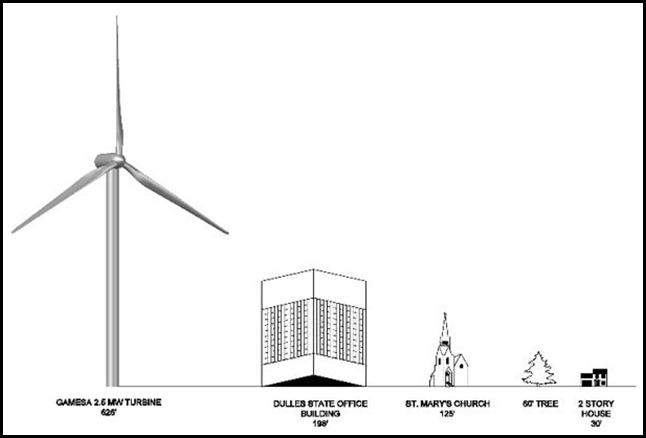 Gamesa 2.6 MW Turbines (626 feet) would fulfill Iberdrola's plans to produce up to 250 MW from 72 turbines.
The Dulles State Office Building, the tallest building in Watertown, NY, and St. Mary's Church, Clayton, are dwarfed by modern industrial wind technology.
If Iberdrola proceeds with Horse Creek, the project will become embroiled in a contentious and costly administrative law proceeding. Iberdrola will use the procedural advantages of Article 10 to oppose Home Rule and attempt to override opposition from residents, local governments and other project stakeholders.
Local officials and residents have worked tirelessly to stop the project, adapting their efforts to the new siting process. Both the Towns of Orleans and Clayton publicly oppose the project. Clayton is expected to eliminate its so-called Wind Overlay District, signaling that industrial wind turbines are not a permitted use within town boundaries. Residents and visitor opposition has also grown steadily as more Thousand Islanders become aware of the project. More than 400 public comments have been registered with the Public Service Commission opposing the project: http://documents.dps.ny.gov/public/MatterManagement/CaseMaster.aspx?MatterCaseNo=12-F-0575.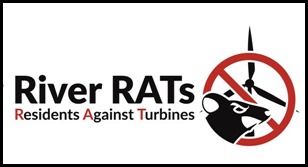 The Thousand Islands Land Trust (TILT), a long-time opponent of industrial wind within the viewshed of the St. Lawrence River, recently reconfirmed its opposition to Horse Creek, raising concerns that the project would damage the area's fragile and especially rare environmental features including alvar limestone bedrock. TILT has also raised concerns about higher than estimated bird and bat kills caused by the Wolfe Island turbines as well as the visual transformation and viewshed loss that would disrupt the region's visual, tourism-based economy.
Also, a new single-issue organization, River Residents Against Turbines (River RATs), has recently launched a website (www.RiverResidentsAgainstTurbines.com) and social media campaign (www.facebook.com/RiverResidentsAgainstTurbines/) promising to unite Thousand Islanders and fight Horse Creek, championing the belief that regardless of one's personal stance on renewable energy, all can agree that the Thousand Islands and St. Lawrence River viewshed is the wrong place for industrial wind.
The Horse Creek Wind Project will continue to be argued passionately. Whatever relationship you believe the Thousand Islands should have with industrial wind, make sure that you speak up, get involved and take action before it is too late to have your voice heard.
By Jack Woodward
Watertown native Jack Woodward is a retired USAF Lt. General and Senior Executive with Accenture Federal Services. He is a permanent resident of Wellesley Island (channel side) and a strong supporter of preserving the St Lawrence River environment.