Written by
Susan W. Smith
posted on May 13, 2017 12:24
The Questions are thought- provoking for those Jefferson County young people between the ages of 5 – 25 who apply for the Keith Brabant Memorial Scholarship.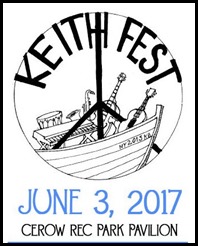 1) Describe your passion for music and any musical avenues that you have explored.
2) How do you plan to stay dedicated to music?
3) Why should the Keith Brabant Memorial Scholarship invest in your future?
Since 2010, when Keith died, 22 winners have received scholarships. "The winners may use the scholarship funds as they wish," says Melody Brabant, Keith's mother. "Over the years students have gone to summer music camp, bought instruments, paid for lessons etc. ." 
KeithFest is a family-friendly community event that celebrates the importance of music in our lives. This is a major fundraising effort with proceeds going to the Keith Brabant MusicScholarship administered by the Northern New York Community Foundation in Watertown, NY.

From his family:
Keith worked constantly to develop his musical talent in the North Country and both Colorado and Washington State. He toured throughout the western states sharing his music; while always finding time to enjoy nature – hiking, biking, and skiing – and the people he met along the way. He taught many young people to appreciate the gift of music and with this scholarship we are helping many others to pursue their own musical goals, and to ensure that Keith's legacy continues."
Ten volunteers organize the KeithFest.  "In the beginning it was Keith's friends and contemporaries who created the Festival and as some either moved away or were busy with their new families, others stepped in. We are so grateful to these committed groups and to the many more who join in each year on the day of the Keith fest"
The tentative schedule includes Minus Mike, which is the band Keith started playing with when he was in High school and they have played at every Keith Fest. In addition, the following will be playing: (Tentative schedule)
12:00 PM Sarah Parker Ada

12:45 PM:  2017 scholarship recipients

1PM:  The DT'z

2PM: Tough Luck

3PM: Minus Mike

4PM: The Philabusters

5PM: Tik-Tok

6PM:  Nashville Recording artist, Rachel Turner
YouTube photo collage and video from the 2015 KeithFest.  Created by Michael Bauter

 
Children's Program
This is a family event with the Children and Family Area open all afternoon.  As in past years the popular activities will be returning: 
Instrument Petting Zoo
Children's crafts
Miss Tammy's Fanciful Faces – Face painting
Fragile Planet Wildlife, 1-4PM
Fifi D. Clown, 12-3PM
"Let's Bounce" bounce house
Be sure to see the KeithFest  website for all details.  Questions:  keithbrabantgeneralinfo@yahoo.com.
During his lifetime, Keith composed and performed a full range of original music.  In addition to solo acoustic shows, he both joined and formed many successful bands.  His earliest, with friends during their teen years, was Javiae Forhed; following which he enjoyed playing with Minus Mike.  After several semesters in a music program at OCC he left Clayton and made his way to Colorado, where he joined a band named Prometheon Monk.   Keith and other members of this band eventually formed Solomon's Lane, moving to Seattle, Washington and touring throughout the northwest – where they found enthusiastic audiences, many interesting adventures, and some great new friends.  Returning to Colorado, and adding some new members, they started the bands Rhythm Pig and The Kilgore Trout – both performing many of Keith's original compositions, and along with Keith's solo acoustic shows had a strong following.   After nearly ten years, and with much deliberation, Keith decided to return to New York, and continue with his music, while reconnecting with family, friends, and the river he loved.  With his long-time friend Dereck Kirkby, they started the band Leo Zion, drummer James Cage soon joining them, and then keyboardist Gino Cappucceti.   Keith was enjoying being back in his hometown, working hard, performing and recording his original music, performing with good friends and in solo shows alike, right up until his last night with us.   We are so glad to have his library of original music to enjoy  and to share with others.
See Reverbnation for Keith Brabant's original music:  https://www.reverbnation.com/keithbrabant
Uploaded on Jun 10, 2009
Live, Clayton, New York 1000 Islands, Guitar, The Beatles winter
By Susan W. Smith, Editor, Thousand Islands Life
Last account activity: 17 hours ago
Details