Written by
Susan W. Smith
posted on June 13, 2017 12:45
Throughout the month of June, updates on water levels are top of mind. As we publish the June issue of TI Life, we received several updates and news stories. Suffice to say everyone is impacted - swamped docks, erosion, and any flooded homes. The River economy will be heavily influenced by loss of hours for seasonal workers. Tour boats are already slowing down, and speed limits are enforced.
Cornwall Dam to increase water flow
The Joint US and Canadian Board that controls the outflow through the Moses-Saunders Dam at Cornwall, ON announced an increase to begin on June 14 and will last for an estimated 72 hours.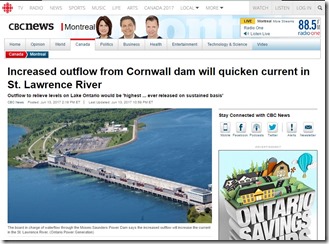 CBC Announced late on June 13th and warned of the increased current in the St. Lawrence River saying boaters should be "cautious of the extreme conditions."
Toronto's Globe and Mail reported the IJC – International Joint Commission's Lake Ontario-St. Lawrence Board agreed to increase the flow rate over the Moses-Saunders Power Dam in Cornwall, ON from 10,200 cubic meters per second to 10,400. This outflow is scheduled to last 72 hours and will begin on June 14, 2017. This will impact the St. Lawrence Seaway and shipping with currents increasing.
When Water Runs High – by Finn Long
Published on Jun 8, 2017
A brief news-documentary style video chronicling the impacts of the record high Great Lakes and St. Lawrence water levels on Gananoque and the Thousand Islands.
Governor Andrew Cuomo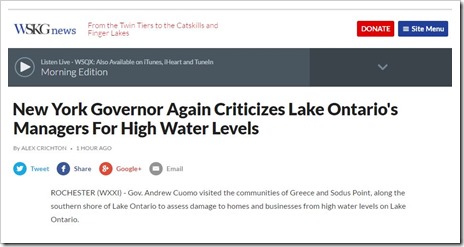 The latest news from the New York Governor Andrew Cuomo criticizes the IJC and the water level management of Lake Ontario and The St. Lawrence. River. This article was the second time Cuomo linked the IJC actions with the crisis. The important news to watch will be the state funding to assist homeowners and business in the region.
Useful websites
Fisheries and Oceans Canada, Government of Canada. Monthly Water Level Bulletin. (Scroll down to see chart of the St. Lawrence River.
Great Lakes St. Lawrence Seaway System – Water Level chart from Montreal to Lake Ontario, seven-day trends. See Kingston Chart.
Slow Down
Slow down is easy to say… even if you are waving from shore, but there are sill some who are oblivious to the damage a boat wake can cause. Dennis McCarthy captured this speeding boat. Please take care.
By Susan W. Smith, info@thousandislandslife.com