There's a new eatery in town. The Spoon and Brassie offers an innovative restaurant experience to match our casual summer life styles and adventurous natures. The Spoon and Brassie dining room and bar is in the refurbished Gananoque Golf and Country Club (GG&CC).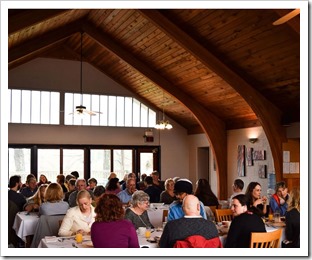 The restaurant's name pays homage to the club's near centenarian history. Golf clubs from the early 1900's were made of wood with a metal base plate. The brassie, made with a wooden shaft and a brass base-plate, was equivalent to a 3-wood of later years and the spoon was the forerunner of the 7-wood. Most golfers would have been using spoons and brassies when the GG&CC was founded in 1921.
Bruce Davis, founder and manager of the Gananoque Brewing Company and now restaurant manager, saw an opportunity to create a new dining concept in the idyllic setting of the GG&CC. And it is different in every way, from the cheerful dining room facelift to the varied menus and serving styles.
The soft grey walls of the 1920's club house provide a calm backdrop for the vibrant and colourful paintings of Robert Davis (no relation to Bruce). Painted wicker furniture, reminiscent of cottage porches rim the room and the old fashioned Formica top tables and wooden chairs lend a cozy "family kitchen" feel to the space.
Unique Dining
Davis has introduced fun, interesting and unique dining opportunities to the Spoon and Brassie. Friday is Family Dining night where everyone at your table shares the appies, entrees and salad, just as you would at home - a taste of this, or a second helping of that. Everyone in your party will eat the same entree. One entree serves 4 people, more than four share two entrees and 8 or more can share three entrees. The prix fixe menu includes two generous sharing appetizers, entree, dessert, tea/coffee. Bar not included.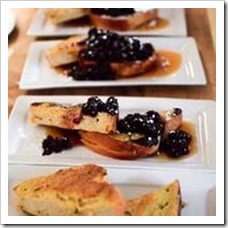 Our initial experience at the Spoon and Brassie Family Dinner was thoroughly enjoyable. Our steaming entrees arrived at our table for six in eye-catching large oval royal blue braising pots. The wonderful aromas seeping out from under the lids hooked us immediately. The braised beef fell off the bone in its succulent sauce over the green bean mushroom polenta casserole. The chicken was moist and juicy with roasted potatoes and green beans, a meal evocative of my childhood Sunday dinners.
The wine list has been paired to the menu choices. For instance, the list recommended the Tempranillo to accompany the braised beef or the Sangiovese Blend for the Tuscan chicken. As the menu changes so will the wine list.
So, how do you know what entree you will share? You select your entree(s) when you make a reservation, at least a day in advance of Friday. When you make the reservation for 6:30, you will be invited to enjoy a drink at the bar for half an hour, enjoying conversation with friends, neighbours and the cheerful bartenders. You will be seated and served dinner at 7:00pm. As a summer cottager with lots of visitors throughout the season this is a godsend. I'm all for taking the gang to the S&B for a casual, affordable, homey evening leaving the cooking and bartending to others . I call this "hostess relief".
I appreciate that this menu model minimizes food waste because the chef knows in advance exactly how many chickens, ribs, pasta and fresh foods to purchase. Leftovers that you don't take home for tomorrow's lunch make their way back to the farm for animal feed and compost. Food sustainability is at the core of Chef Jess' culinary philosophy and practice. She is passionate about her food sourcing: wherever possible it is locally sourced from Wendy's Country Market, Kingston Farmers' Market, Patchwork Gardens and many others. Unfortunately the islanders aren't the only ones who are suffering from high water levels; some local farmers have had complete crops washed out this spring and have had to resow their seeds so many of the local foods could be late or potentially non-existent this year.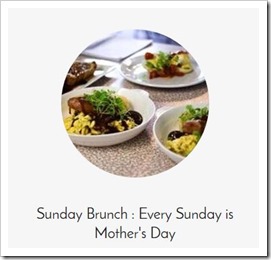 The Spoon and Brassie Sunday brunch (10:00a.m.-3:00pm) features eggs Benedict, French toast, salads and sandwiches – something to tickle most any fancy. Some dishes are named after local islands like the Leek Island Frittata and the Aubrey Island Pancakes (sounds better than Burnt Island Pancakes, right?). And when Mum shows up with five adults, she eats free!! Every Sunday is Mother's Day.
A Welcoming Concept to Canada
Back in November 2016, Gananoque sponsored and welcomed a Syrian refugee family. They have already made many friends and on Wednesday nights, Lina and Fares, will be sharing the tastes and flavours of their native homeland. They will be cooking and serving exotic sounding dishes such as chicken shawarme, kibbe and Kabsa with Fattoush, an aromatic rice with chicken. ( Reservations required). What better way to get acquainted with our newcomers than through the sharing of food and cultures? Hats off to Bruce for this warm and welcoming concept.
Canada's 150
Happy Birthday Canada! Come one, come all! On Thursday June 29th, the S&B is hosting a Canada Day Party at the Golf Club: $10 for hors d'oeuvres and a cash bar.
Spoon and Brassie Daily Faire
What happens the rest of the week at the Spoon and Brassie? Casual comfort food is available every day through Bar Express without reservations from 11:00am to 8:00pm. under the deck umbrellas or in the club house. My lunch was a sumptuous salad of mixed fresh greens, crispy prosciutto, candied pecans and goat cheese – a wonderful mélange of tastes and textures. Burgers, sausages and sandwiches are available for the heartier appetites. Chef Jess Tennant clearly puts a lot of thought into her menu selection. She attributes her knowledge and skill to having worked with some of the best chefs in the area, most recently at Atomica in Kingston. She has brought experience and originality to the table at the Spoon and Brassie.
Plus Kayaking
Big plans are afoot for the GG&CC waterfront once the high water levels recede and the dock resurfaces. Peter Horan will provide single and double fishing kayaks and paddle boards for rent, lawn chairs for relaxing before, after and in between golf games, and classes for youth groups with Paddle Canada/Kingston. On Tuesday, Wednesday and Sunday he will feature Paddle and Putt: half a day of golf, half a day of kayaking for $60 for two people.
So when you put it all together, tucked away at the end of the Golf Club Lane nestled by the river there is a full and unique experience awaiting you at the GG&CC. Whether you arrive on foot, by boat, car or bicycle, the cheerful staff is ready to welcome us all to the Spoon and Brassie and eager to share their food prepared with love and conscience.
| | | |
| --- | --- | --- |
| | Yes, when the water goes down the GC&CC dock will welcome Islanders. | |
By Gretchen Bambrick
Gretchen Bambrick is a native of Gananoque and the islands. Her childhood summers were spent on Big White Calf island where life was all about sailing, canoeing, motor boats and Canoe Club dances! She and her husband, Terry, lived and worked in Wisconsin for 28 years before retiring to Vermont and spending summers back in Gananoque.