Written by
Jessica Phinney
posted on July 01, 2017 12:39
The Thousand Islands Arts Center ~ Home of the Handweaving Museum is celebrating its 50th birthday throughout the year with a number of special events and exhibitions. In conjunction with this milestone there will be a memorable exhibition entitled "It Started at the River: Prints & Paintings by Nancy Hammond," an exclusive 50th anniversary poster sale, our 50th Anniversary Gala, a poster raffle, and later this year, the return of the exciting Exhibition "50th Anniversary: A Retrospective."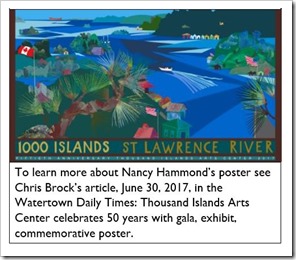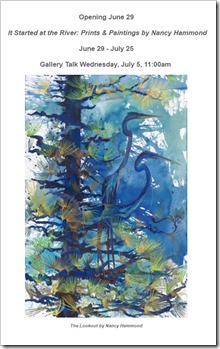 "It Started at the River: Prints & Paintings by Nancy Hammond" will open at the Thousand Islands Arts Center on June 29. Nancy Hammond, Annapolis, Maryland, is a contemporary painter with an eye for water life. Her stylish collection of prints with unique design elements are celebrated throughout the United States, specifically her annual poster series of the Chesapeake which has been hailed a "phenomenon." Ms. Hammond grew up summering on Murray Island where she drew much of her inspiration.
To commemorate TIAC's landmark 50th anniversary, Nancy Hammond has created a stunning 1000 Islands St. Lawrence River poster, available July 1, with all proceeds benefiting TIAC. Only 125 limited edition posters are available for purchase at $75 each. The 27"x19" poster is signed and numbered by the artist, comes professionally wrapped and includes a Certificate of Authenticity. Posters are also available framed with conservation clear glass for $275. Reserve your poster now by calling the Arts Center at (315) 686-4123. The original painting will be unveiled and auctioned at the 50th Anniversary Gala on July 6 at St. Lawrence Sprits Distillery and Chateau.
Also in celebration of TIAC's 50th birthday, a framed giclée of the poster is TIAC's annual summer raffle. Tickets are $20 for one or $50 for three and are available for purchase throughout the summer at TIAC and all TIAC events. The winner will be drawn on August 27th at the 53rd Annual Arts and Crafts Show and Sale. Winner need not be present to win. Thank you to Michael Ringer Galleries for underwriting the framing.
Finally, the Exhibition's 50th Anniversary: A Retrospective rounds out the year of celebration and features a look back at the institution's history as well as at the woven masterpieces found in its renowned permanent textile collection. The Exhibition's first showing ran May 17 through June 24. It will return for a second viewing October 2017-January 2018. Beloved by the community, TIAC began as a small seasonal "Craft School" with a focus on the Heritage Arts in 1966. Over the years classes and programming have continued to grow and evolve to meet the changing needs of its community. Today TIAC offers a full year round Heritage Arts curriculum, exhibitions from noted regional artists and beyond, as well as an accredited Textile Museum.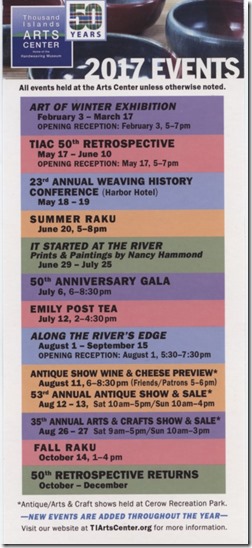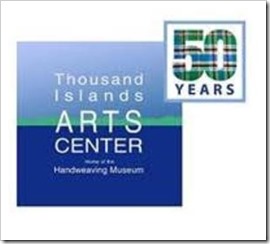 Interpretive display panels guide the visitor across the history of the institution decade by decade while the galleries come to life with the most noteworthy pieces from the Handweaving Museum's collection.
Drawing from its extensive holdings, as well as its Library and Archives, the exhibition showcases woven pieces, as well as tools, photographs, correspondence, curriculum notes, and other original materials from noted weavers in the 20th Century Renaissance of North American handweaving. These include significant weavers: Mary Atwater, Berta Frey, Emily Post, Marjorie Ruth Ross, Ruth Holroyd, Mary Snyder, Lucille Landis, Theo Moorman, Harry Tyler, Ruth Herron, and more.
Throughout the year the Thousand Islands Arts Center will be celebrating its 50th Anniversary and we hope you will join us! Look for our 50th Anniversary logo on all of our publications. The logo includes the 1000 Islands Tartan which was woven by TIAC's first Dean, Emily Post. Today the tradition lives on with TIAC's schedule of special events, rotating exhibitions, its permanent textile collection, and a year-round arts curriculum for all ages.
By Jessica Phinney
Jessica M. Phinney was born and raised in Clayton, NY. She earned her BA in anthropology from St. John Fisher College, Rochester, NY. She began her graduate work, also in anthropology, at the University at Albany, SUNY, where she earned her MA in 2009. Jessica then moved back to the North Country, in 2010 and began working at the Antique Boat Museum and the Jefferson County Historical Society, in Watertown, NY. She joined the staff as Curator of the Thousand Islands Arts Center in 2015.