Weaver, Teacher and Fan of the River: Emily Kent Post, 1900-1978
Emily Post, a Master Weaver from Princeton, New Jersey, formed the Princeton Weaver's Guild, and in later years taught younger weavers in her home. Retiring as Dean of a private girls' school in Virginia, Miss Post was 66, when she combined her passion, her skills and her drive to establish the Thousand Islands Museum Craft School in Clayton, now the Thousand Islands Arts Center.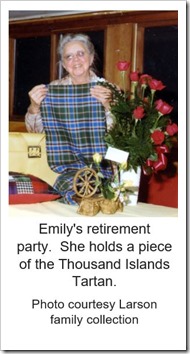 A summer resident of Grindstone Island since 1923, she saw the possibility of making Clayton, a destination for people interested in history and the arts. She dreamed of a school, drawing people to the scenic River area, for Craft Courses. She knew there were wives of fishermen, who longed for something to do, while their husbands were out pursuing the fish! In 1966, under the auspices of the Clayton Museum, Emily developed a fledgling Craft School, which drew superior instructors and enthusiastic students.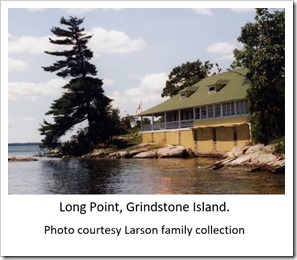 Miss Post served as Dean for 10 years, establishing the school as a leading institution, in the field of Craft Education. The school grew in prominence and scope, purchasing property on John Street, building a pottery studio, offering courses in a wide variety of arts and crafts and drawing students from near and far. Miss Post's weaving contacts resulted in donations of several personal collections, from prominent weavers. These textile collections became the nucleus of the current Handweaving Museum.
Miss Post was fascinated by tartans, often weaving scarves and fabric as gifts for her family. At her home on Grindstone Island, she often wove on a loom, out on the porch overlooking the River, with a grandniece or nephew on her lap, encouraging them to push the shuttle, or use the beater. After her friend, Helene Cobb of Clayton, designed and registered the St. Lawrence Tartan, Miss Post was inspired to design the Thousand Islands Tartan, with its verdant green, to represent the islands, deep blue line for the River and orange stripe, reminding us of the rocks and sunsets. Before she retired, Miss Post designated the Thousand Islands Craft School, as the home of the Thousand Islands Tartan.
Tea at Miss Post's Cottage – July 12, 2017
The Emily Post Tea, at Long Point, on Grindstone Island, is an event not to be missed. Hosted by Emily Holt and Caroline Larson, niece and grandniece of Miss Post, guests stroll the wraparound porch, of this spectacular 90-year-old island home, overlooking the American channel, and enjoy a tea, with elegant sandwiches and a myriad of homemade sweets. Gift baskets, "one of a kind" treasures, and delightful crafted articles, including a stunning tea service and a lovely handwoven scarf, are offered at the Silent Auction. A Hat Contest, with prizes including "Prettiest Hat," "Littlest Hat" and "Best River Hat", challenges both men and women to arrive with unique hats. Children are welcome and all are encouraged to stroll the grounds and seek out the Fairy Path..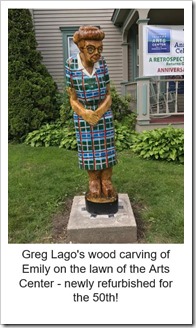 The Tea benefits the Emily Post Memorial Fund, which provides ongoing support for special projects at the Thousand Islands Arts Center.
Transportation is provided from the Clayton Harbor Municipal Marina. Reservations required. TIAC members $50; non-members $60 (includes a one year membership for new members); children $25.
Reserve on-line at www.TIArtsCenter.org, or call 316-686-4123 x200.
But is she the "Real" Emily Post?
Emily Kent Post was a gentile lady, who insisted on proper manners among her students and 12 grandnieces and nephews, however she is not the Emily Post of etiquette fame. She did spend some summers of her youth on Martha's Vineyard, near the home of the "other Emily Post", which led to numerous amusing circumstances of mistaken identity in her lifetime.
By Caroline Holt Larson
Caroline Larson, grandniece of Emily Post, is a lifetime summer resident of Grindstone Island. In the early years of the Craft School she took Pottery and Early American Decoration classes. Currently she is reviving her weaving skills, on Aunt Emily's loom, at Long Point. She and her husband Ken, are enjoying teaching their new grandson, Shep, to be a 5th generation River Rat.