Written by
Clarissa Rogers
posted on July 13, 2017 12:24
Think bare feet, summer mudpuddle giddy splash.
Think horizonward wading,
Punctuated by perfect-pebble, smooth-shell treasure stooping.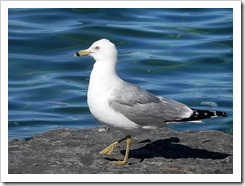 Soft sand beach butterfly-kissing shore, on an almost imperceptible slope.
Wet toes digging into wave-carved hieroglyphics.
Squishy-sneaker hikes in hip-high creeks, with
Explorations of leaf-scented, sun-slanted, pine-green wonder.
Dangling bare feet, watching ubiquitous leaf in fast-current bubbles.
The sound of waves and scent of sun-warmed boulder.
Plastic boat on soggy string, in St. Lawrence Seaway shallows and
Waist-high giggle wading, following inevitable string drop,
City-fountain splash of urban August.
Springtime gentle planting, in watering-can tickled holes.
When roots lie just below the surface.
The safest, quickest-freezing ice.
Scrambling along the shoreline, rock by rock.
Standing shivering, mist-soaked and roar-deafened, behind the waterfall.
Supported by sand bar's trickster magic,
Illusorily wave, grinning miles from rocky shore.
By Clarissa Diane Rogers, ©2017
Clarissa Diane Rogers, a member of Cape Vincent's Poet & Writers, Ink has a MA in Transformative Language Arts. She loves to support other writers through editing, coaching and workshops. She believes that writing is a tool for liberating our minds and healing our communities and can take us on a wacky adventure full of joy and fun, even in a world that routinely breaks our hearts. clarissadrogers@gmail.com