What do boat builders, fishing guides, rum runners, marina businesses and many others have in common?
Come to Rockport at the Rec Hall on the 1000 Islands Parkway on August 26, 2017 and find out. This is where all will gather to celebrate and salute Rockport's river heritage.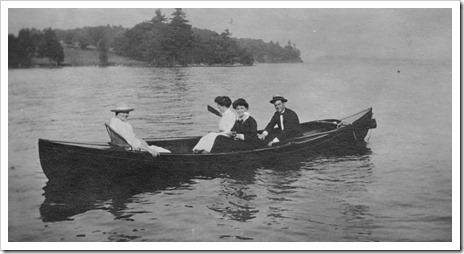 Walk amongst the characters of years gone by. For those who wish, take the historical walking tour of the riverside village of Rockport or stroll along the Heritage Walk on the school's grounds and learn how the artisans of yore plied their trades and honed their skills.
The history of Andress Boat Building and Rockport's tour boat business circa 1900 will all be revealed. Come and learn about fishing through the years.
Find out what it was like to grow up on the river and make a living from it.
Listen to the story of Hickory Lodge, one of the original Rockport riverside resorts started in the Gilded Age in 1895.
Join River Rats and talk about rum running in the days of Prohibition. Rockport was famous for its rum running activity back and forth to the US for 6 years when they still 'suffered' the laws of Prohibition.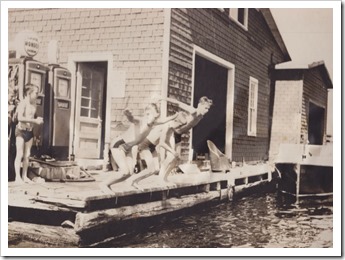 Meet up with former students and some of the teachers of SS 14 – the 4th of 4 elementary schools in Rockport. This one started in 1925.
See if you're as 'smart as an 85 year old' and can match items from the past with their counterparts of today in the 'Then and Now Game'.
We challenge anyone who has an old item you think others might not be able to identify to bring it to the heritage game and see if it is recognized by others.
Enjoy live music in the new pavilion all day long from Joyride and Steve Haig. Visit the beer tent and have a cold one.
Enjoy the fashion show at 4 pm as our 'models', in styles of the past decades from 1867 on, walk the catwalk.
If you'd like to be on the catwalk, check out the Internet for costume ideas...look up the 'worst' fashions, too. When you decide to participate-representative of any decade - please send your name (real and fictitious) with a short description of your costume to glast10@hotmail.com by August 20, 2017. ALL ages welcome!!!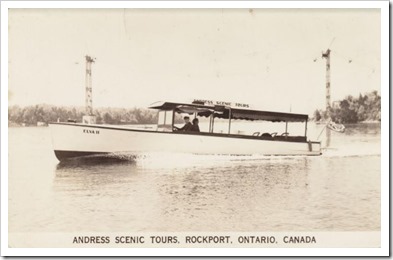 Maybe you have an inner flower child, W.C. Fields, Mae West, or a Betty Boop waiting to emerge? Come and strut your stuff with Shirley Temple, Sonny and Cher, or Big Al Capone.
Gangsters, flappers, rum runners and River rats of the Prohibition era to more modern personalities are all welcome and will be mingling with the crowd. You may even spot Elvis!
Children's events and face painting will be offered. You may have your picture embedded in a photo from the past by our Library greenscreen.
And last, but certainly not least...it's all FREE! Well, except for the home cooking and the cold beverages that will be available all day.
For more details visit facebook - Rockport River Heritage Salute or www.rockportthousandislands.ca
One of your last opportunities to celebrate
Canada's 150th?
Rockport's Salute to its River Heritage
Rockport Recreation Hall
August 26, 2017 1 pm until 8 pm
By Geraldine Last
Geraldine (Gerry) Last and her partner moved to the Rockport area so they could live near the St. Lawrence River. When Gerry retired from her teaching career, she became a volunteer with the Rockport Development Group (RDG). After gaining an appreciation for all that RDG does, she nominated the group for a "Keeper of the Islands Awards" from the Gananoque Chamber of Commerce. RDG was happy to accept the award in 2012. Gerry is the chairperson for the "Rockport Prohibition Days Festival Committee. For the past three years she has put heart and soul into planning for this Roaring-Twenties' festival. It's the first of its kind in Rockport and the Thousand Islands and has become an annual success.