Butternut Bay …. Religion .... good old fashioned God fearing, bible thumping religion .... played a huge role in the lives of the devout in the late 1800's. Sunday church services in towns and villages were packed, no one skipped church and bible study classes and other church activities were social highlights.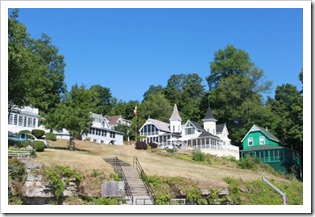 This religious fever was so strong that groups along the St. Lawrence in the Thousand Islands longed to hear even more of the Lord's word and to sing His praises during the summer months. Religious campgrounds were founded on the American side of the river at Fineview and Oak Point N.Y. and on the Canadian side at Butternut Bay, ON, predominantly by Methodists. These weren't cottage communities, but as open air campgrounds with a few church buildings where the good Lord could be celebrated in glorious natural surroundings. More religious campgrounds were sprinkled throughout southern Ontario and Quebec and the northeastern states.
In Brockville, a Methodist Minister, The Reverend Abraham Dow Traveller, was authorised by the Bay of Quinte Methodist Conference, to find a suitable property along the River for a campground. In 1876 and 1877 he acquired 25 acres of prime riverfront land about 7 miles west of Brockville, some of it high on a cliff, but other parts sloping gently to the River with a great natural deep water harbour. It sold for $13,000, a handsome price at the time, but it was an outstanding piece of property.
The property was surveyed the following year and land was set aside for narrow roads, a large tabernacle and other buildings for common or church purposes such as stables, privies, a cookhouse/boarding house for staff, a small store and some common land.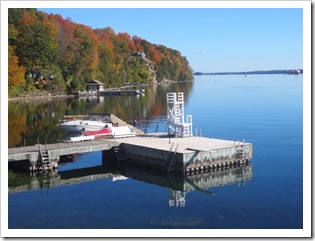 The balance of the property was divided into small tenting lots, most of them being 30' by 40'. There was no thought of cottages at the time - the Methodist's task was to create the campground and it was underway. Souls would be saved! But these tenting lots laid the seeds for a century long landholding nightmare for the cottagers who followed them.
The Church arranged for the campground to be controlled by 12 worthy trustees, part of an immense responsibility they had for church properties stretching from Belleville, ON, to Montreal, QC, to Vermont in the United States. Construction began in 1878/79 on several fronts - two expensive priorities were building a large dock to accommodate the steamers which brought the faithful from Brockville and along the River and a large tabernacle for services. A combination boarding house and cookhouse for staff members was built, along with privies, stables and a small store. But no cottages.
The first services were held in June 1880 and continued from then until 1888 with the sessions lasting 2 weeks at a time, usually one in early July and another in late August. This was serious religion: the daily services lasted for several hours featuring revivalist sermons delivered by showboat preachers, often Americans, who travelled from campground to campground spreading the good word and keeping the folks spellbound. These preachers were immensely popular and widely followed, the rock stars of their era, and they attracted huge crowds allegedly peaking at 3-4000 for a session.
Mark Twain commented in "Letters from the Earth" that "There aren't more than four men in a thousand who can stand more than one hour of church per week." How these Methodists attracted so many of the faithful for such lengthy services is a mystery. It seems that hours in a church pew was the price for avoiding hellfire and damnation.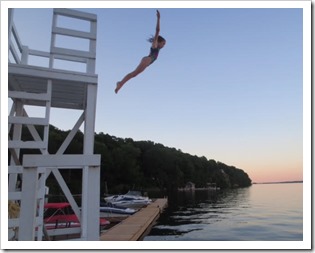 Alas, a ferocious storm flattened the tabernacle in 1888, the services ended, the property fell into disrepair and was sold at auction in 1894 for $1000 to a group of five local men, known ominously as "the syndicate". Why it sold so cheaply is a mystery because 15 years earlier it had sold for $13,000 and numerous improvements had been added. But the Methodist rule was over and a new order dawned.
There is no record of how the tent lots were used during the Methodist heyday, but no cottages were built. What seems clear is that the joys of the River and the beauty of the grounds soon caught the eyes of the faithful who found another reason to want to come to Butternut Bay.
The River beckoned and individuals approached the syndicate with requests for lots on which they could build cottages. For unknown reasons the syndicate decided to lease the lots rather than sell them and because of their small size multiple lots were usually needed. The price for the leases varied with location - the prime lots closest to the River fetched $25, those on the upper level $10 and those back in the woods $5. In addition, an annual fee of a dollar and a peppercorn a year was required. The length of the leases varied - some were 999 years, others 599 years and some for 99 years ... and the reason for the difference is lost in the mists of time.
People leased different numbers of lots, ranging from just enough to build a cottage, say 2 or 3, up to others who bought 8 or 10 or more. The first cottages were built starting in 1895, the syndicate owners leading the pack, and continuing sporadically into the 1920's. The old 1878 survey still existed as the official plan and some lessees paid a surveyor to locate the corners of their lots. In other cases they just guessed where the lot was located and located their cottage based on a hunch. One of the cottages was later found to be entirely off its leased lots on common land. Originally no one seemed to care.
As the years passed however Brockville lawyers would throw their hands up when a client suggested buying a property at Butternut Bay. " Are you crazy? No one knows who owns what."' No lessee ever paid the annual fee and the lessor ever tried to collect it. By the 1960's property values at Butternut Bay were substantially below comparable River properties because of the fuzzy legalities surrounding the leases and the fact that no one could get clear title. By the 1970s the expiry of the first of the 99 year leases was just over the horizon and the leaseholders worried about what would happen when they expired. Some cottagers had leased these lots for decades and feared someone might throw them out.
There were problems on other fronts as well. Some cottagers were trying to claim possessory title on common land not leased by them because they had mowed the grass there, or planted a garden there, or parked their car there for decades. Emotions ran high and tempers flared.
The situation was a colossal mess and had to be fixed. Finally, the will and the resources to fix the problem came together and a lengthy process began which led to a new property owners association being formed in 1976. The goal was to develop a new plan for the entire property, terminating all of the leases, establishing new lots with properly surveyed lines, getting rid of roads which only existed on paper and replacing them with the roads which actually existed on the ground...and getting clear title.
Over a two year period $100,000 was spent in legal and surveying fees to create the new plan. We couldn't come close to the Township By-Law requirements for road widths or lot sizes and but what we proposed was light years better than what it replaced. A half ton truck load of boxes of documents was taken to a government law office in Toronto and our lawyer and association representatives provided an explanation of what had transpired was offered to a sympathetic judge. He furrowed his brow, reached down and signed a magical piece of paper known as "A Judge's Plan." and he decreed that our plan was legal. Hallelulia.
The leases were gone, we had clearly defined lots and clear title. I don't think he opened even one of our boxes and boxes of documents.
It's been about 35 years since the Judge approved the Plan. The renaissance since then is staggering. Clear title gave the cottage owners the confidence to invest in improvements and virtually every one of the 31 cottages and their grounds has been substantially renovated/updated since that time. The Bay has never looked better, property values are competitive with other locations ... and the kids still spend all day on the dock, the old folks reminisce over cocktails ... and life is good.
With thanks:
The effort to solve the landholding problem was led by a former cottager, Richard "Dick" Hunt who literally devoted years of his life persuading the cottagers to form the new cottage owners association, getting funding commitments, tracking down all leaseholders, some of whom hadn't been to Butternut Bay in decades and getting all leaseholders to sign over their rights to the association. We met individually with all 31 cottagers to set new property lines and allowed them to buy portions of the common land owned by the association at dirt cheap rates (.30 cents per sq. foot) to flesh out sensible lots and to obtain their cooperation.
Dick was ably assisted by a handful of cottagers, including my father, Dr. Reg Anderson and others. Outside help was provided by our legal counsel, Neville Johnston, a Brockville lawyer, and Martin Kaldeway, a Brockville surveyor. Both said it was the most complicated landholding matter they had ever experienced.
Today's cottage owners owe a tremendous debt to these people. They won't be forgotten.
By Bob Anderson, Butternut Bay
Bob Anderson is a lifelong summer resident of Butternut Bay and a besotted river rat. His grandparents first arrived at the Bay in 1920 and Bob and his wife Sandra and their 3 children and six grandchildren constitute the fourth and fifth generations of his family at the Bay. After graduating from Carleton University in Ottawa, Bob worked in the food industry for his entire career with various senior management positions at Dominion Dairies (Sealtest) and Burnbrae Farms where he retired as President in 2012. He was also President of the Butternut Bay Association Inc. for over 30 years.