Written by
Susan W. Smith
posted on July 13, 2017 12:24
Have you visited the Tallest Cathedral Ceiling? We bill the tiny Half Moon Bay, carved out of the granite during the last ice age as that, when we gather for Sunday vesper services in July and August each year. This year, the Half Moon Bay Foundation has planned a commemorative service to celebrate 130 years of worship services.
August 9, 2017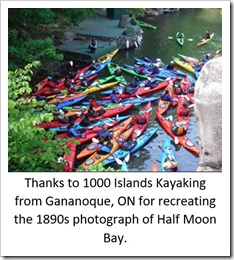 This commemorative service is slightly different from the regular Sunday services, as this one will be held on a Wednesday, not a Sunday and at 3:00 p.m., not at 4:00 p.m. At the same time, the British Broadcasting Corporation, (BBC) will be on hand to film a documentary as part of their new Great American Railways Documentary celebrating Canada's 150th birthday. The documentary series is presented by Rt. Hon. Michael Portillo.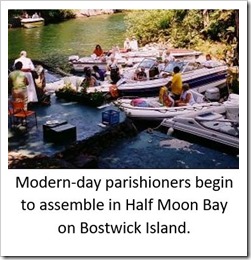 The BBC producer explained they found a 19th century guide book, advertising the train stopping in Gananoque on the waterfront and passengers visiting Half Moon Bay for the Christian vesper services. When planning their filming this summer, they discovered our services are still in place and they asked to be invited.
The Right Reverend Michael H. H. Bedford-Jones, Anglican Suffragan Bishop of Toronto (retired), will preside over the service. The music will be provided by Robyn Ableson of Kingston and organist at St. Andrews Presbyterian Church in Gananoque. Local musicians will be performing music about the Thousand Islands created by local composers. As always congregation will remain in boats for the service.
The Bay is on the southwest end of Bostwick Island, Admiralty Islands. All boaters - antique, fiberglass cruisers, pontoon, fishing, personal water craft, St. Lawrence skiffs, canoes and kayaks - are all welcome!
Don't have a boat – no problem there is a free pick-up at 2:00 p.m. for transportation to Half Moon Bay for this commemorative service as well as all Sunday services. The pick up location is at the west end of Water Street, along the dock between the Lion's Club Boat Ramp and Joel Stone Park in Gananoque. (2:00 p.m. August 9, 3:00 p.m. Sunday services.)
For additional information, please call either 989-922-3651 or 613-530-5323 or visit
1890s Postcard of a Sunday Vesper Service

(Photo courtesy: Sagastaweka Island Collection)

Regular Sunday Services will take place at 4:00 p.m. at Half Moon Bay, Bostwick Island, Admiralty Islands:

July 16
Eric Freisen
Broadcaster, Speaker, Writer, and lay preacher at St. George's Cathedral
Kingston Stella, ON

July 23
Reverend Mark L. Pierce
Retired, United Methodist Church
Cape Vincent, N.Y.

July 30
Venerable Dr. Robert (Bob) Hales Archdeacon Emeritus (Retired)
Diocese of Ontario & Associate Priest St. Thomas Anglican Church
Kingston, ON

August 6
Reverend David Berkers
St. Andrew's Presbyterian Church
Gananoque, ON

August 13
Sister Pauline Lally
Sisters of Providence Motherhouse
Kingston, ON

Pick up for non-boaters at the west end of Water Street, between the Lions Boat Ramp and Joel Stone Park dock, 3:00 p.m.
By Susan W. Smith, Editor, Thousand Islands Life