(Next time you want a day off.. you don't have to get dressed up..)
Convenience and flavor have made the takeout dinner a mainstay of life. The inconveniences of a day trip to our northern NAFTA neighbor would make this straightforward Indian takeout from Gananoque all about the flavor. Total time for planning, execution and dining would prove to be about ten hours: slow food, indeed.
One phone call was to the bank, to be sure that they would not stop my credit card on suspicion of international fraud—this has happened on travel further afield than Ontario, and now I prefer to be safe than sorry. The next phone call was fun: to Canadian Border Security (CBSA). A few years ago, one was supposed to call 888.226.7277 whenever entering Canadian waters; now, CBSA told me, this is unnecessary, but to land on Canadian soil I must first report in person to customs on the dock at Gan. OK, said I, let me get this straight: to set foot anywhere in Canada I must appear in person, otherwise I don't need to report. So I need never call 888.226.7277 at all. That's right, said the CBSA.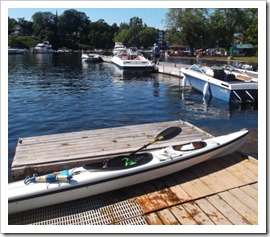 Early on a calm, sunny afternoon at Thousand Island Park, I floated off the flooded dock of a kind neighbor and made quick time across Eel Bay. From Gananoque Narrows, the town was visible for miles but took a long while to reach. I eventually pulled up to a kayak dock with Customs visible not far away. But to get there I found myself roaming the streets as though already legal, and resisting the temptation to order food first and report while it was being prepared. From the dock phone I called the Customs number and was once more speaking to the CBSA, who could not have been nicer. I had looked up the boat's length and beam (they didn't ask for the beam), and even had the manufacturer's serial number to hand. New York does not require registration numbers for kayaks, I explained, and so I was given a fake registration ID for my kayak on subsequent visits. What I would have said if asked for its horsepower I still don't know.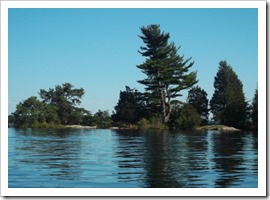 The long haul from the Narrows got me thinking about the trip to report with US authorities in Clayton: perhaps I was far enough west to go around Grindstone instead of retracing my route. Lacking a smartphone, I couldn't check the online BookletChart, so I asked around. The Marina kindly offered to let me photograph their map, but my old phone wasn't up to that either. Just don't kayak over the Forty Acre Patch, they said, as it gets windy there. The lovely people at 1000 Islands Kayaking sold me a laminated map and pointed out details of interest in the Admiralty Islands.
Though I had not called in advance, obtaining the takeout went quickly. Still wearing a life jacket and no doubt looking every inch someone who had just spent hours on the River, I drank a can of coconut water while Ben Mukherjee's friendly 1000 Islands Indian Cuisine swiftly prepared my order.
Takeout stowed, map at the ready, with a pakora snack for calories and salt, I set off for Forty Acres via Pitch Pine island, through a cut by Sagastaweka and past Half Moon Bay. The end of Grindstone was clearly visible to the south: another long paddle away over a large expanse of calm water, high enough this summer to show no evidence of a Forty Acre shoal. To my right, a sloop sailed in the distance with the Wolfe Island wind farm as background. Turbines are not universally loved for their appearance; perhaps I enjoyed too many Dutch seascapes in my youth, but this scene seemed beautiful to me.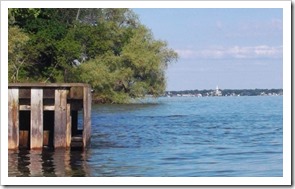 Around the end of Grindstone, the high water allowed passage between islands and over grassy areas that would normally be too shallow to paddle. A first glimpse of Clayton was the spire of St. Mary's church gleaming in the afternoon sun over an expanse of reeds, again as though in a Dutch painting. This beacon drew the thirsty mariner across the quiet main channel to the Rotary Park dock, where I gathered my documentation for the US Customs and Border Protection videophone.
Pre-registering for the Small Vessel Reporting System could have avoided "port-of-entry face-to-face inspection in accordance with 8 CFR 235.1" in Clayton, but I have no idea how they would deal with kayaks or with float plan changes without a smartphone. I discovered only later that the in-person reporting requirement had been suspended since May 2017 due to high water levels, and I could simply have called 800-827-2851 instead.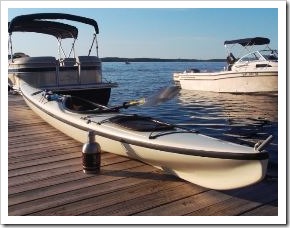 Perhaps because of recent problems with flooding, the videophone system was acting up. First I was told over the noisy line that they could not hear me and were switching to the video feed; I heard nothing more for a few minutes and hung up. Trying again, I was told that they were having problems with the phones and would I call back in a few minutes? I did, and was disconnected; if this continued I would need the night navigation light that I had neglected to bring. Able to report at last, I threw away the chance to have fun answering questions about registration, beam and horsepower by announcing early that I had arrived by kayak. Having placed my passport on the scanner, I couldn't stop myself from questioning why I was then required to read my passport number and spell my name. Oh, came the answer, there's a problem with the light and we can't read your document. Asked whether I had brought anything back from Canada, I said no: with communication so unreliable, admitting to a panir vindaloo might cause any number of unfortunate misunderstandings.
At last I was free to wander the streets of Clayton to the Wood Boat Brewery, where it was $10 growler Wednesday, to drink a (very) cold beer and fill a growler. After calling TIP to say I'd be late, I paddled once more across the channel to deliver the samosas that family had ordered so many hours and so many phone calls earlier.
Stewart Dutfield
Stewart Dutfield has been coming to the Thousand Islands since 2000. At Thousand Island Park he divides his time between kayaking, swimming at the rocks, running in the Minna Anthony Common Nature Center, and riding old Indian bicycles.