I love learning about the history of the Thousand Islands and its many communities. And I am not alone. At the end of July, I picked up a flyer from Sherry Johnson explaining her Gananoque Walking Heritage Tours. What a great way to learn, I thought. But I had a bonus that morning; I had the distinct pleasure of meeting Sherry and you will too.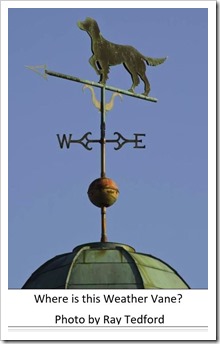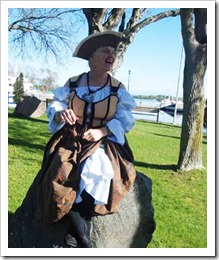 I sent Sherry a list of questions: Who are you? How long in Gan? How did you get interested? Where did you find your material?
Question: Who are you?
The answer to the Who, seemed to say it all, I quote, "Sherry was born in Vancouver and grew up all across Canada. By the time she was five, she likely had enough world travel miles to have gone around the world several times. She had her first spaghetti in Germany and her first grilled cheese sandwich in Ghana, her first pizza in Canada. The end result was that while she likes people who travel, she has no desire to travel herself, preferring to have the interesting people of the world come to her. She loves Canada, especially the Thousand Island region, where she has been settled for most of her adult life. Helping others explore the sights and history of the area brings her joy."
From then on I discovered why her talks are popular.
Question: How long in Gan? How did you get interested?
Answer: "As a child my family 'summers' north of Kington. We did all the usual things – explored the woods, spent hours in and on the water. One of those summers I discovered historical fiction (and romances). I became fascinated with how people lived and did daily things before modern time."
"I raised my own family in Kingston, and the many museums were year-round spots for fun outings. (Did you know that Kingston has 20+ museums?) I ran a backpacker's hostel for a few years, then moved to Gananoque in 2011." "I wanted that small- town feeling, while staying in the Thousand Islands area."
"Before I put an offer in on my house here in Gananoque, I walked the neighbourhood for a couple of hours getting to know the people. I asked, Mary, one one of the many delightful people I met about the plaque in her yard. She was the daughter of a Titanic survivor and the plaque was about her mother. She also told me that when she was growing up, she and her siblings were loaded into a boat and rowed up river for summer evenings ablutions. I think I knew then I wanted to be doing something where I could share these delightful anecdotes with visitors when they came to Gananoque.
"I have been lucky that a sense of wonder and enthusiasm for the little unexpected sights of a day continue to bring me joy. A slightly mischievous part of me loves to challenge others to stop and ask how they missed seeing "that". Whatever "that" might be. One day it was a weather vane. A picture of the one with the dog on top of the Gananoque library. Someone I knew wanted the picture to challenge some friends and suddenly my 'Gananoque Walking,' a Facebook page, was born to make that happen."
"Then I myself, was challenged to look at something, 21 King St. [Recognize that address? It is Steel Style Garage, a retail store connected to the Socialist Pig] that started my researches into the history of Gananoque. The more I researched the more questions and stories I had. The more I had, the more I wanted to share them and Heritage Walks was born."
Question: Where do you get the material?
Answer: "This is the first year for the tours. The one where you have a plan, think you know how things are going to go and then like a parent with a child, you discover they have a mind of their own.
Locals tend to respond to hearing I am running walking tours with either enthusiasm or puzzlement. "There's lots to tell; talk to..." or "what are you going to tell people?" For the latter, I can usually find some fact that they have forgotten or didn't know. The former I am still feeling overwhelmed.
I am so grateful to those knowledgeable people who have and are continuing to gather and preserve the Local History. My hope is that as a tour guide and storyteller, I can stir up interest in, and support for, their work. This work forms the backbone of the tour information, and has been found readily available on line and in print.
I am just starting to find that there is a need to delve beyond that, into archives and the knowledge, stored in the local historians brains. I am also slowly gathering my own collection of stories told to me.
Susan Push Engine 500
Sherry provides a guided tour, starting at the Gananoque Visitor's Centre, 10 King St. East, and follows some of the route of the Susan Push Engine 500, of the Thousand Islands Railway from midtown to the waterfront. You'll hear about the rail era in Gananoque, Heritage buildings along the route, and learn about the interesting people and businesses of Gananoque's past and present.
The Susan Push tour on Fridays is by donation to the Susan Push Restoration Fund. Tours on Saturday and Sunday begin at noon and cost $10/person.
Editor's conclusion: What a wonderful way to learn about Gananoque! Why not arrange your next Book Club meeting in Gananoque: Coffee at the Socialist Pig, then take the tour, followed by lunch and afternoon of discussion. Perhaps a Birthday Party celebration, to meet Gananoque ghosts, with a tour from Sherry Johnson, or just a morning discovering mother nature. All are bound to please.
By Susan W. Smith, Editor, www.thousandislandslife.com