Written by
Marilyn K. Neulieb
posted on August 13, 2017 12:20
"For I'd rather be thy child and pupil in the forest wild"
Henry Thoreau
Solitude. I hear the rise of my deep inhale and slow release of the exhale as I trod under the mottled summer canopy of green…thinking, wandering and pursuing the changing scenes: the chipmunk scampering under a rock, the doe flagging her tail in alert, the dark worm-like centipede camouflaging itself in the deep long grooves of the elm bark. Like them, I'm following my instincts, alone but not lonely.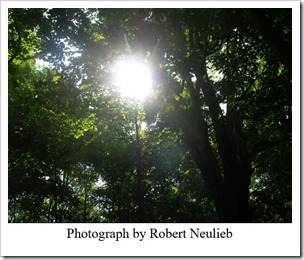 The occasional mosquito. Swat. It's Okay. Insects keep the peepers peeping on the wet lowland at the top of the hill. Their spring chorus gets so loud that I can't hear myself think. Perhaps that's the purpose, not to think but only to lap up the intricacies of the forest before me.
Sitting bent-kneed against this towering oak, I lick the salty perspiration off my upper lip and suspend my thoughts, trying to become part of the natural world. I must forget about the magic of chlorophyll, nature's solar collector that gives life its basis, forget about that school stuff, forget that DNA's even in a leaf, forget the oxygen, water and nitrogen cycles, forget everything, knowing that Mother Nature put it all together without going to school. She knows more about her system than the intellects ever will. She's on display here and I'm a most willing student.
As my shoulders rest against this massive trunk, she'll teach me in her own way, on her own terms. The rustle of the canopy leaves. The smell of leaf mold. The tap-tap-tap of the hairy woodpecker… I peruse her trash piles about my feet, her debris of leaf litter, an owl pellet and last year's cracked acorns. They don't bother me. They belong here, waiting to decay and feed the roots, even those of a new generation…Somehow, but somehow, her system's been working far longer than any civilization.
Is this what you're telling me today, Mother Nature, that you need no recycle centers? The flaky detritus on the forest floor, around the tree trunk, falls through my parted fingers…Bits of leaves. Bits of twigs. Bits of this and that. Is this one of the secrets to your sustainability, that your waste is the basis of new life? It is, isn't it?
I nod to myself upon rising, silently say, "See you later," promising to return for another lesson from a woodland solitude.
By Marilyn K. Neulieb
Marilyn K. Neulieb is a member of Poets & Writers, INK of Cape Vincent, N.Y. She was the 2015 runner-up in non-fiction at the Jefferson Community College North Country Writers Contest. Her work has been accepted by Christian Science Monitor, Mother Earth News, Ideals, Alternative Living, Home Power and many more. Living off the grid for close to four decades, surfaced her bent to write.