After our first good night's sleep in two days, when we begin our journey home, there is time now to tell you of our great adventure this summer.
I need to begin, my telling that I was born and raised in Ottawa, a river city, where my introduction to boating was on the Rideau Canal system, steeped in history; to cruise it is to step back into the past lane. However, full of youth and energy, I wanted to experience sailing which brought me to the Trident Yacht Club in 1981 in the Thousand Islands where I was smitten by the beauty and splendor of the islands, villages, towns and cities and of course its people.
Work brought me to Toronto, away from my islands, but introduced me to a woman who was to become my wife and who was supportive of my crazy passionate love of boats. Together, we chose a 44.7-foot aluminum motor yacht, built in Kingston, by Metal Craft Marine, who set up a division in Clayton, building their fire boat "Last Chance". Our boat was their first and only cruiser, launched in 1985, built like a tank,with quarter inch plate in the hull, frames and stringers. It has wide side decks and an ample foredeck,which are perfect for canal travel and anchoring. I fell in love with it at once, however, my wife had doubts,because the interior was so poorly done, not fit for such a craft.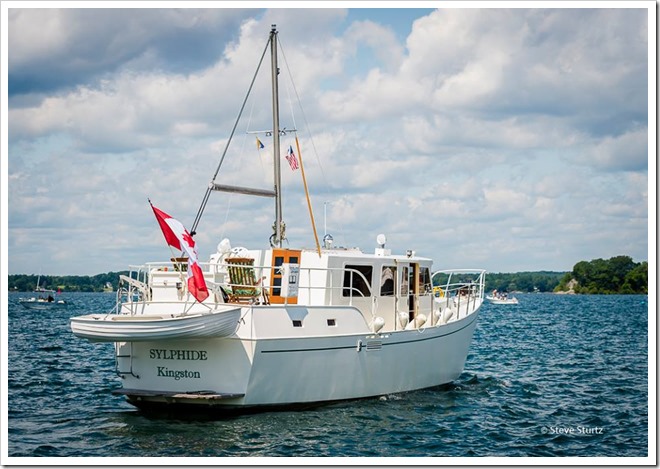 Sylphide attending the 2017 Clayton Boat Show,
Photo: Ascene by Steve Sturtz-Photography
We bought "Sylphide" in the fall of 1995 and I spent the winter designing the interior, inspired by the words of Nathanael Herresoff, who once quipped: "Motor yachts are for the conveyance of ladies and gentlemen, trawlers are for dead fish". I got started on the physical project when we got her home from Rockport in the spring of 1996, completely tearing out the interior, down to bare metal. Working on her when I could, making her fit for ladies and gentlemen, over the next seven years, before we launched our "little ship" again in 2003 and began cruising the next year.
It may seem odd that someone who is as boat crazy as I am, who has been to almost every port around Lake Ontario and the Thousand Islands, had never once visited Clayton, New York, to experience the Antique Boat Museum, but it was to be remedied in 2015, when we miraculously found a slip in the town, the day before the fiftieth anniversary of the boat show, without any prior knowledge, it was taking place that weekend. I since learned that it is the oldest international antique and classic boat show, in North America. And while there, I happened to meet Steve Sturtz taking pictures of everything and everyone. We became friends in a "New York" minute and it was his insistence that we enter our boat in competition this year. So, we showed up with "Sylphide", amongst the veterans on the municipal dock, in front of the Antique Boat Museum, on the Wednesday before the show of August 4,5 and 6, without knowing anything about a boat show. We thought that one might receive a first, second, or third prize ribbon perhaps, plus bragging rights, like cow judging at a country fair. Not so, we discovered.
Photograph Steve Sturtz shares more than 75 photographs of the 53rd Annual Clayton Antique Boat Show,
We arrived early, hoping to find out what to expect from the veterans, who started arriving the next day, who immediately began cleaning and polishing for Saturday's judging. I started getting that nervous feeling, as the owner of a boat on the dock told me that he lost two points in scoring, because his engine tachometer didn't show zero, when the engine was shut down, and there was some paint, flaking off his engine, which he claimed is so clean he will, and has, licked it to prove it. I felt so inadequate, knowing that my English built Perkins engine drips a bit of oil (don't they all) and the paint on it flakes. I reminded myself that we were there for the experience, to meet new people and have fun, so the feeling didn't last. Another boat had a couple who never stopped cleaning the thing. These people were serious; it was like the Christopher Guest movie, Best in Show, and we were in it.
The next day, Friday, a meeting was held for those people who had entered their boats in competition, to review the rules and procedure for judging. I still needed clarification, or rather I thought I did, as to what category our boat was in, since the boat was indeed a classic cruiser, but the interior was relatively new. There I was told by John Howard, who is the president of ACBS International, that it is the hull that is the issue, it must be at least 60% original. As far as the interior was concerned, I should say nothing unless questioned about certain aspects that may not appear to be original. I took his advice and waited for the judging the next day. Meanwhile the weather that Friday afternoon was deteriorating, it was rainy and the wind was stiffening, waves were hitting us on our port quarter, rocking us, even though we were on the inside of the municipal dock. Friday night, the wind had picked up, the lady who kept her boat perfect, was outside on deck scrubbing.
Saturday morning arrived, the wind and waves overnight made sure we didn't get a lot of sleep, but we were as ready as we were ever going to be. As it turned out, John Howard, was one of the two principal judges for our boat and as promised, the judges were jovial. They spent half of the time outside, before they came in, and stopped at the compass rose inlay in the floor and asked where it came from. I thought that the gig was up, when I told them that I had done it. They liked it and the rest of the interior, which they asked few questions about. My wife Barbie was disappointed that they had not gone into the "basement",which she is very proud of. Instead, they were content to peer into it, in between the removable steps foreword, with flashlights, not seeing the flaking paint on the engine. We and everyone else had to wait until Sunday morning's brunch, for the results and awards.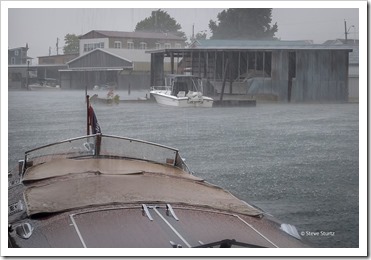 Saturday afternoon after judging was finished, the weather got worse. By six in the afternoon I had six lines out to four different cleats on the dock, to try and balance the load forces while we were rolling in the waves and were jerked back, at the end of the mooring line leash. Meanwhile Lake Ontario was building up to ten-foot waves from the sustained thirty-knots plus winds which pushed the lake water up into all low lying areas, in the eastern part of the lake and the River putting them under another flood watch. By 9 pm, everyone was being tossed and rolled so much that Barbie asked the museum staff if we and fellow boaters on the municipal dock could camp out inside the museum for the night and get some sleep. I chose to stay with the ship and Barbie ended up staying as well. By 10:00 o'clock waves were breaking over the dock and rolled us even more, combined with the creaking and groaning of lines, stretching over the hull's gunnel, it made for a terrible sleep and we were not alone. At 3:00 am I went out to check the lines and the weather forecast: it was not supposed to be this windy. Yeah sure, I went back to bed, but within a half hour it actually started to calm down.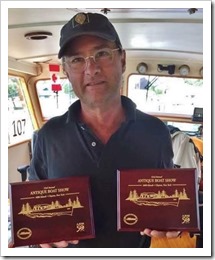 Everyone else on the dock looked as disheveled as we did, the next morning. We needed two large coffees just to focus on breakfast and the awards. The audience sat with bated breath, as the winners of best outboard motors (who knew there was an award for that, but they are actually works of art) and rowing skiffs were announced. We needed more coffee. Then came the awards for the truly beautiful classic lake boats, which present in better condition than when they were new. Next on the list were the cruisers, our class, and our names were announced. I was more than a bit surprised;Barbie and I went up to accept the award and had our picture taken, with the presented plaque. The last category, best in show, had four different awards. By this time the coffee had lost its full effects on us and we missed most of what was being said, until our names were announced again. It was a complete surprise to us - it was the first time a boat other than wood had won a best in show - and it took a moment or two, to get up again for another plaque and picture (I am sure that the two pictures will show us looking like two sleep deprived deer, caught in the head lights of a tractor trailer). The brass part of the award, with boat name and owner will be sent to us, so we will know exactly what the categories were that we won. For me, the awards prove that I am not alone in being a crazy, passionate lover of old boats. To be accepted, as part of this fraternity, is the greatest honour.
The five days in Clayton were wonderful. The staff at the museum, the volunteers that made the show happen and the people of Clayton, were all exceptional and made us feel welcome, at all times. Thanks again to Steve Sturtz, for being so insistent. This eccentric local artist promotes the show and the area, with the zeal of Donald Trump; few can say no to his infectious Irish smile. His Facebook page, listed under his name, has pictures of the show that give you a real feeling of being there.
I am writing this on Monday, in Kingston, on our way home now. The summer cruise is drawing to a close. It has been a cold, windy, rainy year, but none of which dampened our fun. Clayton was definitely a high point, for the captain and the crew, and we look forward to seeing all of you again and hope that your summer has been as good as ours.
By Scott I. R. Johnston (Captain Scott and Admiral Barbie aboard Sylphide)
P.S. I have just been informed by email that we won Best Late Classic Cruiser and a Best of Show award. If you see us at the boat show again we will no doubt have a cleaner boat and a much cleaner engine.
By Scott I. R. Johnston
After decades of designing and building things for other people, Scott I. R. Johnston has retired. He lives in Toronto, but as he writes, "The Admiral and I spend most of our summers, cruising Lake Ontario and the Thousand Islands."