Edith Lunt Small captured our River - like no other - on canvas, paper and wood. Edith, known as Edie to her friends, was born on January 8, 1931 and died on March 31, 2017. In June, at a service in thanksgiving for her life held in Rochester, NY, her son, Scott, related a true story entitled, "The Gift." At the conclusion of the his story he said,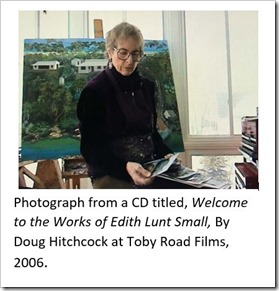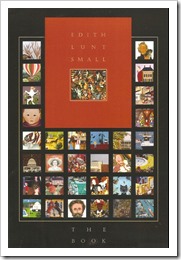 "Edith Lunt Small lived and breathed art, was devoted to and loved all her family, loved her friends, read the "New York Times" religiously, and always had a dog companion her whole life until Bebe died. She was extremely generous, extremely prolific at making her art pieces (some very edgy with satire) and extremely talented; her retrospective exhibit at R.I.T. dazzled. Her compass and vision was strong, and if something took her off course of her goals, she streamed-up and became Popeye the Sailor, to take back control. She was dearly loved by those around her and she was happy and content at the time of her exit from the stage of earth life (a real blessing.) She will be dearly missed."
Yes, dearly missed by her family and friends and much admired by those of us who only knew her through her art. We in the Thousand Islands can take pride in the simple fact that Edith loved our Islands and our island communities loved her. She and her husband spent over thirty years on Summerland Island, near Alexandria Bay and it was there she captured our islands like no other.
In 2008, the Rochester Institute of Technology presented the Edith Lunt Small retrospective, in what was described as a football-field size warehouse, "filled with her painting, painted wood reliefs and narrative furniture." And in 2011, her works were compiled in the 104-page book, "Edith Lunt Small." The book is still available
The preface, written by Richard Hirsch, Professor, School of American Crafts at RIT, related to the 2008 retrospective, "Never had I witnessed people so engrossed, so part of an exhibition. After all, the work represented their homes, their lives, their pets, their friends, their neighbors, their things, their gardens, their activities their identity, them… us. If one of the ideals of Art is to communicate, then Edith Small is a masterful visual storyteller.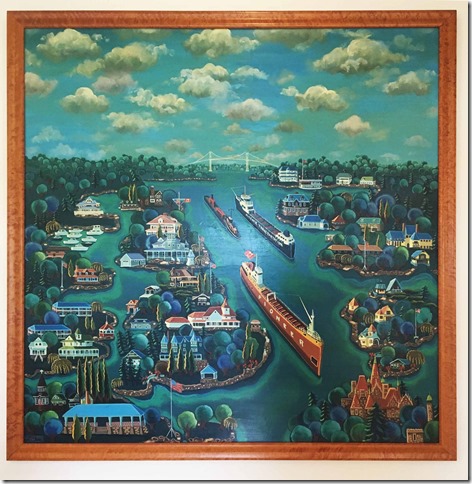 The Bridge, 1985 Acrylic on board. (Private collection)
"Years 1961-96 were spent at the St. Lawrence Seaway on Summerland Island. At that time, between those years, I produced a ton of artwork. At least eight pieces were bought by Randy Arnot. This painting shows the St. Lawrence Seaway, with the existing houses and islands, exactly as they appeared and the Port of Alexandria Bay. The Seaway heads west. At the top of the painting is the Andre McNally and family compound and Boldt Castle is at the bottom. We were on the main channel on the Seaway. All these places have changed hands since then. A Canadian ship is traveling through the American part of the channel. In the distance is the 1,000 Islands Bridge that goes over to Wellesley Island and into the channel. The following are also from the area and depict real people and are typical of what you would see every day at the Seaway. E.L.S."
Several years ago the late Randy Arnot wrote a letter that best describes her allure.
Edie Small to me…
In 1969, I dropped by Edie's house on East Avenue, Pittsford and offered her $100 for a realistic acrylic of the island she and I lived on, in the summer, known as Summerland, in the 1000 Islands. My family has been in our cottage there since 1870 and our patriarch was Ma Saxe, Minister of the Unitarian Church, in downtown Rochester, He counseled Harriet Tubman.

Edith's style then changed to primitive and she did a large Summerland painting, with all the players and their homes and boat houses and in their respective activities. My wife loved the piece and Edie agreed to sell it to me on terms that fit my circumstances at the time. Then she kept painting, large primitive River scenes, intimate family scenes with River landscape and architecture. My wife and I started to have children and I thought I'd best get one of her paintings for each child. I did that. Then she changed her medium somewhat. Went to wood and "fold outs." Had to have one of them. Then she won an award for one. "Better get that". Then she'd done a self-portrait with her Mum and cat. "Collection wouldn't be complete without that." By now there were no more items to suit the buyer.

Edie sold her River shack, got too old for it, I guess. Then she'd visit me, bringing house presents representing yet another medium she'd find herself in. Then she took me to one of her favorite artists… Carmen D'Avino. My wife and daughter liked a five-ton granite statue he was making. I bought it. Then I collected him. Then I built a Chapel and dedicated it to him. She shoulda' been the one that the Chapel was dedicated to… Randy Arnot, Wellesley Island, NY and Baltimore, Maryland.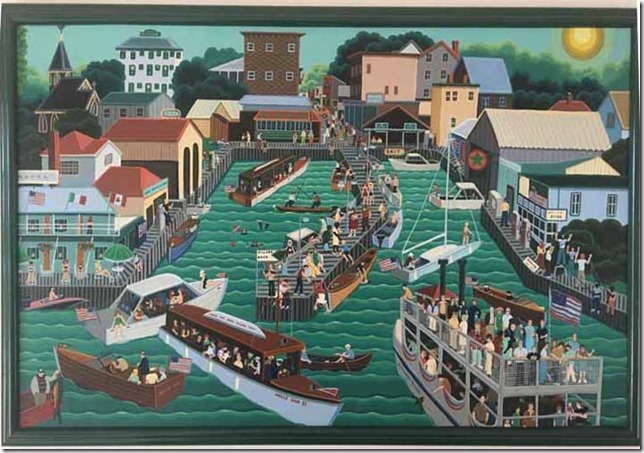 A favorite view of Alexandria Bay, by Edith Lunt Small. The original is in a private collection but 500 prints were made and distributed by Corbin's Studios, before it closed, and Captain Spicer's Gallery, Clayton. See if you can recognize your friends and family! (Note: #16 is Abby Hoffman)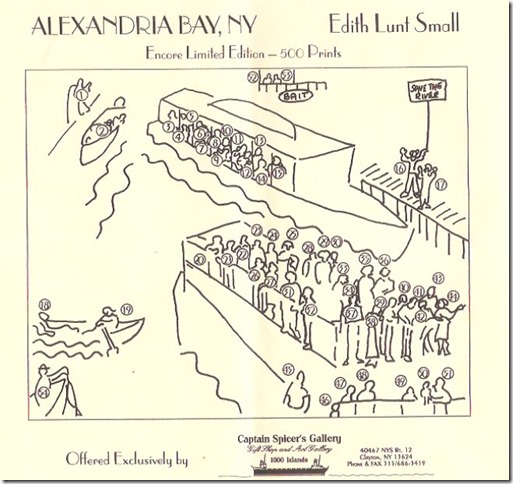 The suggestion for this tribute came from Karen Killian, former manager of Captain Spicer's Gallery, near Clayton. Karen wanted, in some small way, to remember her friend, Then it was Mary Hannah Arnot, on Wellesley Island, who provided photographs, books, and best of all, reminiscences of the impact this artist made on the Thousand Islands and beyond. Yes, Edith Lunt Small captured our River, family and friends in no small way. She may have left Summerland Island, but she will remain in the hearts of Islanders forever through her marvelous works of art.
By Susan W. Smith, Editor, susansmith@thousandislandslife.com