Fall is in the air - it's time to button down the cottage for another year. But, suppose on that last trip to the boathouse you miss a step and land hard… Ouch! You need to have that looked at right away. But – where do you go? Fortunately for everyone in the Thousand Islands area, the answer is easy: River Hospital.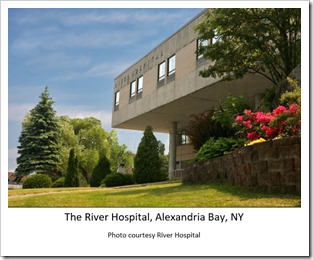 River Hospital is a private, not-for-profit Critical Access Hospital, with 24 licensed beds, located in Alexandria Bay, N.Y. Last year, 7,290 patients visited the hospital's emergency room and the hospital had a total of 193 inpatient admissions. Its specialty physicians performed 760 outpatient surgeries. So - what's the story behind this medical gem sitting right next to the beautiful St. Lawrence River?
The story of River Hospital begins in 1941. At the outset, the hospital existed in a small house, located on Market Street in Alexandria Bay. The house was donated by Dr. Walter G. "Doc" Robinson, who also managed the affairs of the new enterprise. Ten years later, when candy entrepreneur E.J. Noble struck it rich, after inventing the Life Saver candy, he agreed to fund much-needed improvements, which included construction of the current hospital building at 4 Fuller Street, which was named E.J. Noble Hospital. Subsequently known as E.J. Noble Samaritan, the hospital operated continuously at the same location for over fifty years.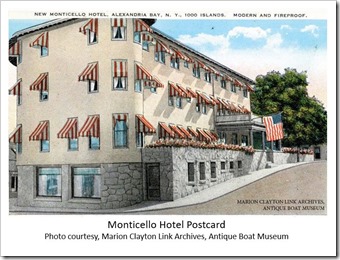 But by year 2000, the hospital faced the threat of closure, with its future in great jeopardy. At that time a group of concerned citizens stepped in to form a task force, appealing to the NYS Department of Health for E.J. Noble Samaritan to become an independent institution. By 2003, the New York State Department of Health issued a license for a new hospital, with a new board and a new name. And River Hospital was born.
Initially, the going wasn't easy. Overseen by a volunteer Board of Directors, the bare-bones staff worked tirelessly with the community to bring River Hospital back from the brink. Mainly due to the dedication of hospital staff and the determination of people in the greater Alexandria Bay community, the hospital survived.
Today, fourteen years later, River Hospital is still here – and growing stronger - still delivering emergency care and other essential services to River communities and families, where and when they need it most. Now, the hospital is ready for its next big step toward fiscal stability, modernization and enhanced services. And it needs our support.
Hope + Healing
In 2016, River Hospital unveiled a plan to renovate its existing hospital building and construct a new facility for the purpose of integrating primary and behavioral health care. This capital project, known as "Hope + Healing", is being funded by hospital reserves, grant funding from the New York State Department of Health, and community fundraising. As originally envisioned, the project would include construction of a three-story, 26,000-square-foot building, on the water, just up River from the existing hospital building.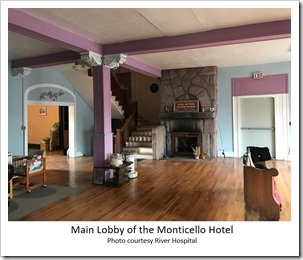 But that was all before a very significant gift. In early April 2017, Mr. Richard R. Macsherry announced his family's plan to purchase Alexandria Bay's former Monticello Hotel, located directly across Fuller Street from the hospital, generously intending to donate the building to the hospital. Built in 1922, the Monticello Hotel had gone into bankruptcy by 1932, and the building generally languished for many years. Hospital administrators considered the options; one was to replace the building with a two-story parking facility for use by both the hospital and the Village. Another was to renovate the existing structure and create a Medical Office Building. Upon further architectural and engineering inspection, the greater value of the Macsherrys' generous gift emerged:
After nearly 100 years, the old Monticello Hotel has remained structurally sound.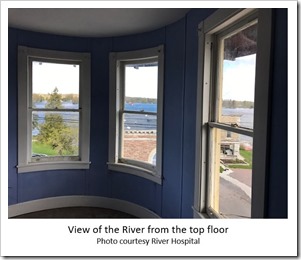 This discovery materially eased construction concerns that had previously complicated Hope + Healing's development effort. Now, the Monticello itself would be remodeled and adaptively re-purposed as River Hospital's Medical Office Building, providing almost 30,000 square feet of usable space – without disrupting hospital operations. Work is expected to begin in January of 2018.
This project envisions that the building will accommodate Primary Care, Behavioral Health, Physical Therapy, Administration and Financial Support services. Best of all, the hospital will be able to seamlessly continue Primary Care and Behavioral Health services during construction. Once renovations are complete, the hospital's existing temporary structures will be removed, with the outdoor space that they currently occupy to be used for an outdoor plaza and dozens of additional parking spaces. As a result, the view-scape of Alexandria Bay's recreation Pavilion will be completely unencumbered. Best of all, River Hospital's essential services will have a professional and permanent home with the preservation of an historic Alexandria Bay landmark, the old Monticello.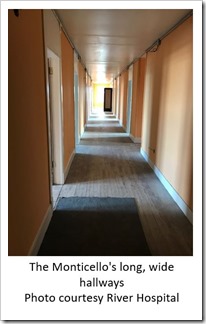 All of these benefits, however, do not come without a price. As a Critical Access Hospital, River Hospital operates on narrow margins with limited working capital. The Hope + Healing Capital Campaign is a vital initiative aimed at ensuring the hospital's future, and has been awarded a New York State grant of $9.5 million. However, the grant requires that the hospital raise a matching amount of $4 million.
This goal represents a significant challenge, requiring the help of the whole community – including us "Summer people" – to get there. River Hospital's Capital Campaign Committee has even created a way for individuals and families to make multi-year gifts to the campaign, supporting the hospital's future in the most meaningful way possible. Individuals and families have already stepped up with meaningful contributions, but River Hospital still needs nearly $1.7 million in funding to achieve the $4 million "match" amount. Just in case that mishap on the way to the boathouse actually happened, wouldn't you feel better knowing that River Hospital is there to help?
You can even see for yourself! Did you ever wonder what the inside of the old Monticello Hotel looks like? Want to re-live old memories from the last time you were there? Stephanie Weiss, River Hospital's Executive Director of Development, will be delighted to show you around. Even now, if you squint just a little, you may see how things will look when remodeling is complete, the building's in use, and River Hospital's Renaissance has become a reality.
You can reach Stephanie by phone at 315-486-2920, or by e-mail at sweiss@riverhospital.org. Take a look, write a check, and feel the satisfaction of knowing that you helped River Hospital continue to care for all of us for generations to come. It's a time-honored River tradition - make it yours!
See how River Hospital has been there for some grateful families:
Grateful patients of River Hospital share their stories
By Wayne C. Strauss
Wayne C. Strauss is Vice President of OppenheimerFunds, Inc., and works directly with the Oppenheimer Municipal Investment Team located in Rochester, New York. An attorney licensed to practice in the State of New York, Wayne also holds several securities licenses. He has served on the Board of Directors and as a Proctor for Rochester Area Mensa, and is currently a member of the adjunct faculty of St. John Fisher College in Rochester. An Eagle Scout and member of Toastmasters International, he spends as much time as possible aboard his boat "Convexity," in the Thousand Islands.
Editor's note: Do you have a good story to tell about the River Hospital? We learned of an about-to-be-mother, living on Canadian Zavikon Island being rowed across to A-Bay in the middle of the night to deliver a new baby. Not sure that would happen today, but exciting, none-the-less!