This month we cover three special places in the Thousand Islands – Brockville, Clayton

and the region itself – the Frontenac Arch.
Once again we are grateful to Bob Pearce and the Brockville Recorder and Times, (Sun Media), for allowing us to publish three more stories written by Kim Lunman in the newspaper's glossy magazine: "Island Treasures". Kim is a staff reporter for the paper and an editorial team member here at Thousand Islands Life.
Kim first captures the entrepreneurial spirit of Simon Fuller, by describing Brockville's Tall Ships Landing development in our feature story: Brockville's Waterfront. Then she crosses the River to the small town of Clayton, in her piece: Clayton: A Boating World.
While in Clayton, Kim also researched the origin (or some would say origins) of the recipe: Thousand Island Dressing! Having Kim present these stories, allowed me the excuse to provide more historical name information in two columns. The first is a link to The Brock Isles and their historic island names. The second is my monthly column: More than a Salad Dressing & Washington Island, Clayton, NY. This particular story is a favorite of mine and I often relate it when I am asked to talk about our island names.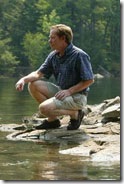 We are pleased to introduce Don Ross in our November Issue. Don is the Executive Director of the Frontenac Arch Biosphere Reserve. He began his life in the Thousand Islands as Chief Naturalist at the St. Lawrence Islands National Park. (We met there many years ago and it was Don who gave me my first history lesson when I visited the Park). After leaving the Park, Don, like Simon Fuller, recognized a business opportunity in Brockville and he bought into the sports equipment business at Dave Jones Locker. He continued his fascination with the Thousand Islands and has written a number of books for which we are truly thankful: St. Lawrence Islands National Park, (Douglas & McIntyre, Limited, 1992); and Discovering the Thousand Islands, (Quarry Press 2001). Don has provided the feature Life at the Crossroads: Frontenac Arch.
Photo credit: Kingston Whig Standard
We have also included our Readers' Exchange and we thank those who have submitted letters and photographs.
Ian Coristine's photographs are dispersed throughout the issue – Hey, "are we lucky or what?" Thanks Ian. We also thank Mike Franklin for his Web work in putting together this issue!
Susan W. Smith SusanSmith@ThousandIslandsMagazine.com