Written by
Kara Lynn Dunn
posted on November 13, 2017 12:46
Enjoying the River until freeze up!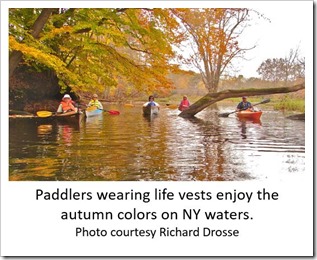 River enthusiasts who stay year-round are hardy souls well-prepared for cooler temperatures and seasonal weather. For those who enjoy kayaking, canoeing or using a row boat late in the year, New York Sea Grant Extension of Cornell University offers a reminder about New York State legal requirements and eight tips to enhance seasonal water safety.
Water that is less than 70 degrees Fahrenheit can lower body temperature and lead to life-threatening hypothermia. According to the U.S. Coast Guard, a body can cool 25 times faster in cold water than in air; children cool faster than adults; and smaller people cool faster than larger individuals.
New York Sea Grant issues an annual reminder about the New York State Law that requires life vests to be by everyone aboard a recreational vessel from November 1 through May 1. These safety tips are meant to help make anyone who gets in trouble on the water more buoyant and more visible to extend the opportunity for rescue and survival," says New York Sea Grant Coastal Recreation and Tourism Specialist Dave White.
1. Wear a life vest
New York State law requires that everyone in a recreational vessel of 21 feet or less must wear a U.S. Coast Guard-approved personal floatation device, or PFD, from November 1 to May 1. A PFD should be in good condition and appropriately sized for snug fit. In particular check that for children their head will not slip through. Bright color and attached whistle are recommended.
2. Learn the types of approved PFDs to make the best choice for safety and activity
A variety of U.S. Coast Guard-approved floatation devices, beyond the commonly thought of life vest, are available to provide buoyancy. For example, a floatation coat covers the torso. A float suit encloses most of the body. One-piece immersion suits cover head, body, feet and hands, leaving only the face exposed.
3. Communicate your activity plan, or float plan, to a responsible individual on shore
Tell them when you are leaving, where you are entering and exiting the water, where you are going on the water, and when you expect to return. Contact that individual upon your return so they know you have safely returned.
4. Use the buddy system
5. Use reflective Safe 'n Sight paddle decals to increase your visibility on the water
An If Found: Contact sticker may be attached to your vessel. These decals can be requested free of charge by sending a self-addressed, stamped envelope to NYS Parks Marine Services Bureau, Safe 'n Sight Stickers, Albany, NY 12238. A street address is not required.
6. In the water, use the Heat Escape Lessening Position known as HELP
For a Type 1 PFD, the HELP position is crossed ankles, legs drawn together and up to chest, and crossed arms across your chest. For a Type 3 PFD, draw your legs together tightly and keep your arms tight to your sides. Huddle together with a buddy or others in a group.
7. Be aware of water conditions before you launch: are there physical hazards: sand bars, commercial traffic, etc.
8. Know the weather forecast before you go
The Great Lakes Observing System of in-water buoys reports periodic real-time wind speed in knots, water temperature in degrees Fahrenheit, and wave height in feet. Swiftly moving weather fronts can cause open water, wind, and wave conditions and temperature to change quickly. The NOAA Great Lakes Observing System Boaters View Forecast can be set up to provide an alert when conditions are likely to change. Learn more at https://www.glos.us.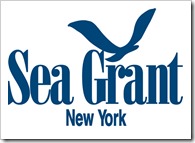 New York Sea Grant is a cooperative program of Cornell University and the State University of New York, and one of 33 university-based programs under the National Sea Grant College Program of the National Oceanic and Atmospheric Administration.
For updates on New York Sea Grant Great Lakes and marine district activities, www.nyseagrant.org has RSS, Facebook, Twitter and YouTube links.
By Kara Lynn Dunn
Kara Lynn Dunn is the publicist for the New York Sea Grant Great Lakes Program. She lives in Mannsville, NY, with her husband and photographer, Brian Whattam, who grew up in Three Mile Bay, NY. Kara earned a journalism degree at the University of Pittsburgh; is a freelance writer, publicist, and designer; and has authored two books on North Country natural and historic sites. Kara vividly recalls childhood camping adventures, along the St. Lawrence River, with the Village of Mannsville Summer Recreation Program. See Kara's other articles here.