Editor's note: Wayne Strauss submitted this article and I knew right away it would be a good one. We all remember the boats of our youth and certainly our first and favorites in the Islands… Wayne did not have any photographs of his first Lyman… but I asked and BINGO… here they are. Enjoy.
It was a bright and breezy, late-Spring-at-the-River day, the first time we saw The Boat - frozen in space, if not time - through the dusk of Hutchinson's cavernous boat barn. While I racked my little-kid brain to figure out how somebody could have gotten boats all pigeon-holed into that four-story rack, a man came out of the office, chatted with Mom and Dad, then pulled a boat off the very top (with a forklift, to my edification!) for us to see up close.
This boat was pretty dusty, but the man said it would "clean up nice," pointing out that it was structurally sound from stem to stern. It said "Lyman" on the sides, and was much bigger than our 14-footer, semi-officially named the "Cream Puff," which Dad and a buddy of his had built years before I was born. I figured Dad must have been planning to build a new boat just like this one, the way he looked it over so very carefully. After some time, hands were shaken and agreements exchanged. Then we got back in the car and drove off.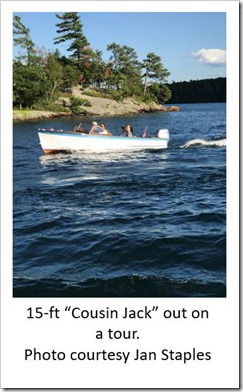 A few days later it felt fairly momentous when we cleaned out the Cream Puff and took that last, long voyage from Fineview to Hutchinson's, where our new boat bobbed at the dock. It really had cleaned up like the man said, and looked far prettier in the water than it had in the barn. I did not know what a "Lyman" was, but I knew that it must be very special if we would trade it for a boat Dad made with his own hands.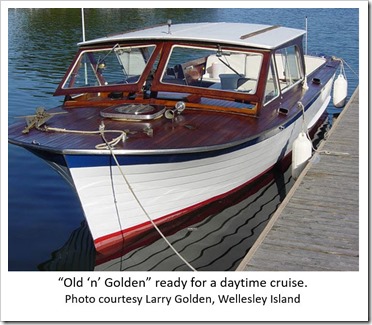 On the way back, I learned that this Lyman had been built in 1956, in Sandusky (which, until that point, I had always believed was a fictitious name) and that it made the trip quickly and smoothly, even though whitecaps had kicked up by the time we got as far as the Bridge.
I learned that "Clinker-Built" was a feature, not a warning. And when we approached the boathouse, I learned that there was no more than six inches on each, side to maneuver our new boat into its berth; a fact that took on much greater significance when Dad later decided that it would always be REVERSED-IN to ride the waves better.
The Cream Puff could be pulled up on the hoist, but this new boat was far too heavy for that. So the hoist was retired (much to the approval of all who had ever banged their head on its big green wheel), the lines were carefully adjusted, and our Lyman settled into the "boat home" that she would occupy, bow turned ever toward the River, for the next twenty years.
Since we never exactly settled on a name, she was pretty much referred to generically as "The Boat." Not all of our experiences during her shakedown period were immediately endearing, but they certainly helped us to sort out her personality. And as I made my way through my teens and then college and law school, she proved herself reliably "up" to every occasion.
Sometimes she was a ski boat, roaring to speed and zooming around the Islands when the line got taut and the skier hollered "Hit it!" She could pop-up on a plane in an instant, to provide a startlingly speedy ride through Lake of the Isles, or down the main channel. But she'd spin around on a dime to retrieve a downed skier, quietly sidling-over to see whether to go again or let somebody else take a turn. On a Saturday, she could carry her weight as a workboat, hauling timbers to build a new dock or crib; then serve as the family launch, slicing down to the old Riveredge for pancakes on a Sunday morning. As a tour boat, she cruised countless visitors through Eel Bay and The Rift, around Mary Island and Boldt Castle, then up around Rock Island and back to her slip. And she truly honored her heritage as a fishing boat, trolling through the Picton Channel, on quiet September mornings with first light slanting through the canvas, bringing welcome warmth to a couple of fishermen huddling around a Thermos and hoping for a pike. When the water got low she was prepped for cold months and then bedded down on steel rails for a long Winter's nap.
Checking one last time through the boathouse window, it was almost eerie to see her out of the water and completely motionless, like the first time we had seen her so many years before. But there would always be another late-Spring-at-the-River day when she'd melt back into her slip, signalling absolute triumph over Winter; the beginning of a new cycle. A familiar event in an increasingly cock-eyed world. A family tradition.
And it was through the boathouse window that I took what, mercifully, I did not know would be my last glimpse of The Boat, all nestled in for Winter. I had always expected to take care of her when it came time for my watch. To help her show another generation the beauty of the River. And one day to pass her along down the line. But after Dad died, it seemed that I had been flat-out wrong; after all, even the fondest of expectations don't always play out into reality. And there may or may not be anything to do about it.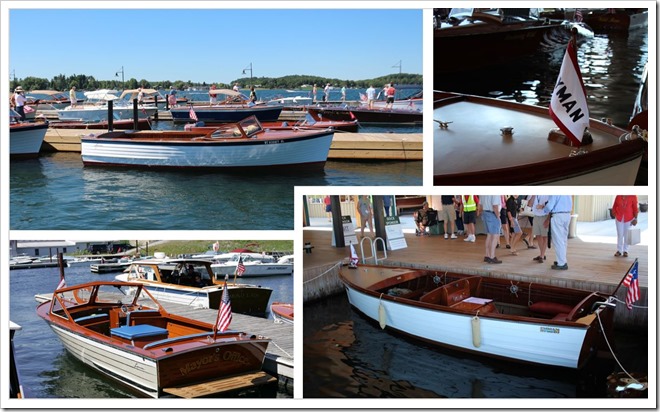 Editor's Note: Certainly one of the most popular boats on the River – when we asked for photographs, the Antique Boat Museum provided a dozen collected from past Boat Shows… All beautiful!
But in the fullness of time I've come to understand that my responsibilities include one unexpected step - to find her. I suppose some people might not think of searching around the River for one old boat as terribly important business. But that's just how it is with old Lymans, isn't it? It's been a 30-year project so far; I must be getting close!
This Spring, when your boat goes back into the River, load in the family and take a few pictures. Maybe she could use a snappy new flag, or some new lines - strong ones, so she never drifts away. Take the time for that extra spin around your favorite Island. And if you happen to see a 19' - '56 Lyman outboard with her deck ring pointed slightly to starboard, I'd love to hear from you. She might very well be the one I'm looking for - the Lyman in my life.
By Wayne C. Strauss
Wayne C. Strauss is Vice President of OppenheimerFunds, Inc., and works directly with the Oppenheimer Municipal Investment Team located in Rochester, New York. An attorney licensed to practice in the State of New York, Wayne also holds several securities licenses. He has served on the Board of Directors and as a Proctor for Rochester Area Mensa, and is currently a member of the adjunct faculty of St. John Fisher College in Rochester. An Eagle Scout and member of Toastmasters International, he spends as much time as possible aboard his boat "Convexity," in the Thousand Islands.
Copyright 2017. All Rights Reserved.