There must be something in the St. Lawrence air or water that gives special skills to a particular breed of River Rats who are as important to cottage life as sun, boats, fishing and swimming. This story is about the role of a unique and legendary man, Arthur Empey, who was the caretaker for the cottagers at Butternut Bay, through five decades from roughly 1910 to 1960. If there is a Hall of Fame for these characters, then he would be at the head of the class, along with similar men from both sides of the River. They were and are remarkable men.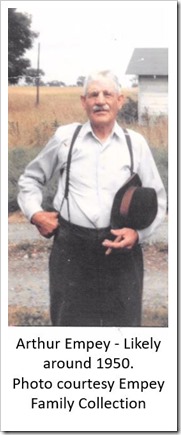 As I collected materials for this article, it became increasingly clear that Arthur Empey's life outside the Bay was equally compelling and that the story would have to be broadened to give a fair snapshot of this unusual man.
Most cottagers have limited handyman skills; they're cottagers and they make no bones about their shortcomings. Lazy days on the River, afternoon cocktails on the deck, evenings watching the sunset and sharing stories around the fire, with family and friends, are preferred to the mysteries of wonky pumps and motors, leaking roofs, sinking docks, strange tools and the curses of scuffed knuckles and bruised egos. City skills are highly valued in the worlds of finance, business, academics and government but are of little use in fixing things, so cottagers seek-out men who can keep things running and keep peace in the family; men who are used to hardwork and can fix stuff... men like Arthur Empey.
A few older folks, like the Reverend Warren, would call him "Arthur", and anecdotally he was known as "Emp", but he was always addressed as "Mr Empey" by everyone else. He worked for my grandfather, who was his same age, and in later years for my father, and both of them unfailingly called him "Mr Empey". He called my grandfather "Arnold" and my father, a doctor, either "Doc" or "Reg". It didn't seem weird - it just seemed right. He tended to the cottager's needs for over 50 years until shortly before his death in 1962 and he had a mind-boggling range of skills and interests ... and a heart and sense of humour to match. He was a barrel-chested and well-muscled six-footer with a glint in his eye, a sunny disposition and the ability to fix almost anything.
Butternut Bay
Butternut Bay is a small community of 31 Victorian cottages in the Thousand Islands, on the Canadian shore of the St. Lawrence River, seven miles west of Brockville. Most of the cottages were built in the 1890's, and some of them were flimsy, crooked wooden buildings, little more than wooden tents, with ill-fitting windows and support beams made out of 2 x 4's. Others were more substantial with their Queen Anne styling, featuring whimsical towers, soaring roofs and broad open porches. But the one constant was that they all required Emp's magic touch to maintain them. Emp's handyman skills were astounding and were accompanied by an entrepreneurial bent in supplying a range of goods and services to the cottagers. My grandfather ordered a cottage kit from Eaton's in 1929 and Emp built the whole thing, including the plumbing.
He would take on any task. A disastrous fire in the early 1930's burned several riverfront cottages to the ground leaving some prime waterfront lots vacant. Emp was hired to move other cottages located in less desirable locations in the woods above the River down to the riverfront, using his horses and sleighs to drag them down, riding on the snow, across a wide field and down a long hill to their current location on the edge of the cliff overlooking the River. My wife Sandra and I own one that was moved and tucked alongside the stately granite fireplace, the only remnant of the original cottage.
Emp was also a gifted mechanic. The cottages were reliant for water on a wonky old water pump that pumped River water to a water tower high above the cottages before being fed through a maze of leaky pipes to the individual cottages .... and he was the only one who could keep it functioning. When the finicky two lung motor in Reverend Warren's mahogany runabout wouldn't start, a frequent occurrence, and when his prayers failed to start it, as always, it was Mr Empey who got it going, accompanied in his repairs by a gaggle of kids who followed him everywhere. He didn't mind the confusion and would tease the children unmercifully.
Post Office, Ice Cream, Gas…
Emp owned a large farm about a 1/4 mile from the Bay, and it was home to him and his wife Mary, who predeceased him in 1948;. Their four children, his widowed sister-in-law Annie, and her niece, Betty also lived in the house. But even as the children moved out as they reached maturity, the farmhouse was always a busy place. It served as the regional post office in the summer months, including the postal service for Butternut Bay, and Emp was the postmaster . (He received the princely sum of $365 in 1960 for this grand responsibility).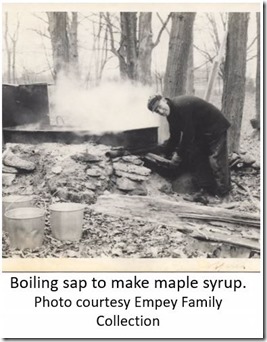 The women ran a small store selling ice cream, candies and sundries in the summer months and they had gas pumps year around. The latter were prized because they could operate 24/7 whereas the gas pumps in Brockville had a 7:00 pm curfew. In the early years of the post office the mail was hand-delivered to the cottages. Eventually they gave this up, so as kids in the 1940's and 50's, we would be sent to fetch the mail, which was a delightful task because we were greeted warmly in the farmhouse; and sometimes we were invited to sit at the kitchen table to gossip and be given a warm cookie. They also had the only phone in the area and Betty would come running down to the Bay, skirts flapping in the wind, to give Dad a message that some patient was about to give birth and he had to get back to Belleville for the delivery.
Most of the cottages didn't have electricity until the 1950's, so food was kept cold in large ice boxes in each cottage. Emp would take his horses and sleigh onto the frozen River, each winter, to cut ice into blocks and haul them to a large ice house at the bottom of the big hill behind the cottages to be stacked and covered in sawdust to await summer. We loved the delivery days when he would come with his rickety old half ton truck, load the ice and let us kids ride along with him, some in the cab and some sitting on the blocks of ice, while he delivered the ice. Sometimes he'd let us steer the truck ... a big deal for an 8 or 9-year-old.
Emp had excellent dairy cattle, and he delivered cold, creamy unpasteurized milk to the cottages until the 1950's when he sold the cows. Canada banned the sale of raw milk in 1938, but apparently he never got the word. None of us ever got sick and I still remember that special milk. Most of the Butternut Bay kids stayed at the cottage from the day school got out until Labour Day, so we enjoyed the entire parade of produce as the season unfolded ... asparagus, rhubarb, strawberries, raspberries, beans. onions, cucumbers, lettuce, tomatoes, corn on the cob, baby potatoes, apples... and I'm sure this list is incomplete. He also tapped maple trees in early spring and made maple syrup which found its way to our pantry. Dad loved to say that "The Queen doesn't eat better than us".
The grounds at Butternut Bay are extensive and in an era before power mowers and other machinery existed, keeping the grass under control was a herculean task. Emp would cut the long grass in the big field above the main dock with a large scythe, back breaking work for an average man, but he was a barrel-chested six-footer who did it with apparent ease. Fireflies danced in the long grass at night and it was also great fun to play in the long grass along with the frogs and garter snakes and scare the girls, so I hated to see it cut. (We rarely see the fireflies now that the grounds are beautifully groomed and I miss them.)
Emp was a surprisingly good money manager and, with his various enterprises, was able to support his family very well. He didn't charge much for his work at the Bay and the sales of ice, milk and produce brought in welcome money. He decided to supplement these sources of income during the Depression with a dangerous but lucrative sideline - catching sturgeon. In those days, the roe (eggs) from a single large sturgeon would sell for enough to feed his family for an entire winter. That's not a typo - for an entire winter!
To catch them, he'd set out lines, working from a St. Lawrence Skiff, and when he caught one, he'd lash it to the gunwales of the skiff and row it two miles across the River to Oak Point N.Y. There, the live sturgeon were held in submerged pens awaiting the arrival of Rabbis from New York City, who would come to inspect the fish, buy them live and harvest them, using traditional kosher killing methods. Emp's granddaughter, Kathy (Empey/Ackerman) Brunner still has his receipts from the sale of sturgeon, throughout the Depression years. It was big money in troubled times.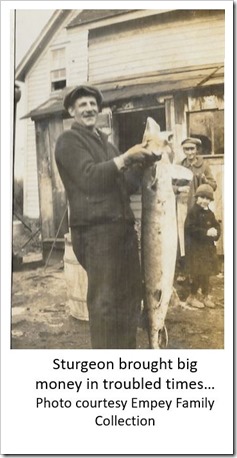 One of my father's favourite stories about Emp. involves a sturgeon and a suit jacket. Emp was appointed Chairman of the local Public School Board, an unusual development given that he had never gone beyond public school himself, Neither did he have formal trade school training, but he was regarded locally as a wise man. He bought a suit to wear to board meetings, and on one cold November night, while wearing his new suit jacket, he decided to check his sturgeon lines before going off to a school board meeting. He rowed out in his skiff, and to his delight, there was a large sturgeon on one of the lines, but to his consternation he hadn't brought along the equipment to secure them to the skiff. He wasn't going to leave this valuable fish because occasionally they got off the lines. So, he peeled off his new jacket, wrapped it around the fish, and used it to secure the fish to the gunwales.
This was dangerous work, wrestling in freezing water with a large sturgeon while trying to wrap a jacket around it and tie it to the gunwales ...the skiff bobbing like crazy during the struggle ...and Emp couldn't swim a stroke. But hey, the fish was worth a lot more than a suit jacket! Somehow, he got it back to shore, jumped in his truck and made it to the meeting. There is no word about how he smelled in the warmth of the meeting hall as the evening progressed.
County Constable
Emp was a favourite of the local establishment and was appointed County Constable and Game Warden. He admitted he wasn't very good at either, for he never arrested anyone and was known to step outside the law, when it came to hunting. "Hell, there's lots of 'em," he'd say, as he filled his freezer with venison and duck.
Mr Empey, constable or not, did have a standoff with the authorities on one significant occasion. The provincial authorities decided to extend the road which ran along the River west of Butternut Bay, into Brockville, with the idea of creating a four-lane road between Gananoque and Brockville. To do this necessitated crossing the beautiful natural valley behind Butternut Bay which led to the River. At the bottom was a dirt access road leading to the cottages. Instead of building a bridge, which would have preserved the valley, the government made the colossal "bone-headed" decision to fill in the valley. However, this valley contained a natural spring was the sole source of the drinking water for the cottages and it was also the access for Emp's cows to get to the River to drink. No amount of pleading would change the minds of the powers that be, so Emp brought a chair down to where the construction was to start, sat cross-legged with a 12 gauge shotgun on his lap, and told them he wasn't moving until they agreed to build a tunnel under the mammoth amount of fill required to fill in the valley. The tunnel was essential to safeguard the spring water for the cottagers, and had to be wide enough to allow his cows to walk through to get to the River. There's no record of how long he sat there, but the authorities finally agreed, and the tunnel was built. His cows got to the river and the cottagers got to drink that wonderful cold, clear spring water for almost 30 more years until it got contaminated by the salt after they built highway 401, (another incredibly dumb move by the Ontario government, placing a superhighway alongside the River.)
One Final Note
One final, short anecdote, sheds more light on Arthur Empey. His farm ran along the shore of the River, for over a mile, where the new highway was to go, and the government expropriated a substantial portion of it, to build the highway. I don't know how much he was paid for it, and it doesn't matter. What I do know is what he did with the money. He gave half of it to each of the two Brockville hospitals and didn't keep a penny for himself. He was surprisingly well to do and apparently, he felt that he had enough. He was a generous man.
So ... we had a man with an incredible work ethic and personal ethics, possessed of wonderful skills ... builder, carpenter, plumber, mechanic, groundskeeper, iceman, milkman, farmer, postmaster, storekeeper, fisherman, logger, hunter, constable, school board Chairman, game warden, benefactor ... and friend. How hard did he work? He told Dad; "In the winter I work and sleep. In the summer I just work." And he never complained.
The line between a worker like Arthur Empey and his customers becomes blurred, almost familial, and treasured relationships are formed and long remembered. My grandfather viewed him as his best friend, although he never had him in for dinner. My father revered him as the smartest and most capable man he knew.
I'm sure there were other characters of this sort along the River and I'd love to hear their stories. They were and are a breed apart.
By Bob Anderson, Butternut Bay
Bob Anderson is a lifelong summer resident of Butternut Bay and a besotted river rat. His grandparents first arrived at the Bay in 1920; Bob and his wife Sandra and their 3 children and six grandchildren, constitute the fourth and fifth generations of his family at the Bay. After graduating from Carleton University in Ottawa, Bob worked in the food industry for his entire career with various senior management positions at Dominion Dairies (Sealtest) and Burnbrae Farms, where he retired as President, in 2012. He was also President of the Butternut Bay Association Inc,. for over 30 years.