Ian woke with a start!
There were strange noises and it was cold, very, very cold and crisp. He peeked out from under the Extra Therm Duvet and recognized the room. He was on Raleigh, that was weird! He thought about the place in France, the new place and the warm sun and then looked at the crazy paved Jack Frost art on the windows.
As he breathed, his breath vapour reminded him that he probably hadn't been able to load enough wood in the wood burner, and noticed idly that his big woolly socks and fur-lined tuque were not even close by.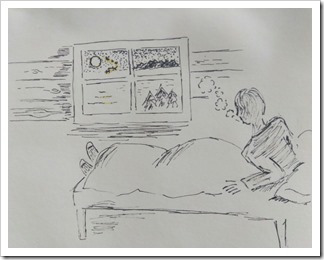 Gloves? Darn! They had to be downstairs with his boots.
There'd have to be a mad dash, risking the heart-stopping cold.
Planning! That was it! Stay under the duvet and plan the campaign and live!
Hmmmm! Well, the most pressing need was probably a pee, and then coffee, and then a fire, or should the fire come first?
And then the big question. What was he doing on Raleigh? in winter? and alone?
Slowly, a curious email swam into view… an email from…. yes, yes it was swimming into view, a bit like his favourite music group, no, not The Great Lake Swimmers, focus, and he did try, despite the fact he was sure the first tendrils of frost -bite were curling around his ears…
The email had been from "Nick"… and something like, 'your old buddy Nick' and then proposing 'a rendez-vous'?
And the opening salutation had been odd too… 'mon vieux copain Ian', so it had to be someone from Quebec. Ian shook his head, and yes, his ears were definitely crispy and his nose… well, it was time to move, he took a deep breath, and then in a blur, he was up and clothed and loading the wood burner…
Once the aroma of the coffee began to spread and the temperature in the cabin was (up?) down to a comfortable zero degrees, he used a credit card to clear a little window view so he could see the River of Islands that he loved. Still dark, but the moon cast an eerie light over the snow and ice and trees.
It stole his breath away.
His fur-lined ski doo boots were on, his old Nanook of the North parka, with the fur trim, was buttoned to the neck and his tuque was fastened, flaps down, over his defrosting ears. Just in time, he reckoned. It hadn't been easy… this was Canada in winter, the Great White North… could you still say that?
He flexed his gloved fingers through the glove sized handle on the man-sized coffee mug. It had taken quite some time to collect and melt enough snow for the cafetiere (French press) he had brought back from France. Should've brought the litre bottle of water, under the duvet he thought. It was still frozen solid…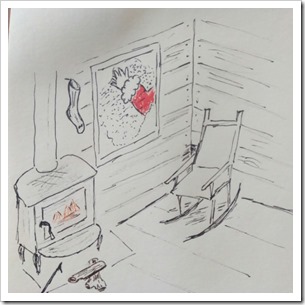 'Nick?' he pondered. It had to be 'that' Nick didn't it?
"Thought I'd pop-in early Christmas Day on the way home..."
It had been seven years since his last winter on Raleigh, well, at the house on the shore… Had it really happened? and Ian smiled, as he scraped another clear space through Jack Frost's glorious artwork and peered to look at the six blue spruce trees, now big and bushy and tall and at home!
He couldn't have dreamed that!
'I've still got 'One in a Thousand' on my iPad and I'll use it to find you…'
Now that was a clue!
Well, all would be revealed. In the meantime, he needed to bring in more wood, so he wouldn't freeze too solid, like unmoving ice, with just a wreath of frozen breath around his chilled features.
It had better happen! 'Er in doors' hadn't been too pleased with his wacky plan to be on Raleigh, over Christmas Eve!
He cleared a new view patch and then he saw it… in the distance, over the water, it looked a slim black silhouette, and long, and it was circling, and he knew it couldn't be birds; he could see the red light at the front… they were outlined clearly against the sky. And yes, it was a tiny sleigh, with glistening silver runners and nine tiny reindeer.
Ian smiled wanly, and as he loaded more wood into the stove, he glanced at the bedraggled old sock he'd foolishly fastened …
'and don't forget to hang a stocking… you're not that old…'
"Why me?" he pondered, and then "What does "Nick" drink?".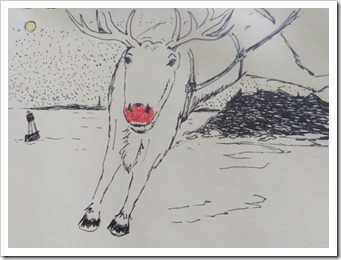 He smiled, widely this time, as he remembered the glass of milk and the cookies in front of the fire in the old house in Montreal, many years ago.
It would have to be tea, he decided, "Nick" wouldn't want to drink and drive… and "Nick" still had a long-haul home, 'up North'!
Then, he could hear it, a light thump from somewhere out on the frozen River and then that sound;, like skates on ice, and distant bells, and as he opened the door to the ice blast, he could see the blinding red light and the big powerful reindeer that was Rudolph, with his beacon nose, and The Top Team coming towards the island, his island; their breath steaming and behind them, through a spray of ice shavings, waving,
The Big Man!
It was "Nick" all right, and it looked like the pan of water on the wood stove was about to boil; but what was he going to offer Rudy and the Team?
There wasn't a carrot for miles…