Written by
Tom King
posted on December 13, 2017 12:23
While my wife and I, along with our three kids, certainly look forward to our annual summer vacations in the 1000 Islands, I think the family member that enjoyed the cottage visits the most, was our dog. Snickers, a lovely German Shorthaired Pointer, absolutely loved spending time on the island. As soon as she was ashore her olfactory sense kicked into high gear and, with nose to the ground, she would literally cover every square inch of the property in her search for snakes, frogs, squirrels and rodents of all shapes and sizes. She also didn't take long to put the local Canada Geese on notice, that there was a new "sheriff" in town and that she wasn't going to tolerate their rather intrusive defecation practices on her watch. Life on the island was good for a dog!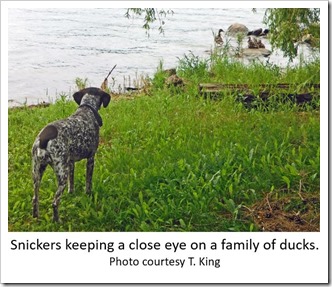 Over the years Snickers also developed into a terrific "dock dog". From her vantage point, on the front porch of the cottage, she could spot any boats that were approaching the island and, once she was sure they were going to land, she would sprint down to the dock, to act as the island's official ambassador.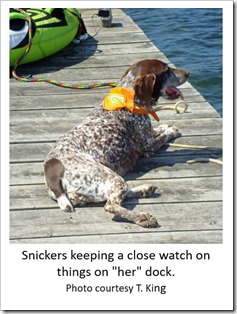 Family and friends alike were greeted with enthusiastic barks and a wagging stub of a tail. Once the boat's lines were secured and the cargo and passengers safely offloaded onto the dock, Snickers would lead the way back to the cottage, looking back frequently to make sure everyone was following her. Even in her advanced years we were always amazed at how she was able to run to the dock as quickly as she did!
The official job duties of the "dock dog" didn't stop with greeting visitors; also included were supervising water sports, keeping the sunbathers company, sending off the fishing parties, and inspecting the catch when the fishing parties returned. It was a pretty demanding job, but one that Snickers was willing to take on wholeheartedly!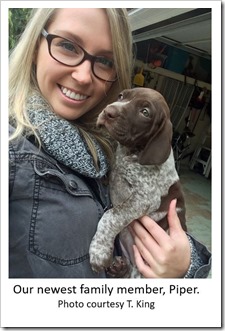 We lost our beloved Snickers this past February, just a few weeks shy of her sixteenth birthday. Although we knew the day to say "goodbye" would eventually come, it was still a devastating event when it happened. Snickers' death left a huge hole in our family, and we missed her dearly. When we had to cancel our Sampson Island vacation this past summer, due to the flooding from the high-water levels, a part of me was relieved as I wasn't sure I would be able to return to the island without our faithful, furry companion.
Just a short while ago our family fell in love again. We opened our home, and hearts, to a new German Shorthaired Pointer puppy. While she will never replace Snickers, our new little girl, Piper, has brought a renewed sense of joy into our household. Our family is whole again!
Although Piper has some pretty big paw prints to fill, we are certainly looking forward to introducing her to island life this summer and starting her on the journey to becoming as good a "dock dog" as Snickers was. We may just have to get her a small life vest, with "Dock Dog in Training" written on it!
By Tom King
Tom King and his wife Marion have lived in Milton, Ontario for the past 30 years, where they both worked and raised their family of three children; Kris, Mike and Becca. Tom still has a strong attachment to the Thousand Islands, having grown up in Gananoque and being a "river rat" from a very early age. The family tries to return to the islands every summer and for the past several years have been renting a cottage on Sampson (a.k.a. Heritage) Island, just out from Gananoque. As Tom explains in the article, excluding this one, as the cottage was surrounded by high water. Tom is also our go-to writer for popular tour boat history. Stay tuned!
Editor's note: The King family is well known in the region as the "J.W. King Water Filtration Plant", which stands on the shore of the St. Lawrence River, in the Gananoque Marina Basin, and was named after Tom's father, in recognition of the contributions that he made to the upgrading of the Town's water system, while acting as Chairman of the P.U.C. Click here to see all of Tom's articles.