Written by
Ian Coristine
posted on December 13, 2017 12:55
I look forward to each year's photo contest, with a mixture of delight and dread. Delight because it gives me a thorough injection of River, from a different perspective - yours. Dread because I have to make some very difficult decisions. Inevitably, there are several images that deserve awards, but with only three available, will have to miss out. This year is no different.
Carl Hiebert, an old friend and renowned photographer, once shared with me his secret to photography. "Just show up." Truer words have never been spoken. But just showing up doesn't mean the conditions are right when you do. My experience is that it takes showing up endless times and if you are really persistent, all the elements may eventually come together and you will be rewarded.
Writing these words made me take a look at my own library. Having lived full time on an island for 22 summers, I've been able to show up quite a lot. Those who know me well, know that they will never find me at the island, or anywhere on the River, without my camera. Over those 22 years, I've accumulated about 50,000 TI images I felt worth keeping. Just now I searched out my 5-star images. They number just 57.
So, just as the title to Volume VI, it's essentially one in a thousand that is a real winner. And remember, that 50,000 doesn't include the countless images I didn't feel worth keeping. All this to say that I really appreciate the effort that goes into capturing these images and it pains me to choose among them.
Gold Medal Winner, Lindy Martin
Our 2017 Gold Medal winner is definitely a "just show up" moment. But it took more than the photographer showing up. (Why doesn't this ever happen to me?) I've often found that white on white images resonate. This one certainly does! What a perfect moment with the depth of field impeccably focused on the owl, the fence leading the viewer to it, while it conveniently glances towards the camera! The snowflakes add pixie dust perfection. A clear winner in my eyes.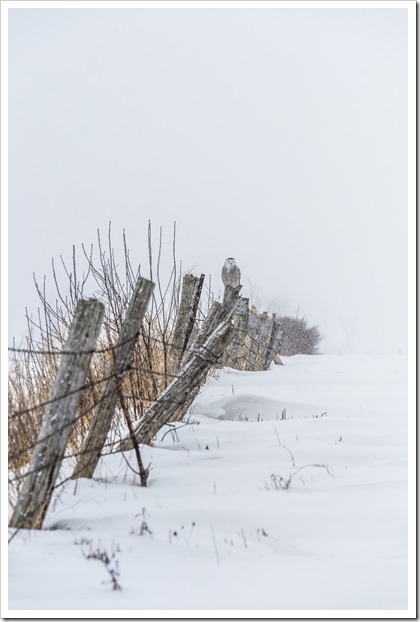 "Fence Line Sentinel"
Thousand Islands Life Magazine, 2017 Gold Medal Winner
Lindy Martin ©2017
"Fence line Sentinel"

I love the 1000 Islands in the winter, where the influx is of stoic and quiet residents; the snowy owl and other raptors. This one was on one of the islands, sitting through a minor snow storm, checking out the snow for a rustle of a rodent for lunch.

Lindy Martin

Photographing and protecting natural habitats is important to me. I believe that future generations may not be able to witness the same species and habitats that I see and appreciate. As a full-time photographer, I'm determined to capture the beauty that surrounds us and make those images available for others to enjoy. While the majority of my photography is pet photography, my passion is documenting wildlife, landscapes, waterways, forests, and of course, all types of animals.

The Thousand Islands is a fantastic place to photograph, 365 days a year! My challenge, to all of us in the Islands, is to go outside and capture the beauty of the Islands, so the world can see what a beautiful place we call home.

Lindy Martin: http://lindymartin.com
Silver Medal Winner, Brian Knapp
Silver goes to this subtle sunset scene, which avoids the clichéd glowing red sky (much as we all enjoy it) and delivers instead the breaking waves, beautifully frozen with just the right amount of slow shutter speed to convey the sense of motion. One can hear the waves while looking at this scene. A great capture!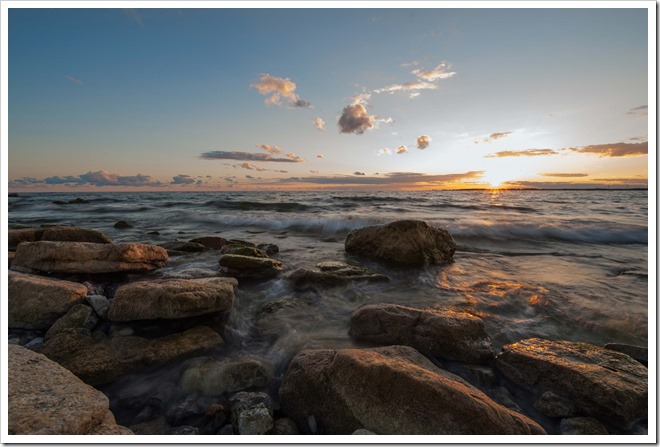 "Slippery When Wet"
Thousand Islands Life Magazine, 2017 Silver Medal Winner
Brian Knapp ©2017
"Slippery When Wet"

One of my favorite spots to photograph sunsets from is the shoreline at Tibbitt's Point. A favorite trick of landscape photographers is to "get low", which is what I did to capture this shot of the rocks at the edge of the river.

Brian Knapp

I am originally from South of Syracuse, NY. When I was a boy, when my grandparents moved from just down the road from where I lived to Alexandria Bay. That was the catalyst that started my love affair with the Thousand Islands area. Summers were spent traveling up to The River" to stay in my grandparent's humble trailer at Kring Point. My grandfather took me on walks, drove us up to Massena to visit the Locks and Hydroelectric dam, and arranged outings on the River with one of his friends, who had a boat. Evenings were spent sitting outside by the campfire, or playing cards at the neighbor's trailer. I was of course impressed with the big ships that I would see traveling up and down the River, but I was also just as satisfied to hike back into the woods and explore the area surrounding the park. Those summers were some of the best times I have ever had in my life.

As an adult, my family and I (I am married with two girls) moved to Northern Virginia, just outside of Washington DC. While my parents and sibling still live south of Syracuse, I didn't make it back to the River until just a few years ago. My girls were thrilled to go camping at Kring Point State Park, and I was thrilled to be back in one of my favorite areas of the country. Since that first reunion with the Thousand Islands, we've made it a point to visit at least twice a year, and my camera has traveled with me every time.
Bronze Medal Winner, Tim Kocher
Bronze was the toughie this year. I'm going to include many honorable mentions so you can second guess me if you wish, but in the end I went for "Miss Scarlett." There's a lot of HDR going on here (editing that balances light and color in highlights and shadows), but it works well, and who doesn't appreciate this beautiful antique craft, particularly in the complimentary calm, green setting.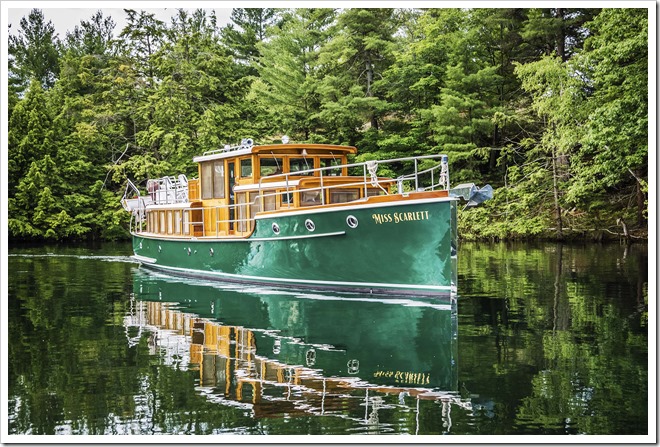 "Miss Scarlett"
Thousand Islands Life Magazine, 2017 Bronze Medal Winner
Tim Kocher ©2017
"Miss Scarlett"

This photograph of Miss Scarlett, a 52' 1929 Gidley Motor Yacht, owned by Rob Reddick of Alexandria Bay, NY was taken at Keewaydin State Park, at the beginning of the 2017 boating season. In 1993, she underwent a complete restoration and was completed in 2000. "Miss Scarlett" is a common sight in the 1000 Islands, commanding attention and respect wherever she goes.

Tim Kocher

I was an employee of the New York State transportation industry for 35½ years; now retired and moved from Syracuse to Alexandria Bay, along with my wife, Pam. While living on our boat, at Keewaydin State Park, traveling in our motorhome and working at Swan Bay Resort in Alexandria Bay as the Marketing Manager, I am now following my real passion - photography.

My work appears under the name Riverview Photography and can be found online, or at the Swan Bay Resort Boutique.
A copy of Volume VII, with its companion tri-fold pocket map, goes to each of our medal winners, along with the official award certificates and our thanks for cerebrating the River in this way. It's always a very special Christmas gift, to the River community.
TI Life Photo Contest: Honorable Mentions Article
By Ian Coristine, Raleigh Island