I have to admit that I hesitated writing this piece, not wanting to ruffle feathers, but the experience was just too rich.
We own an island in a most particular location. Located in the international rift between Hill and Wellesley islands, we are routinely patrolled by no less than 14 different law enforcement agencies. Everyone from customs to fish and game, state police, Coast Guard and everything in between, times two when you include both US and their Canadian counterparts. Some are uniformed in marked vessels, but out of respect to protect their methods and practices, suffice it to say that some are a little more on the down low. In short, we are well aware of their frequent presence and have in fact befriended many of them as they cruise by. They are hardly oppressive, but we do keep our company manners.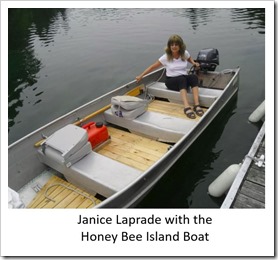 It all began when I was alone in my 14-foot open aluminum runabout, meandering through the Rift, when I came out into the bay on the west side. There was …eh… let's call it a large law enforcement vessel with an unfamiliar crew to me that was heading east into the Rift; we passed each other in close proximity. You know that feeling when there is a police car going by you on the highway? Sure you do. You just make sure you are in your lane and are staying within the speed limit. You mind your P's and Q's. I know the feeling not only as a civilian in that situation but as a retired law enforcement officer myself.
As we passed each other, I smiled and waived but could feel the hairs rise on the back of my neck, when I noticed that he was slowly turning around. Uh-oh......" that is never a good sign.
Could he be coming back to tell me that I won the lottery? Naw, I would have had to buy a ticket for that.
Maybe he was going to compliment me on my boating skills? Hmmm, not likely. No matter that I was as clean as a whistle in every way, you immediately know that your day on the River is about to change.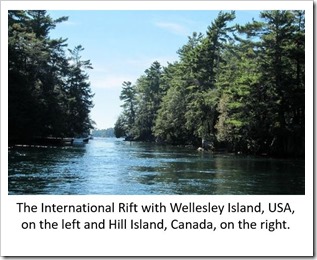 Within seconds he was slowing, pulling along side of me, so I stopped. A young officer introduced himself and told me what department he worked for. He then introduced the boat's captain (presumably his supervisor) and told me the names of several other officers representing various agencies on board. He explained that they represented both US and Canadian law enforcement agencies and had the authority to detain vessels on both sides of the border, for inspections.
Having the good fortune of being well within the speed limit and carefully avoiding creating any wake, I felt comfortable enough to have a little fun under the circumstances, so I responded with a big smile and shouted, "Hi everybody, I'm Michael!" in my best Gomer Pyle fashion.
The officer pointed to me and announced that they were going to board "this here vessel" in a southern drawl, for an inspection. "WOW! I shouted. In 17 years on the River I have never been boarded. Wait till my friends hear about this!" excitedly picking up my phone to call.
As their huge Zodiac approached me, it kept creating enough wake to nudge my boat away from them, so in an effort to assist, I started my motor to help close the gap. The young officer apparently took exception to my action, perhaps thinking that I might try to outrun them with my 15 HP outboard, vs their twin 400's, and all of them armed to the teeth.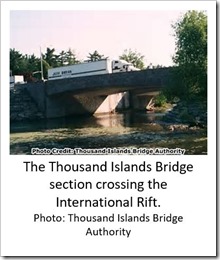 Finally, they came alongside and boarded my boat, which was overflowing with junk I was taking to shore. It even had a duffle bag large enough to hold a body, although it only contained large bedspreads, which I was using to protect items I was transporting in the back of my truck. Honestly, there was no room for anyone to stand without risking life and limb and falling out, so I said "I know that this is Pirate Weekend and all, but are we taking this 'prepare to be boarded' thing a little far, ARRRGH?" Ok, being cute is one thing, but I was beginning to wear-out the comedy routine.
After producing all required documents and displaying all safety equipment, to their satisfaction, he conducted a pretty thorough search of 'this here vessel'. I was left with the impression that this was a training exercise, for the young officer, and I must have looked like a convenient non-problematic target-rich environment. As the officer released me, and was leaving, I mentioned that he had missed a spot in his search. He looked at me quizzically and said "where?". I said, "under the seat, behind the anchor". He stumbled over, all but falling out, to have a peek and looked puzzled when he found nothing. I said, "I supervised officers for 20 years, who did prison searches, and I simply noticed that you had missed a spot". I did find it ironic that after being dragged over the coals, so to speak, I was asked to help with information about any nefarious activity I might see in the area.
Full disclosure: While serious, all of the officers were completely professional.
PS: should the Officer who boarded my boat end up reading this, please remember that "I love you, man."
By Michael Laprade
Michael Laprade and his wife Janice are retired Californians, who spend the summer at their "Honey Bee Island" property. It is located in the International Rift, between Blacksnake Passage at the mouth of Lake of the Isles and the stone span of the US / Canadian Customs Bridge. Michael, is a former prison administrator, and also is a Professional Magician. In October 2013, Michael and Janice wrote Honey Bee Island's Little Free Library article, for TI Life, as well as I Was the Pilot, in September 2016.