Written by
Susan W. Smith
posted on January 13, 2018 12:36
I start this book review for "Jewels and Ghouls" as I did for John Lefevere's other 1000 Islands Novel, "The Scimitar and the Snail."
Q. Did you like the book?
A. Absolutely
Q. Would you recommend the book?
A. Absolutely
Q. Was it suspenseful?
A. Absolutely
Jewels and Ghouls (A 1000 Islands Novel Book 2)
By John Lefevere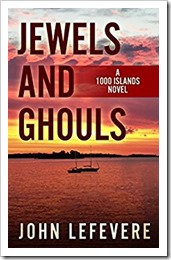 About the Book:
They solved a 150-year-old murder mystery, so solving a 110-year-old theft should be easy. Steve Stone and Jill Matson swing into action again in this contemporary thriller and historical mystery sequel to The Scimitar And The Snail. While on a trip to Ireland, the couple undertakes an investigation of the 1907 theft of the Irish Crown Jewels, which have never been recovered and may be in America. Back in New York, their search is disrupted by the mysterious disappearance of Jill's friend during the filming of a television show about the spirits of sailors who went missing in the Lost Channel of the Thousand Islands during the French and Indian War. Amazing revelations about the Lost Channel sailors and the fate of Jill's friend are overshadowed by the discovery of a local woman who claims ownership of the jewels and falls prey to others who want to take them away. Can Steve and Jill come to her rescue in time? And where have the jewels been all this time?
About the Author: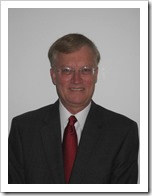 John Lefevere is a retired corporate attorney, whose life experiences include an appearance on The Ed Sullivan Show, playing golf next to the Giza Pyramids in Cairo, Egypt and recently appearing in a TV commercial. He has published professional/legal articles in the past and is transitioning to fiction, which is not as large a leap as you might think. After all, there is not much difference between the suspension of disbelief in fiction and "shading" the facts to make them more palatable to the reader in law practice. In either case, he finds the act of writing to be fun and challenging. When not traveling, John divides his time between Virginia and the Thousand Islands, New York, where his latest novel is set.
This is John Lefevere's second book of (we hope) a series. It is different from his Book 1, as there are several more plots and characters and geographic locations including far away in Ireland. But locals will recognize the visits to the west end of Grindstone Island, and down River through the Lost Channel. Also, readers will find some of the the world issues of the day (2017/18)– a surprise Presidential Election, Brexit, and coping with St. Lawrence River's high water.
As I started this review I realized that there is more to this book than plots and characters. Some of these characters are real – thanks to John's offer to libraries, to raise funds with a raffle, putting names in the book!
Yes, readers who love mystery stories will not be disappointed. Certainly, as someone who is amazed by the ability of a story teller to keep me reading well past midnight, I wanted to know more about how this story came together. John's answers are a perfect example of why his writings are so interesting.
Q1 - What gave you the idea that finding the jewels would be a perfect quest for the 1000 Islands?
A1 - I was already thinking about plots for a sequel to "The Scimitar And The Snail" back in October 2016 when I visited Ireland with my wife, Anne. I snapped a picture of a sign noting the unsolved theft of the Irish Crown Jewels while we were touring Dublin Castle and researched the crime and possible suspects when we returned home. I also found out about the Fenian raids into Canada from Malone, New York and how many Irish fleeing the Great Famine had settled in Canada and the area around Ogdensburg and Lewis County. From there I invented a believable way for the stolen Crown Jewels to end up in the 1000 Islands. Hunting for missing/stolen jewels is always a "perfect quest."
Q2 - In researching (and writing), what are the most challenging tasks?
A2 Several things. First, finding and pulling together enough real life-facts, to make the two plot lines plausible, and then fitting the characters I created in Scimitar into those plots. Another was to come up with good "hooks" for the introduction, to draw in the reader and then to come up with hooks at the end of each chapter so they feel compelled to continue. And finally, it was initially challenging to figure out a second plot that Jill and Steve could get involved in. That turned out to be the hunt for the ghosts/spirits of the missing sailors in the Lost Channel based on asking the obvious question I always had: whatever really happened to them?
Q3 - What are the most rewarding tasks?
A3 - In the case of Jewels And Ghouls, it was bringing to life characters for the persons who won raffles or drawings to have their names used for those characters. It was particularly rewarding with regard to Mamie Heath, who was retiring after fifty-plus years as Librarian at the Thousand Islands Park Library. She was so excited about having her name immortalized in a story that I sat alone with her at the end of her farewell party at the Library and sketched out who her character was and what she had to do with the story. She was just thrilled, which was rewarding for me because I had chosen just the right person and actions to attach her name to.
Q4 – What stumbling blocks?
A4 - Very few. Sometimes I kind of hit a dead end on what should happen next or how to achieve the story point I'm trying to make; however, thinking about it off and on for a few hours or days usually will give me the solution. Other times, I basically "listen" to the characters: what would Jill or Steve (or any other character) do in the given situation? Then I follow their lead.
Q5 – Why the title?
A5 - I always write without having a title, because I want it to reflect the final product. In this case, Jewels is a reference to hunting for the Irish Crown Jewels which is the first plot and Ghouls is a reference to the cast members of the Ghost n Ghouls TV show, as the leader himself points out (those with a morbid interest in death) when they search for the sailor ghosts of the Lost Channel.
And, of course, the words rhyme.
Q6 – At what point do I know when the story will end?
A6 - While I usually do the initial outline of the whole novel and then work from that, I typically only settle on an ending as I write and get closer to the end. That is because the story evolves as I write it and can change from what I originally thought would be a good ending. In JAG, I was not satisfied with the original scenes where I was going to end it and added an event that provided a surprising twist and led more naturally to the end of the story, with a hint that there might be another book coming.
I close with a couple of questions for myself – all easy for me to answer:
Q. Is the book easy to find?
A. Absolutely, it is only found online as an eBook. It can be purchased on: Amazon (Kindle), Smashwords, Barnes and Noble (Nook Book) and Apple iBooks. The cost is $3.99.
Q. And finally, is "Jewels and Ghouls" a good winter read?
A. Absolutely. Right now as the ice and snow turns our islands white – I can think of nothing more fun than pouring a favorite beverage, turning on the lights and once again meeting Jill Matson and Stave Stone.
Be sure to read the first chapter of Jewel and Ghouls as displayed on Amazon – you will see exactly what I mean!
By Susan W. Smith, Editor, Thousand Islands Life Magazine. susansmith@thousandislandslife.com