Written by
Brenda Benoit
posted on March 14, 2018 12:26
My story is not unusual as there are many like-minded Facebook enthusiasts who create social media accounts. I happen to be one of the lucky ones, as I live in a small village of Summerstown - bordering the St. Lawrence River, 15.7km - 9.75 miles east of Cornwall, Ontario.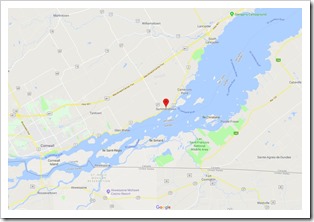 I realize this article does not exactly fit the criteria for inclusion in TI Life, (Beside, above and below the St. Lawrence River in the Thousand Islands section), but being directly on the St. Lawrence Seaway, we have a lot in common.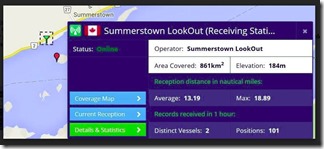 We are located in one of the "Royal Townships", established along the Saint Lawrence River, in Upper Canada, in the 1780s by United Empire Loyalists. One of the most famous residents of our Township was Sir John Johnson, original landowner and developer of the area. He built a home north of the River in Williamstown, annother famous resident was David Thompson, the explorer and Canada's mapmaker.
I moved to Summerstown in 2001, and soon my love of the River, and all things about the River, grew. I started taking photographs and posting them on several social media pages. Then, realizing that Summerstown had no social media profile of its own, I created The Summerstown Seaway LookOut group page. Membership has grown exponentially and together, as a group, we help celebrate our majestic River and its "happenings."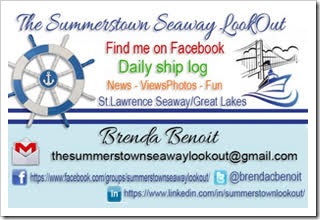 In March 2014, I joined the AIS-Receiving Network, (Universal Shipborne Automatic Identification System, are transponders installed on vessels making them visible to others with AIS equipment.) This allowed me to contribute to Marine Traffic, a world-wide ship monitoring system.
Soon I was keeping track, as AIS Station 3153, of ships going in either direction.
I contribute to Marine Traffic on a daily basis by providing ships passing by my location day or night with data as to where the ship is located. This helps contribute to the efficiency and the transparency of the shipping industry. You can expect a map to be updated every two minutes showing the location of each vessel. I provide the Longitude, latitude, vessel name, Maritime Mobile Service Identity (MMSI), status, speed, course, heading and timestamp.
Here are some of my recent posts: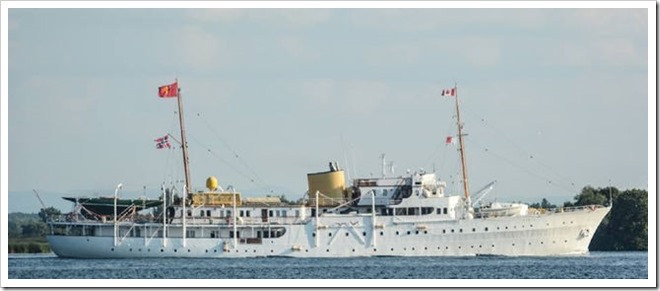 In August 2017, The Cornwall Standard-Freeholder published my photograph, and following of the Royal Yacht "Norge" of Norway, on her way through the Seaway to Toronto. "Did Royalty sail by Cornwall" by Greg Peerenboom.
Photo by Brenda Benoit ©2017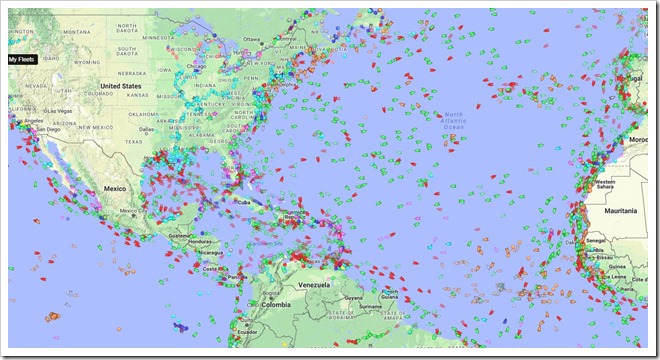 With the new Marine Traffic system, I am able to see vessels, wind, ports and lighthouses on the map, while also being able to pan, zoom in and out much faster.
We now have a much-improved overall experience, when using the Marine Traffic Live Map, whether it is to track a vessel that has a loved one on board, or to monitor an entire fleet of tankers in the Persian Gulf.
Here is a photograph of Marine Traffic web page, February 27, 2018, 1:00 p.m. Note: there are no ships in the Seaway, but there will be very soon!
https://www.marinetraffic.com/en/ais/home/centerx:-12.1/centery:24.9/zoom:4
Editor's Notes:
Sir John Johnson received several land grants in the Thousand Islands region including Tremont and Hay Islands, and the land on the east side of the Gananoque River.
David Thompson was responsible for charting the International Border between the United States and Canada, after the War of 1812. He shared the role with the American Joseph Delafield.
Linda Crothers, who contributes several photographs each month to TI Life and other Facebook pages in the region, is another AIS Marine Trafficker. She is located on Wolfe Island, ON.
Feature article by Greg Peerenboom, A harbour for lookouts | Cornwall Standard Freeholder
By Brenda Benoit
Brenda Benoit grew up in the Eastern Townships in Quebec. She and her husband Reggie, live in a log cabin on the banks of the St. Lawrence River. She says, "As I noticed the ships passing, I fell in love with my new home and surrounding areas and soon started capturing photos of Ships!" They have traveled far and wide, include Istanbul Turkey, all the while visiting ports and waterways. Brenda is most proud of her children as her daughter is in quality control at her company and her son is an Avionic Systems Tech - working on Chinooks for The Canadian Air Force. Yes, she is a proud Air Force Mom.