Written by
Dennis McCarthy
posted on March 14, 2018 12:40
On any given summer weekend, a passer-by to East End Park, in Cape Vincent, may see 10 to 20 scuba divers entering or exiting the water. With good parking, and easy access to the water, the location is ideal for both scuba diving training and recreational diving.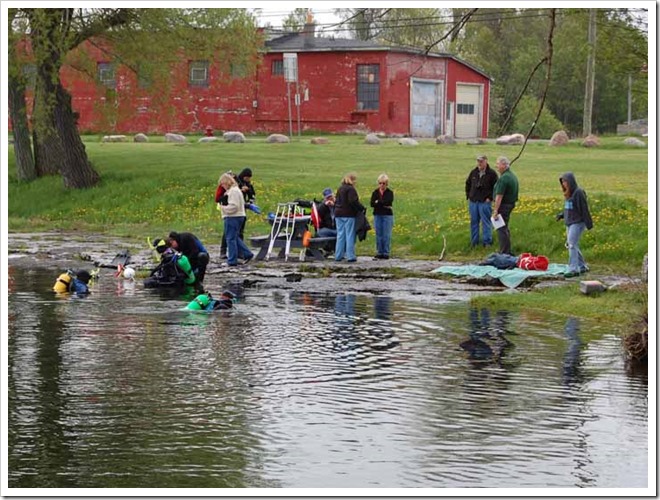 Divers at Cape Vincent's East End Park
Not obvious to the passer-by is what the divers see just 100 feet offshore from the park. Running under the water for over 200 feet are the remains of the propeller steamship St. Louis that was built in 1864.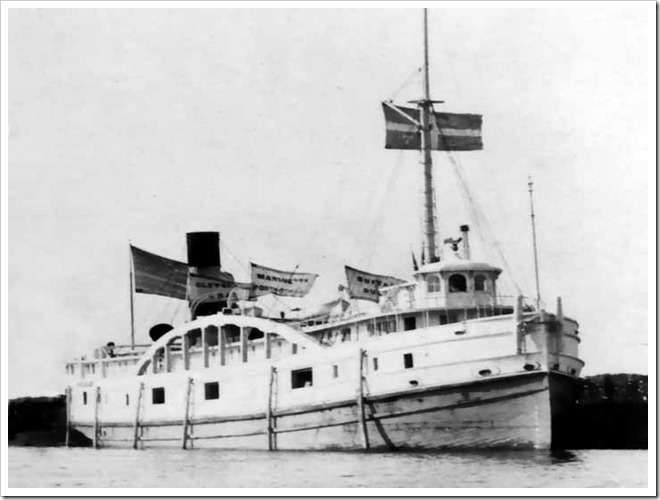 Steamer St Louis before conversion to a tow barge
Launched near the end of the American Civil War, the St. Louis was built and launched in Cleveland, Ohio, for the Buffalo & Detroit Transportation Company. With a single deck, she was part of a new class of steamships called "Propellers", which replaced the side wheel as the means of propulsion for vessels. The propeller, which was referred to as a screw, was driven by a single cylinder steam engine and boiler. A single mast was mounted just behind the pilot house. At 203 feet, with a beam of 31 feet, she was rated at 788 tons. She operated mainly on the upper great lakes, until 1906, when she was rebuilt at Tonawanda, NY, as an unrigged barge and operated by Niagara Falls Paper Company.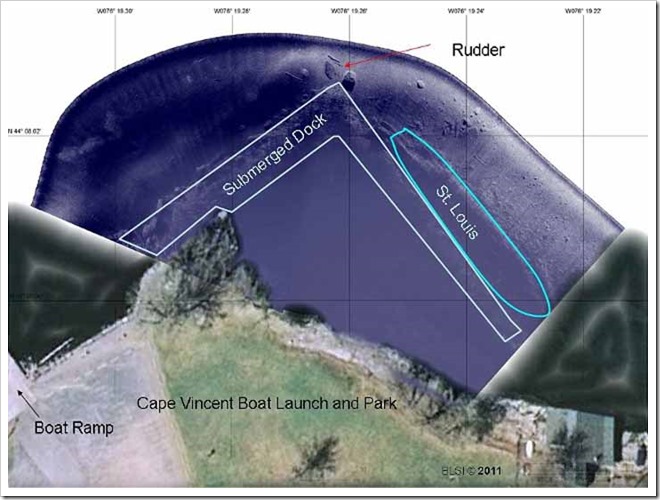 East End Park showing position of remains of submerged dock and the wreck of the St Louis
In 1908, her ownership passed to the Atlantic Coast Steamship Company of Buffalo, NY. In February of 1914, she was abandoned as a total loss, at Cape Vincent, NY, where she had been stranded next to a dock, where she remains to this day. This is just beyond where the wood pulp dock was located.
Underwater, the scuba divers can see the remains of the lowest part of the vessel. Massive 2-foot diameter oak timbers run from bow to stern. These timbers were part of her conversion to a barge, allowing her to carry heavy loads. Her rudder, over 12 feet long, still lays just behind the vessel.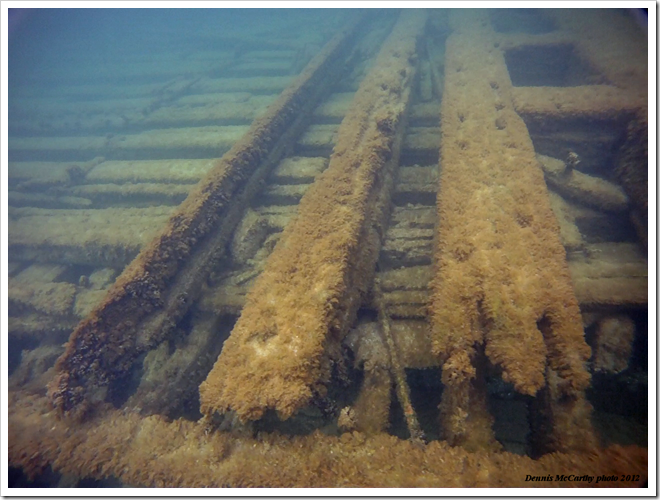 Underwater photo showing massive timbers
The area around the shipwreck is used by divers for training, photography and general diving. Anyone can swim or dive over the wreck, providing that they do not disturb it, or recover anything from it. The wreck falls under the Abandoned Shipwreck Act of 1987 that established government ownership over the majority of abandoned shipwrecks, located in the waters of the United States.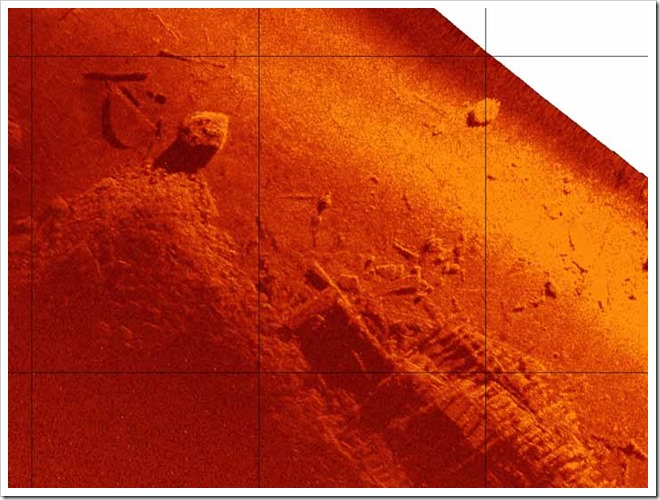 Side Scan Image showing view of the St. Louis and rudder in upper left corner
By Dennis McCarthy
Dennis McCarthy retired in 2009, from his professional career in engineering management in the Consumer Electronics and CATV industries. Having traveled to 28 countries in his business profession, he now prefers to spend his time with his wife Kathi, living near Cape Vincent, NY and enjoying the Thousand Islands and St. Lawrence River. A certified scuba diver, for over 40 years, he made his first dives in the River in 1971. Co-founder of the St Lawrence Historical Foundation (SRHF) in 1993, he helped organize the underwater survey of the Niagara Shoal Wreck, which was identified as the French war ship L'Iroquois that sunk in 1761 (St. Lawrence River Historical Foundation Inc. website)

He and his wife Kathi (See Seeing Underwater… October 2011 and Kathi and Dennis McCarthy's Discoveries …in March 2011.) now spend their time writing and publishing popular books and regional calendars. In addition, Dennis hosts the popular Thousand Islands River Views Facebook page. It is from here that he shares many photographs with TI Life.