Written by
Janet Smith Staples
posted on March 14, 2018 12:24
Yoga is for everybody, and the benefits are immeasurable. Many years ago, while living in California, I discovered yoga and developed a regular practice there. I once brought along a friend who was curious to give it a try.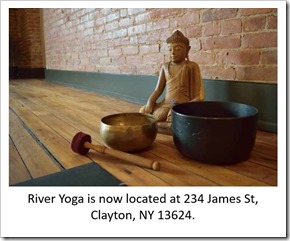 After class, she commented while chuckling "that whole breathing thing – the poses, I just don't get it…" I'm here to say this same person tried yoga again, years later, and when we get together now, she goes on and on at length, telling me all the ways yoga has improved her life, both physically and mentally. I nod in agreement, then we fall out laughing, thinking of that class we shared. She gets it.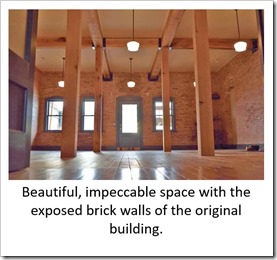 It's a practice, as Liz Price-Kellogg would tell you, and after 20 years of 'practicing', in various spaces around town, River Yoga now has a permanent home on James street.
A beautiful, impeccable space,with the exposed brick walls of the original building, with massive post and beams locally sourced. Every detail brings another level of beauty to the studio, from the lighting, to the radiant floor heating, to the color of the walls, to the artwork by local artist Christine Tisa.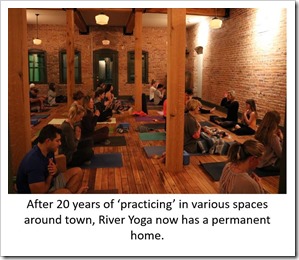 This place just feels good, and it didn't take long before people stopped in to hang out, have some tea, read a book, or connect, before or after a class. And it's clear to me that the best word to describe River Yoga, is community – as it embodies; support, growth, peace, laughter, strength and a chance for self-discovery and joy.
Liz Price-Kellogg, along with all the instructors at River Yoga, help guide all levels of yoga enthusiasts, at all stages in their life, by offering a variety of classes and workshops, and don't be surprised if you find yourself part of a community, where the love of yoga and the mighty St Lawrence River, flow together.
By Janet Smith Staples
Janet Smith Staples grew up spending her summers on the Canadian side of theRiver. After recently moving to Clayton, Janet and her family have discovered that the love for this River, is the heartbeat of Clayton. And, while the heartbeat may be a little quieter in the winter months, it's still very much alive. Getting to her yoga practice, makes that beat just a little bit louder!