One of the most notorious bootleggers, on eastern Lake Ontario and the upper St. Lawrence River during in the 'Roaring 20s', was Tony Kane of Solvay who had frequent brushes with the law. Eventually it was the weather and not bullets that cost him his life.
His boat was wrecked at Amherst Island during a storm. He, along with cohorts Cecil Phillips of Bath, Ontario and Captain William Sheridan of Charlotte, near Rochester, had set out on December 23, 1930 from Portsmouth with a cargo of beer, headed for Oswego aboard his 32-foot, 12 cylinder boat Firefly. But they never reached their destination. An extensive search and rescue mission was carried out by the Coast Guard.
Claims by Kane' s wife Lola and other family members that he was safe at home, proved to be a cover-up. On January 13, 1931 his body was discovered in a remote area called "Trout Hole",between Wilson and Fuller Bays, west of Cape Vincent. The discovery was made by Donald Mulligan, who resided nearby, while out checking on his traps. As soon as he spotted the body he ran home and informed his father. Law enforcement authorities were called to the scene and were able to identify the body as that of Kane. At the time, he was still wearing a life jacket.
After an investigation, it was held that the body was that of Anthony Kane, of Solvay, one of the three missing men who left Portsmouth, Ont., the previous week in the power boat "Firefly." Kane's name was found on his automobile registration card, located in his left hip pocket.
Anthony (Tony) Kane was born in 1898 and was one of nine children, of Michael and Sarah Kane. He served in the Army, during World War I. About 1921, he married Lola Major. They had two children, Loretta and Robert. Through the 1920s, Kane racked-up a long list of arrests and convictions, during the Prohibition era, for running booze between Canada and New York State.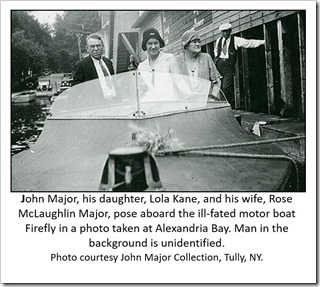 He frequently found himself in encounters with the law, with his daring fetes as a bootlegger, and found himself behind bars. One widely reported escapade occurred on October 9, 1928. During a high-speed chase, state troopers stopped him on a back road, near Lakeport in Madison County. They confiscated 36 bags of Canadian liquor.
Kane also admitted to prohibition agents that the beer had been transported across Lake Ontario, in a motor boat. He then picked it up in Oswego and returned to Syracuse, where he thought he could market it at local speak easies. But one of his competitors had already beat him at his own game and he could find no market for it.
He then started-out for Utica, to try and sell the booze there, when he was discovered by troopers. He was arrested and nine months later, in July, 1929, was found guilty of two violations of the Volstead Act that prohibited the production, importation and distribution of alcoholic beverages. It went into force in 1920 and was repealed in 1933.
News reports stated Kane was involved in transporting alcoholic beverages from the Kingston area.
Kane, who was living with his wife, Lola, and his in-laws, in Solvay at the time, was fined $450, but this did not discourage him. The report of Kane's trial, in connection with this incident made the front page of the Syracuse Journal on April 10, 1930. The banner headline read "Rum Trial Reveals Bitter Gun Battle." It was reported:
"Overpowering two customs inspectors who tried to arrest them when caught unloading a boatload of Canadian ale, two rum runners fought a gun battle with the Federal officials, took away their guns, kidnapped them, took their car and left them at a farmhouse.

These were some of the details of a spectacular capture at Snake's Swamp on Lake Ontario, near Fair Haven, brought to light today before Federal Judge Frederick H. Bryant at the trial of Anthony Kane of 100 Kane Road, Solvay, on charges of liquor smuggling.

Details of the affair, from a statement by Customs Inspector Thomas to his superior officers, read like a movie thriller. With Inspector Willis, Thomas said he was patrolling the lake shore on August 10, 1929, when he saw four men wading to their waists in the water carrying bags from a boat to shore. The inspectors called upon the men to surrender, but, instead, bullets began to fly. Two of the men fled, but the officers captured the other two.

Then, according to the officer's statement, Kane offered him $1,000 to set him free, claiming he had a number of previous convictions against him and it would go hard with him. The officer refused, handcuffed the men together and, putting them in a car, started to take them to jail.

The manacled men started a fight in the car and eventually succeeded in freeing themselves of the handcuffs and in securing the guns of the two officials. Then in possession of the car, they drove several miles to a farm house and got out, telling to officers to come back later for their guns.

The officers instead drove to Solvay, where they secured more guns, and returned to the scene of the battle. One of them guarded the confiscated boatload of ale, while the others trailed the men.

Practically the entire morning was spent today selecting a jury to try the case. At noon there were seven jurors in the box tentatively accepted by both sides. Assistant District Attorneys Genewich and Harrington are prosecuting the case for the government, while Richard P. Byrne represents the defendant.

After a jury had been drawn and the taking of evidence started, Anthony Kane of Solvay halted his trial on charges of smuggling ale into the United States by entering a plea of guilty. He was immediately sentenced to a year and a day in Atlanta Federal Penitentiary by United States Judge Frederick H. Bryant.

His action ended what had promised to be one of the most sensational trials of the present term of court. With three other men Kane was caught unloading ale from a boat, the government contended. Two of the men escaped, but Kane and a companion were caught. The government claimed that the two men overpowered their captors, disarmed and kidnapped them and made their escape, only to be captured later."
Kane and 23 other prisoners were transported to Atlanta Federal Penitentiary, in May. Though sentenced to a year, Kane got out on good behavior and was back on the street seven months later, obviously unaware that his next boat trip across Lake Ontario would be his last. Meanwhile he returned to work as a truck driver, for his brother-in-law, George Snyder of Syracuse.
The body showed a scar on the back and two teeth had gold crowns, which fit the description of Kane. The body of Cecil Phillips was recovered near Wolfe Island, the following April. Three weeks later, on May 10th, the body of William Sheridan was found, on nearby Grenadier Island, off Cape Vincent.
Funeral services for Kane were held January 16, 1931, at his home at 113 Alice St. in Solvay, and at St. Cecilia's Church. Burial was in St. Agnes Cemetery.
[References: Information was provided by John Major, of Tully, as well as research of newspaper articles by the author.]
By Richard F. Palmer
Richard F. Palmer is a retired newspaper editor, and reporter, and was well known for his weekly historical columns for the "Oswego Palladium-Times", called "On the Waterfront." His first article for TI Life was written in January 2015 and since then, he has written a half-a-dozen others. He is a voracious researcher and TI Life readers benefit from his interesting findings. Click here to see Richard Palmer's TI Life Articles.