As a young girl growing up in Brownville, New York, becoming a 1000 Islands tour boat captain certainly wasn't one of Brenda Webert's childhood dreams. All of that changed, however, when she married Eugene Snyder back in 1973. The Snyders were a true family of river rats, and you would swear that they had St. Lawrence water running through their veins! Brenda's new husband was a third generation Snyder family member who had been involved in the 1000 Island tour boat industry. Eugene's father, Clair, and grandfather, Edgar, preceded him in that line of work.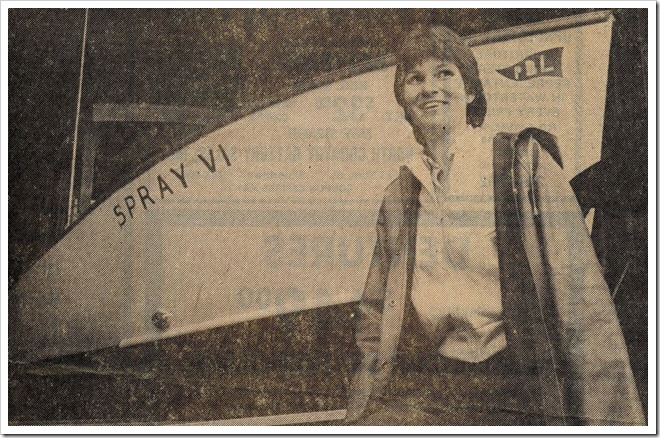 Brenda Snyder standing in front of the "Spray VI", the tour boat that she drove when she received her Captain's license.
Photo Credit – Roswell P. Trickey – Watertown Daily Times – from the Alexandria Township Historical Society Collections ©
Edgar Snyder's involvement in the tour boat business dates back to the late 1800s, when he took a job as a deckhand for Captain Elisha Visger, one of the early pioneers in the local industry. Edgar eventually became a captain for the Visger line and navigated the large steam-powered excursion boats on "rambles" through the islands for several years. In 1921 Edgar started up his own tour boat business, The Paul Boat Line, with a newly built tour boat named "Paul". The company and its first tour boat were named after Edgar's eldest son, Paul Edgar Snyder, who was born in 1909.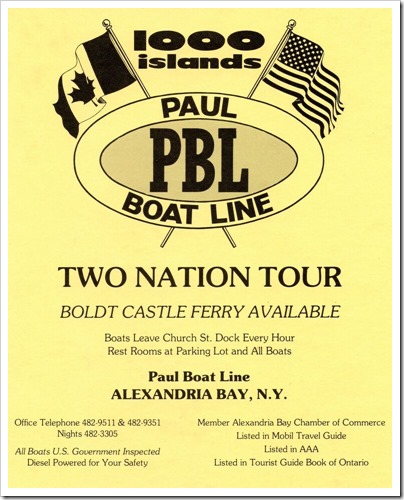 A Paul Boat Line advertising poster highlighting their "Two Nation Tour", which departed hourly from Alexandria Bay.
Edgar's second son, Clair, born in 1921, became more involved in the operation of the business, when he returned home after WWII, and eventually took over when Edgar retired. Clair's family; wife Jeanne and sons Eugene and Michael, were also key players with the boat line. Jeanne looked after the business end of things, and the two boys became captains and drove the tour boats, along with Clair. Following Clair's death in 1973, Jeanne assumed responsibility for the company's affairs and ran the business until it was sold to Paul Quackenbush's Empire Boat Tours in 1986. Mike's wife, Pat, also worked at the boat line for a few years in Sales and Administration.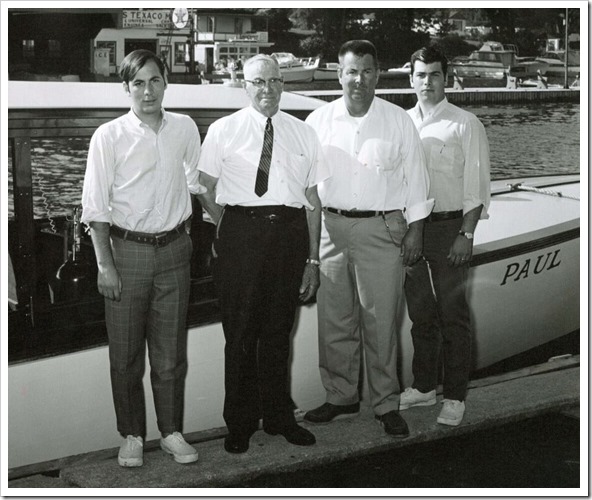 The Snyder men standing in front of their tour boat, "Paul", in a 1968 photograph - (L to R) Eugene, Edgar, Clair and Michael.
Photo courtesy Alexandria Township Historical Society Collections ©
In addition to the original "Paul" tour boat, a second vessel, the "Paul II", was added to the fleet in the late 30's to increase the boat line's passenger carrying capacity. The "Paul II", or "Little Paul" as it was affectionately referred to by the Snyders, was a relatively small boat, at thirty-two feet in length, and was built in 1917 by Duclon's of Alexandria Bay. The "Paul II" was sold in 1971 for the princely sum of $500. In 1957, the "Spray VI", a fifty-footer, built in Clayton in 1925, was purchased and put into service. Originally named "Islander II", the "Spray VI" changed hands many times over the years before joining the Paul Boat Line. In 1977, the "Uncle Sam Jr." was purchased from the Uncle Sam Boat Line and was renamed "Paul III". This boat, with a length of fifty-eight feet, was initially named "Maxine III" and was built by W.E. Adkins, in 1916.

The 32-foot long Paul II was built by Duclon's in 1917 and saw many years of service with the Paul Boat Line before being sold.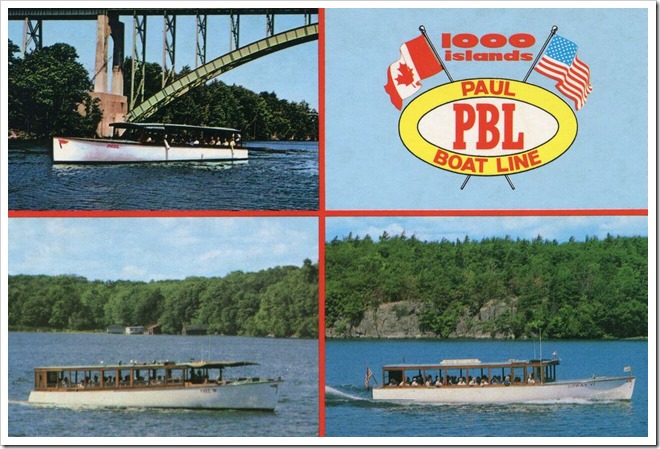 The final Paul Boat Line fleet consisted of "Paul", Paul III" and "Spray VI". All three boats were sold to Empire Boat Tours in 1986.
Photo courtesy Thomas R. King Historical Collection ©
After her marriage to Gene, Brenda left her job as a Lab Tech, at the Edward John Noble Hospital in Gouverneur, and began working at the boat line as a deckhand and tour announcer on the boats. Not having grown up in a marine environment, Brenda was eager to learn as much as she could about how to operate the boats. She also decided that if she was going to work on the water, it would be a good idea to learn how to swim, and she took lessons to do so. Over the years she observed the men driving the boats and picked up pointers on how to handle just about every situation that might arise. Mike, in particular, who drove the "Spray VI", was very helpful in preparing Brenda to take the big leap and try for her own captain's license. Having fulfilled the requirement of spending 365 days on the water, she wrote the 100-question Coast Guard examination and passed without any problems. An official United States Coast Guard license to operate "a mechanically propelled passenger carrying vessel of no more than 25 gross tons upon the inland waters of the United States" was issued to Brenda J. Snyder on April 24, 1984. With that piece of paper in hand, Brenda became the first female tour boat captain in the history of Alexandria Bay!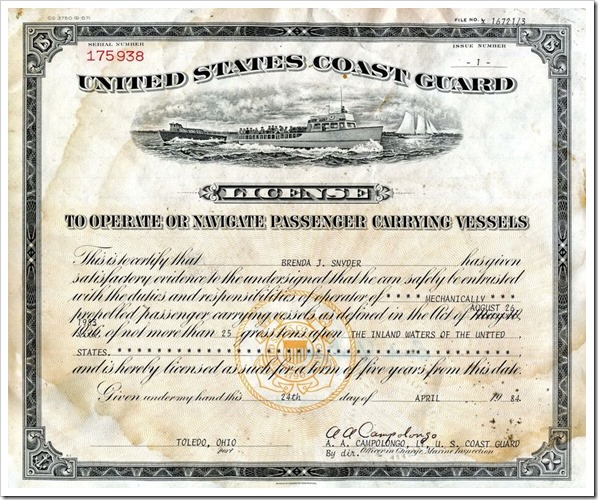 Brenda J. Snyder's official United States Coast Guard tour boat operators license, which was issued on April 24, 1984.
Photo courtesy Alexandria Township Historical Society Collections ©
Brenda's boat was the "Spray VI," and she drove it regularly until the boat line was sold to Empire Boat Tours in 1986. Although she didn't have a long career as a tour boat captain, Brenda still has fond memories of the experience and doesn't regret the move at all. She recalled, with a laugh, that one of the most memorable events that occurred while she was a captain was when a U.S. Navy Chief Petty Officer complimented her on her boat handling skills. The Navy man sheepishly admitted that he was a bit nervous when he initially boarded the boat and saw that a female captain was sitting in the driver's seat, but his fears soon disappeared as Brenda expertly guided the boat through the tour and made a flawless landing.
Although Brenda retired from the tour boat business in 1986, Gene upgraded his own captain's license at that time and drove the beautiful new triple-decker boats that Empire Boat Tours had added to their fleet. He continued with them until Empire went out of business, following Paul Quackenbush's tragic death in 1991. Gene then worked as a fishing guide and security guard at Boldt Castle, until he retired in 2013. Gene and Brenda sold their small farm in 2015 and moved to Point Vivian, where they continue to reside today.
Mike Snyder went on to become a captain with the American Canadian Cruise Line until his retirement in 2014. He then drove tour boats on a part-time basis for Uncle Sam Boat Line. Sadly, Mike passed away in 2016 at the age of 66.
Jeanne Barbier Snyder passed away in 2012, at the age of 87.
Acknowledgments
I thank Brenda and Gene Snyder for sharing their family history with me so that I could write this story, and for checking it over to make sure everything was accurate and correct.
I also thank Martha Grimes, Judy Keeler and Suzanne Kimmett of the Alexandria Township Historical Society, for allowing me access to the Archives at the Cornwall Brothers Store Museum. The archival material provided the basis for this story, and the images used enhanced the article immeasurably.
I recognize the work that Dr. Robert C. Tague carried out in compiling his self-published book titled, "Early Tour Boats in the 1000 Islands from 1876 to 1960". This publication provided valuable historical background information for this article.
By Tom R. King
Tom King and his wife Marion have lived in Milton, Ontario for the past 30 years, where they both worked and raised their family of three children; Kris, Mike and Becca. Tom still has a strong attachment to the Thousand Islands, having grown up in Gananoque and being a "river rat" from a very early age. The family tries to return to the islands every summer and for the past several years have been renting a cottage on Sampson (a.k.a. Heritage) Island, just out from Gananoque. Tom is our "go-to" historian for Tour Boat history, and he has once again hit the mark.