Maggie and Elizabeth left Watertown for a short, twenty-minute drive to Cape Vincent, NY, to take a ferry over to the Canadian island. They drove their car onto the ferryboat, and before long they were on their way to Wolfe Island.
"For some reason, I just hadn't put it all together," Maggie confessed. "I thought our family settled in Cape Vincent, not Wolfe Island."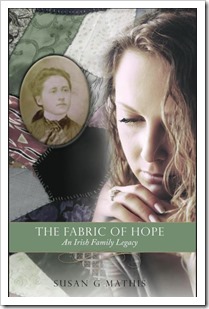 "When the Hawkins came from Ireland, they settled on Wolfe Island and became Canadians," her mom explained. "But when Margaret's daughter Susan got married, she and her husband, Patrick, moved to the U.S. and settled in Cape Vincent. That's how we ended up being Americans."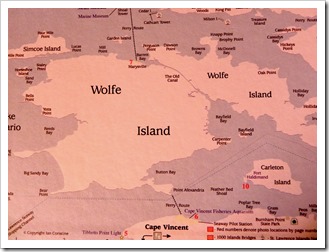 "Ah, I get it," Maggie said, smiling. "I could have been a Canadian if great-Grandma Susan hadn't moved here!" As she watched the ferry pull up to Wolfe Island she added, "I guess I also didn't realize that the island was quite as close to Cape Vincent as it is." Maggie and her mom hugged and got back in their car to drive off the ferry.
"Amazing, huh? In just fifteen minutes, you're in another country!" Elizabeth said as they drove off the ferry and waited to go through customs.
After clearing customs, they were on their way to the largest community on the island, Marysville. Maggie opened a brochure about the island as Elizabeth drove.
"Wolfe Island forms a natural boundary between Canada and the U.S. at the entrance to the mighty St. Lawrence River. Though Wolfe Island is the largest island in the Thousand Islands, yet it is only eighteen miles long by one to five-and-a-half miles wide. It currently has a population of just fourteen hundred people," Maggie read.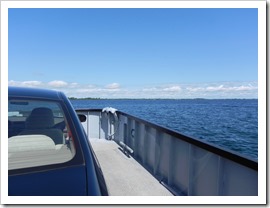 "What do these people do in the winter?" her mom asked as they drove along the main road where she could see only a few dozen small farms.
"In the winter, the ferries don't run because of the ice on the river. I guess they're stuck on the island. Can't image it, can you?"
Elizabeth shook her head. "I doubt we still have any relatives left here. At least, I've never heard of any."
"I think I'd get island fever if I couldn't reach the mainland for six months out of the year!" Maggie crinkled her nose in displeasure. "Let me read a little about the history of Marysville," She cleared her throat and began. "Marysville was named after Mary Hinckley, a ferry operator, tavern keeper, postmistress, and midwife. She was a widow with seven children who married Archibald Hitchcock, Jr. They had four more children." She looked up. "Eleven kids!" she exclaimed. "Incredible. And she managed to do all those other jobs, too."
"Your great-great-grandmother, Margaret, had twelve children," her mom glanced at her. "And her daughter Susan had eleven."
"I just can't imagine!" Maggie replied as they drove into the center of Marysville and stopped at the general store. "Let's stop here and see what we can find out."
~ ~ ~
When they met their distant cousin, Nora wasted no time spilling out her wealth of information about the family.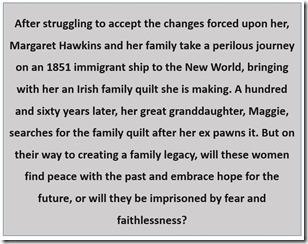 "Patrick Hawkins was the first Hawkins to come to the island in 1831," Nora said. "He leased a place on Mill Point in 1832. Patrick's first son was my great-great-grandfather, and his second boy, John Hawkins, was your great-great-Uncle John. That makes us rather distant cousins."
"Please tell us more about the island, Nora," Elizabeth asked.
Maggie pulled out her iPhone and jotted notes as fast as she could on her notes app. She loved history, and this wasn't just any history—it was her family's history!
"Wolfe Island has several important places," Nora began. "The grand Ardath Castle was here on the island. It had twenty-five rooms and was built in 1823 by a Mr. Grant, I believe." Though Nora had had a stroke a few years earlier and struggled to walk, there was nothing wrong with her memory or her tongue. "But it burned down in 1935. Patrick—he would be your great-great-great-uncle—owned a portion of the Ardath land at one time."
Nora was silent for a moment and then said, "Oh, and here's another fine tidbit. During the Civil War, Wolfe Island was along the Underground Railroad route. But I don't think that our family was a part of hiding runaway slaves."
"By the time your kin came from Ireland, there were many, many poor people here on the island," Nora said. "Because of that awful potato famine, there were hundreds of poor Irish farmers who settled here. Most often they came with little more than the clothes on their backs."
"How many people lived here back then?" Elizabeth asked.
"Don't rightly know," Nora said, furrowing her brow, appearing to think hard. "I suspect around the 1850s and 60s there were more here than there are today. Besides Irish, there were Scots, English, French, and others. And during the war, there were the 'skedaddlers.'"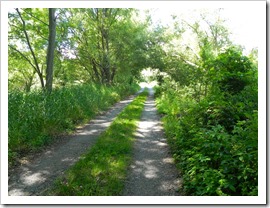 Maggie looked at her mom and both shrugged their shoulders in sync. Then Elizabeth asked, "Who were they?"
Nora cackled at the ladies' response. "Oh, they were the war dodgers who didn't want to fight in the American Civil War, but we islanders took 'em in just the same. Oh, and there were a few Fenians, a secret revolutionary group that wanted to go and fight the British to free Ireland from its rule. Fat chance that was going to happen. Them British were ruling the world back then."
"Wow! That's fascinating, Nora." Maggie shifted in her seat.
Again Nora laughed, her cackle made the two women laugh with her. "I could tell you stories from now until the harvest! Lived here all my life, and I know just about everyone who's come and gone from here, and a few who wished they had."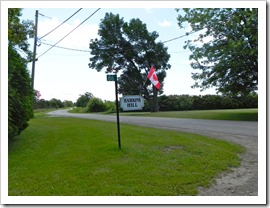 "More you say?" Nora said, not really asking. "Well, that general store you went to? The Baker family owned the store for 140 years, and it's the only place to get most of our goods. It has food that's sold by the pound, brandy, sewing supplies, hair products, and lots of household goods. But back in them days, you could even order furniture, or you could barter and get what you needed with eggs, butter, honey, or things like that. 'Course, you can't do that now. And in the winter, the store's stock gets pretty low until spring, when the ferry starts up again."
"How do you live on an island that you can't get off of for several months during the year?" Maggie dared to ask.
Again Nora cackled, yet she was endearing nonetheless. "Ever heard of plannin', girl? You stockpile what you need and plan to hunker down for the winter, that's all. Ain't nothing to it."
Maggie laughed, though she still couldn't imagine it.
Nora continued rattling off even more information. "Schooling didn't come to the island until 1845, but since your kin came after that, they probably got a good education. Back then there were lots of tradesmen and workers—wheelwrights, blacksmiths, carpenters, builders, boat builders, mechanics. There were even three taverns and a summer hotel, and a couple of doctors and three churches. It was quite a bustling town, Marysville was."
That day, my mom and I learned all this and more about the enchanting Wolfe Island. We are honored to be counted as people whose family was once Canadians, now Americans, and always Thousand Islanders.