As the new season begins on the River, I'm pleased to offer this Sixth online edition of POLLACK'S GAZETTEER OF THE THOUSAND ISLANDS OF THE UNITED STATES AND CANADA IN THE ST. LAWRENCE RIVER. It is the most extensive version so far, one which adds officially-sourced, GPS-friendly, coordinates for the geographic centers (or "centroids") of many of the islands and features listed in the Main Table. A new column called "Centroid Lat/Long" has been added to Sheet 1.
View the latest version of the spreadsheet here:
View the December version here:
That is in addition to the cruder finding aid introduced last edition, and carried forward in this one: lat/long numbers for the northeast (upper right) corner of 2-minute latitude by 2-minute longitude boxes containing named islands and features. That column is called "Two-Minute Boxes."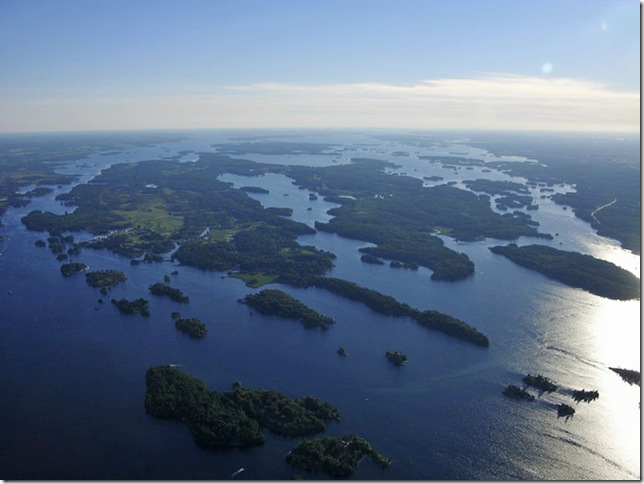 The Sixth online edition of POLLACK'S GAZETTEER OF THE THOUSAND ISLANDS OF THE UNITED STATES AND CANADA IN THE ST. LAWRENCE RIVER provides more than 1300 island and feature names.  Ross Pollack suggests the work is not complete and asks TI Life readers to continue checking these data entries and making corrections and additions.
Photo
Another way of thinking of all this data is to say that the Two-Minute Boxes tell you in which square or section of the River an island's or feature's centroid can be found.
You will see that Canadian centroids appear in the traditional degrees-minutes-seconds format, with latitude listed first, while US centroids appear to employ a decimalized version. In fact, the US numbers contain the same information as the traditional format, with the first two digits of latitude representing degrees, the next two representing minutes and the final two being seconds. For longitude, the first three digits show degrees, the next two represent minutes and the final two show seconds.
In future editions, these data may be put in a form more in keeping with formats used by the United States Coast Guard and other emergency responders. If that is done, we will publish conversion factors, so readers can easily switch among any of several common formats.
Other changes to the spreadsheet
Other modifications include small changes to the way multiple islands having the same name within the US or Canada are listed. To review, where there is an island in each nation having the same name, the American Marsh Island is shown in red and the Canadian Marsh Island is shown in blue. Where there are multiple islands with the same name in one country, they are distinguished by putting a [1] or [2] or higher number in brackets after the name. I have used that convention in earlier editions. In this edition, I have slightly renumbered the islands so that the bracketed [1] is reserved for the easternmost island of that name, with the bracketed numbers ascending as longitude increases to the west. This change appears on Sheets 1 and 2. There have been no format changes of any kind to Sheet 3 in this edition.
On Sheet 2, which shows which islands appear on which sheet of which map series, I have replaced the "Two-Minute Box" column with a "Location" column that shows the best available detail, be it lat/long or two-minute box for the island or feature.
Readers are reminded that my data is made available on an "as is" basis for any legal use, but without any guarantee of fitness to any particular purpose, and the data is not to be used for navigation. With so many datapoints in the database, it is reasonable to assume errors have crept in, despite rigorous efforts to make the table error-free, and each new edition represents the collection and addition of "raw data" which has not yet been double- or triple-checked for accuracy or otherwise "finalized."
Keen readers will see on Sheet 1 that there are more verbal descriptions of island and feature locations in this latest edition than the last one, but by no means have all islands' and features' locations been described. Developing individual location descriptions is a slow, map-intensive process, and your patience is requested in that regard.
Finally, you can see that with 1,362 islands and features shown in the main table, and knowing that there are 1,865 Thousand Islands alone (not counting features), my Gazetteer is still some significant distance from being complete. It is my belief that the islands and features named on the US and Canadian topographic maps and navigational charts have now been incorporated. But any help you can give me in identifying "missing" islands (or features) by name and location will be greatly appreciated. I enjoy reading and answering your e-mails whether they supply new data or react to this work-in-progress. Please address them to me at yalescribe@att.net.
As ever, thanks for your help and continuing interest in my collaborative online project, and thanks to Susan M. Smith, Editor, and Thousand Islands Life.com for hosting it.
Ross D. Pollack yalescribe@att.net
May 15, 2009
© Copyright Ross David Pollack 2009, All Rights Reserved
Ross D. Pollack, a contributor to Thousand Islands Life.com since 2007, is a writer and communications consultant based in the Hudson Valley of New York.

Ross was Intranet Editor for IBM's Personal and Printing Systems Group. His work has appeared in the New York Times Book Review, USA Today, The Royal Gazette of Hamilton, Bermuda, and various local Hudson Valley and Westchester County, NY, newspapers and magazines. He is a member of the District of Columbia Bar, a former US Court of Appeals law clerk, and a former JAG Officer in the US Naval Reserve.