We bought our 14 ft. AMF Puffer sailboat in 1983; I was in my twenties. As a teen growing up in landlocked Central Illinois, I looked at pictures of sailboats and dreamed of owning a sailboat and spending hours racing across the water. My dream was becoming a reality.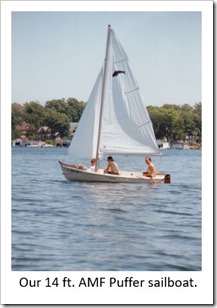 Now we had a sailboat, but neither of us knew how to sail. A guest of our island neighbor, Bill Bierley, took Gary out for a lesson. The next day, with only one lesson under his belt, we took off in our Puffer, with Gary in the stern with the rudder in one hand and the mainsheet line in the other. I sat in the bow. My job was to tend the jib.
Besides learning how to come about, I soon became proficient at righting our Puffer after we dumped, which unfortunately happened frequently as we learned the art of sailing. For some odd reason, we seemed to dump just as a tour boat would approach. One time, we dumped right in the path of an oncoming Gananoque Boat Line tour. There we were in the water, splashing around as a boat full of tourists snapped pictures. How embarrassing!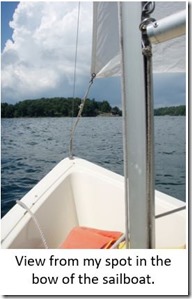 When we dumped, my task was to lower the mainsail, without getting tangled in the lines. Once I accomplished that, Gary would stand on the centerboard and the little Puffer would be right side up again. Hauling myself back into the boat was not a pretty sight. Often, I would wait until we were out of sight of the tour boat before I tried to hoist myself high enough on my pathetic spaghetti arms, so I could flop back into the Puffer. I rarely accomplished this on the first try. Super embarrassing!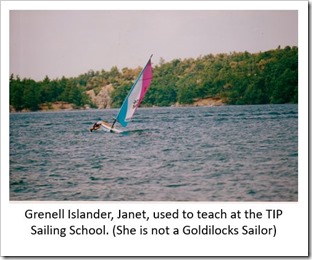 Once we totally turtled, meaning the centerboard was sticking straight up and the mast was sticking straight down. It took a little more finagling to right the Puffer and we sailed back to our dock, with tell-tale weeds streaming from the mast. Those early years of sailing were always a humbling experience. Eventually, we got the hang of it and spent more time on the water instead of in the water.
Now that we knew what we were doing, we could sail more often. Right? As it turned out, we don't sail that often as I'm a "Goldilocks Sailor." The day has to be perfect. It can't be too windy. It can't be too calm. The wind has to be "just right."
We know islanders who go sailing, only when the wind is screaming down the channel. I'm always flabbergasted as I watch their sailboat lean at wild angles, with one gunnel digging into the water and only the tips of their toes touching the other side. Once they returned with their mast snapped in two. They weren't upset about the mangled mast. They seemed to regard it as a badge of honor, proving that they were intrepid sailors. It only made me question their judgment. Who would venture forth on such a day? Certainly not this Goldilocks Sailor.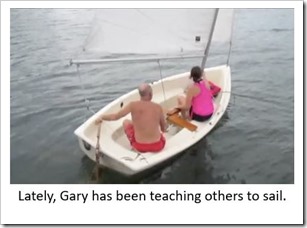 One should always consider the wind, before going for a sail, but I also check the air and water temperature, too. I've never found the St. Lawrence to be too warm, but I balk if I think the water is too cold. The way our little Puffer is designed, we get wet. Or more precisely, I get wet. If we're moving swiftly through the water, or cut through a wake, we take waves, over the bow. I sit in the bow and in addition to tending to the jib lines, my secondary function is to provide a nice splash-shield for the captain. Consequently, I don't like to sail if the water or air temperature is too cold.
When the stars are aligned and everything seems "just right," we venture forth. This is what I dreamt about in my teen years, right? It should be heaven. But often times, in those middle years of sailing, I returned to the island feeling agitated and frustrated. Generally, I never go anywhere without a notebook and camera. Because of the risk of dumping, I didn't want to take anything with me. Without a notebook to sketch or scribble in, what was I supposed to do? Instead of feeling relaxed, I felt vexed.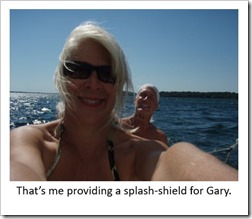 It's taken a couple of decades, but I've eventually learned to appreciate the Zen in sailing. Staring out at the water, and reading the wind on the waves, is almost meditative. Finally, I can go out for an entire afternoon, with no electronics, no notebook, no book to read. I can live in the moment enjoying the wind, the water, and the light dancing on the water.
By Lynn E. McElfresh, Grenell Island
Lynn McElfresh has written 112 articles for TI Life. This month she puts us in the mood for summer. Certainly, I remember my first experience in a sailboat, I was 12. As I read this one, I smiled as it brought back so many wonderful memories.

Lynn often writes about her favorite Grenell Island and island life. We have learned a great deal over the years from her musings, from moving pianos to island weddings or from plumbing problems to meeting old friends and taking nature walks. Back in June 2011, she introduced us to her favourite game called SHIP. Check it out. To see all of Lynn's island experiences, search TI Life under Lynn E. McElfresh.