On October 2, 2002, North Country Public Radio's broadcast included one very sad story titled "A-Bay Hospital to Close". This story described the imminent closure of what had been E.J. Noble Hospital in Alexandria Bay. And the story was true – by rights, the hospital was on its last legs. Over the many years since its opening in 1941, the medical services business had changed dramatically. Some folks thought that the hospital had served its purpose. Others thought that it could never support itself. Some thought that the needs of River residents had surpassed the capabilities of a simple rural hospital, and that the time had come to fundamentally overhaul hospital care in the North Country.
But none of them thought to ask the River community.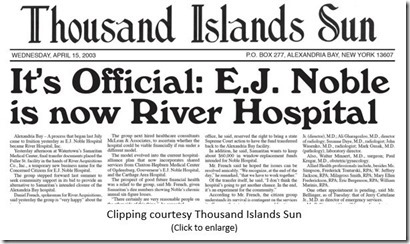 And the River community – real people who staff, manage and use the hospital - got together and responded, "It's our hospital. We'll find a way." So, on April 15, 2003, with little more than vision, commitment and spirited determination, River Hospital was born. Starting from that very first moment, the rest makes for an ongoing story that could be remotely possible – if at all – only at the River.
It's unlikely that the folks, proudly putting up the "River Hospital" banner that first day, could know just how much work would be required to make the new hospital into a sustainable enterprise. The business of running a hospital requires three critical components, other than the building itself: dedicated staff, income and community support. River Hospital was blessed with an extraordinarily dedicated staff and strong community support; but nearly everything else would have to be built, brand new, from the ground up – with precious little money.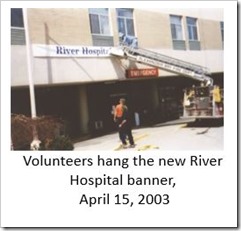 To survive, hospitals need a financial system – a process that allows for the translation of diagnoses and procedures, lab and radiologic results and even Doctors' notes, into alphanumeric "codes". These codes are used to populate insurance claims - which then generate income. But the nascent River Hospital did not have a functional system and, as early as the summer of 2003, it appeared that the existing coffers would run dry by October 1st. No income had been generated since April 15th, even though some 3,000 Emergency Room records existed. But those records had to be coded, billed and sent to insurance companies, to create an income stream. This was a true financial nightmare.
That's when dedicated hospital employees sized-up the problem and went to work. First, they cobbled together a spreadsheet to be used as the basis for a financial system – basically inventing the system itself. Then, additional hospital staff jumped in to help. Registered Nurses and administrative members worked tirelessly, side-by-side, to transform records into codes and codes into bills – and kept at it through October of 2004. Most hospitals have a staff of people called "coders" for this process; River Hospital had a staff of people called "devoted".
Quickly turning this mass of records into an income stream by hand should have been, by any measure, impossible. But River Hospital's staff turned the impossible into possible, and the possible into income. At the beginning, much of the staff worked on an "honor system" – not until the end of the first year were formal Human Resource policies and procedures established. Everybody still came to work, and everybody gave it their very best. Because it was their hospital.
At the same time as the income stream was being re-established, a gathering stream of help was coming in from the River community as a whole. Financial contributions, from summer people and from year-round residents, started to arrive as folks saw the need and wanted to help. Then, just as in the old folk tale "Stone Soup", local individuals and businesses began to contribute items in kind to help the fledgling effort. The calls started coming in: "Can you use a computer? I have one that I could drop off if you'd like." "I have some desks if you want them." Office equipment, supplies, furniture, electronics and a host of other needed donations were made precisely as River Hospital struggled to find its feet. The local Masonic Lodge and area Fire Departments even arranged to help spruce up the facility and perform basic maintenance. And they worked until the job was done properly. For four years the grounds were abuzz with activity on one Saturday each May, as volunteers worked to rejuvenate a hospital that they could be proud of. Because it was their hospital, too.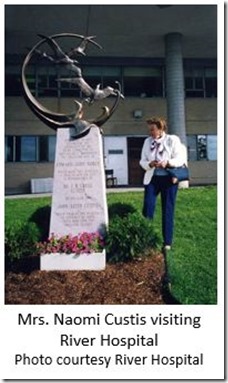 Even before its technical beginning, dedicated River residents contributed solidly to River Hospital's well-being. Among the earliest and most enthusiastic contributors were Keith and Naomi Custis, who were summer residents of Grindstone Island. Starting with a Concerned Citizens group, and ultimately with Friends of River Hospital, Mr. and Mrs. Custis gave generously of their time and support and treasure, first to save River Hospital, then helping it to flourish. Upon his death in 1989, Mr. Custis left a portion of his estate as an endowment for the hospital. When Mrs. Custis did the same at her death in 2009, River Hospital's Chief Executive Officer Ben Moore III stated, "We are very humbled by her donation. She has been a benefactor and a good supporter of the hospital for a very long time." Mr. Moore also noted that, "Naomi always worked in the background and did not want publicity for her donations." Judging from their unwavering commitment and support, the Custises clearly considered it their hospital, too.
Fast forward to April 15, 2018. On that day, having survived its tenuous birth and grown strongly over the years, River Hospital now celebrated its 15th birthday. (For the hospital, this date is lovingly referred to as a "birthday".) And you are cordially invited to attend River Hospital's official Fifteenth Birthday Party, on June 15th, from 11:30 AM until 1:30 PM, on the hospital grounds – the River side, naturally! Details for this event can be found here: River Hospital Birthday Party. Now that you know the story of its birth, come and celebrate the hospital's success as it continues to grow and prosper. Meet some of the dedicated folks who made it all happen. Share in the fruits of their remarkable achievements.
Stephanie Weiss is River Hospital's Executive Director of Development, and she would be happy to help you become an integral part of this amazing story, through your birthday gift to River Hospital. You can reach Stephanie by phone at 315-486-2920, or by e-mail at sweiss@riverhospital.org. Together, we can take pride in helping to write the story's next chapter.
Because it's our hospital, too.
By Wayne C. Strauss
Wayne C. Strauss is Vice President of OppenheimerFunds, Inc., and works directly with the Oppenheimer Municipal Investment Team located in Rochester, New York. An attorney licensed to practice in the State of New York, Wayne also holds several securities licenses. He has served on the Board of Directors and as a Proctor for Rochester Area Mensa, and is currently a member of the adjunct faculty of St. John Fisher College in Rochester. An Eagle Scout and member of Toastmasters International, he spends as much time as possible aboard his boat "Convexity," in the Thousand Islands.