(A story of how the author's grandmother came to live a Thousand Islands life in the 1940's, told in her voice)
Folks around here call my kids River Rats. I guess I couldn't keep a one of them out of the water, from ice out to ice in, or off the ice, once it first slid into Otter Creek come winter; and they went without shoes often as not, but not without boats from the time they could sit-up in one. Maybe all that made them River Rats, but I say it made them plain decent people, who know how to turn what their Maker sees fit, to give them into a life for themselves, just like I knew growing up.
My parents were from old mountains and shallow rapids at the crown of the Adirondacks--pretty different from this place-- but they knew it too. Married, when my mother was just 17 and my father 20, they were too poor to live anywhere but the 85 acre farm my grandfather owned in Dickinson Center, near St. Regis Falls. My father worked the farm, and my mother helped keep the house with its big vegetable garden and wild berries for canning up preserves, and that's where they started raising me and my 4 brothers and sisters. What a time we had when we didn't have chores to do! We wanted to dam up the creek out back, in the worst way for a swimming hole, so over and over we stacked rocks and cemented them with mud until the water pooled to a foot or so by suppertime, and over and over that creek washed our engineering right away and settled back to a few wading inches while we slept.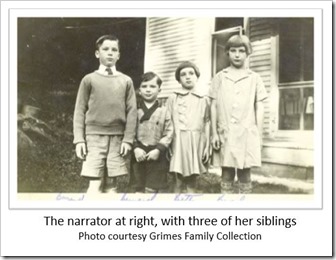 Neither of my parents got to finish school, so they were bound that all us kids would. My schooling didn't start off too well--on my first day in 1928, a teenage girl pulled up in a horse-drawn buggy, hired to be the 'school bus'. Just as I stepped up in my brand-new shoes and dress to climb aboard, the horse jumped, and down I went between the wheels. That was the end of my first day of school, but I was all right, even with a wheel track across my stomach, and my mother cleaned up my dress and shoes and sent me off the next day. From then on, I was always a real good student, top of my class, as were all my brothers and sisters. One of my teachers in high school thought I could get a scholarship to a good college, but I planned on being a nurse. The teaching hospital was paying a stipend to students to work when they weren't in class--I wouldn't need to ask my parents for money to get through. My high school teacher cried when I told her that's where I was going.
My father was hired to caretake for the fancy, boys' private summer camp on Dexter Lake, when I was seven. Once summer was over, we would move out to the counselors' cottage and live there for the winter, all the while I was growing up; we'd move back into the farmhouse when the camp opened up again. At Dexter Lake Camp we had all the toys and gear you could imagine to use--rowboats, sailboats, fishing poles, skis and snowshoes. Life there was lots of fun for us. You all might know that camp as the place that country singer Shania Twain bought and bulldozed to the ground, to build herself a studio, back in the nineteen-eighties. That old camp was long closed and falling down by then, but it sure was a shame anyhow.
I was still a pretty young kid when I met the man who brought me to the river. He was walking through town, whip-thin, sporting riding breeches and a beret on his head, like nothing any local man would wear. I went home and told my mother an artist must have come to stay in our town. The artist turned out to be a convalescent out of the Saranac Lake sanitorium with a southern drawl, looking to settle in St. Regis Falls for the health of the bride he met and married while taking the cure. When his wife could finally leave the sanitorium, they became friends with my parents. The man went to work with my father sometimes, in the lumber camps up in the woods. My mother helped his wife with their baby girl who came along not too long after.
My father's friend always warned me away from getting tied down with any of the local boys. I did have a boyfriend, Percy, for a good long time in and after high school--we had sort of an understanding about getting married. But then the US joined the war, and he and the rest of the boys in town enlisted. By then I had my nursing degree and was working in the asylum in Ogdensburg. I signed up in the Naval Nurse Corps in 1945 and was stationed in St. Albans Naval Hospital, on Long Island, to tend the wounded returning from overseas. What a horrible mess that was. Some of those poor boys pretended to be going crazy just so they wouldn't be sent back out there, and I didn't blame them one bit.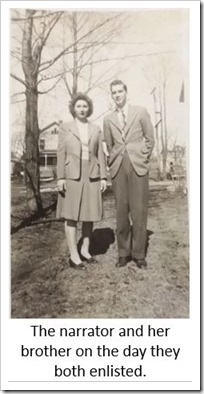 Just a few months after I enlisted, the man who would bring me to the River showed up on my doorstep and told me I'd better marry him.
His poor wife never did fully recover from that tuberculosis, and had died of her disease at Ray Brook sanitorium, two years earlier. He sent me a few funny letters, and visited me once in Ogdensburg, but he'd been out in Arizona making gun parts for Alcoa, and then working as a mechanic on a Seabee base in California. One day in May 1945, he called my boarding house out of the blue to tell me he was coming to see me. He arrived at Grand Central Station two days later, and two days after that we were married by a minister in the Children's Chapel at Brooklyn Naval Station. I had to go back on duty right after, and when my shift ended I met him at the Crystal Palace Hotel in the city. We listened to big band music in the hotel's lounge--folks like Frank Sinatra and Tommy Dorsey played that hotel all the time. That was my wedding and my honeymoon. My husband was a beret and a breeches-wearing, city-slicker Southerner; widower; father to a little girl; friend to my father. My parents had no foresight of this turn of events, and they didn't like it at all. They never could forgive him. Percy was pretty unhappy about it, too.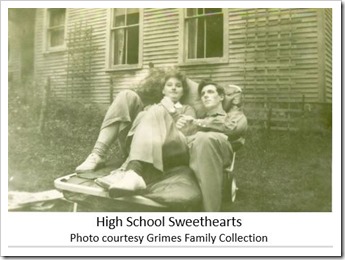 The Navy didn't want any married nurses back then, and anyway my husband took a job at a papermill, over in Lowville for awhile. I guess it was 1946 or 47 when we brought our family--my step-daughter, my first son, and my first daughter just a baby--to Alexandria Bay. My husband had another new job as a ship's mechanic on the Great Lakes, and would be gone for days at a time, during the shipping season. I went to work at the hospital in the Bay, working night shifts, to help feed and clothe what added up to 6 kids in the end. We ended up in the big house on Otter Creek, near the Edgewood, and ran a small marina and gas dock there for a while too.
On Otter Creek is where my kids jumped in the water and never really got back out. That's where my firstborn would lay in bed at night, practicing holding his breath, so he could stay under longer. Where the boys brought home rabbits, ducks, fish, frogs, and just about anything else with a little meat on it, for me to clean and cook. Where they pestered the old fishermen in the shacks up the creek, learning gosh-knows-what, and pestered the caretakers working in the fancy island boathouses. Living there meant my boys got to be pretty good hockey players from skating all winter out front, and my girls waved from the top of the water ski club pyramid in the summer shows for the tourists. My husband sold that house and pretty near everything in it, out of the blue, for a Chris Craft cabin cruiser, in 1969. He dragged the last one at home and me on a two-month trip out the locks to Montreal and down the coast, to live in Florida. I sure was sorry to leave my flowers behind.
I don't know if living here made a River Rat out of me--I'd still just as soon climb a mountain or hunt down a berry patch, as go pounding around in a boat all day. But if that's what made my kids into what they are--good hard workers, but not too busy to bring me a fish or a rabbit to fry up once in awhile--I guess that's alright with me.
By Hilary Grimes-Casey
Hilary Grimes-Casey is an energy efficiency consultant and mom living in Manlius NY, and when she can, she writes and illustrates for the amusement of friends and family. Hilary was raised in Redwood NY and on Mink Island, in Hammond NY. She aspires to spend more time at the Mink Island camp she and her husband purchased in 2015, and to write a great Thousand Islands novel.
Editor's note: Reading this beautifully written true narrative was delightful, especially when I got to the sentences: On Otter Creek is where my kids jumped in the water and never really got back out. That's where my firstborn would lay in bed at night, practicing holding his breath so he could stay under longer." You see, I was a great admirer of this lady's first born and enjoyed his many memories'… you will too. See Articles by Hunter Grimes.