There can be no disputing Clayton is the boating capital of the Thousand Islands both on land and in the water. This small U.S. town on the St. Lawrence River has been transformed over the past two decades into a charming waterfront village with upscale shops and restaurants.
Its resurgence has found an appropriate anchor in the Antique Boat Museum, the largest freshwater nautical museum in the world. Its shores are dotted with wooden antique boats, sailboats, ships and yachts.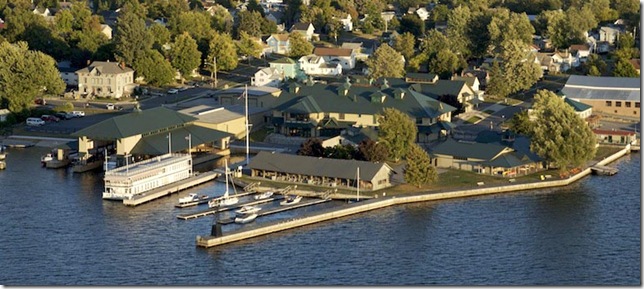 There can be no disputing Clayton is the boating capital of the Thousand Islands both on land and in the water. It is home to the Antique Boat Museum, the largest freshwater nautical museum in the world. Its shores are dotted with wooden antique boats, sailboats, ships and yachts.
"People come here because they love boating," said David Montrois, a financial adviser from Tallahassee, Fla., who lives here in the summer months in a waterfront farmhouse built in 1830. "You try to describe it but you can't. There's no other body of water like it."
Montrois, who counts a century-old St. Lawrence rowing skiff made in Clayton among the boats at his dock, is a New York State native who vacationed here as a child and returned as a summer resident 10 years ago.
The village of 2,300 people is enjoying a revival as a result of the influx of second-home buyers in the area over the past decade or so that doubles its population in the summer. Upscale shops in historical buildings line the village's streets while waterfront bistros like Bella's - which sells gourmet sandwiches named after area islands - offer patio views of the river and Calumet Island while children swim off public docks along the harbour.
The classic and antique wooden boats on display at the Antique Boat Museum are Clayton's biggest tourist draw and its annual Antique Boat Show and Auction and Antique Race Boat Regatta draw thousands of visitors annually. Boats with names like Glamour Girl, So Sweet and Sophisticated Lady were on display at the museum's marina at the antique boat show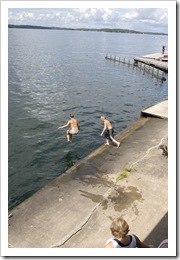 .
"This is a premier show and one of the top shows of the country," said one of the event's judges, Fred Marks.
"This is where all the boats were being built in the Gilded Age," said Anthony Mollica Jr., author of Classic Boats of the Thousand Islands. "The area was a great hub then and it's still where people come from all over the country to search for boats."
Clayton's history is also displayed inside Corbin's River Heritage on the village's main street of Riverside Drive. The store carries historical photographs and a collection of books on the Thousand Islands.
Photo by Kim Lunman
Children take advantage by swimming at the public dock in Clayton
The shop was owned by the late Les Corbin, a local photographer who overcame a childhood illness that confined him to a wheelchair, to capture images of the river and its neighboring islands that now hang on the store's walls. The porch on the back of his former studio overlooks Calumet Island, where the foundation of a castle built by American Tobacco Co. millionaire Charles Emery is all that stands after a fire destroyed the estate more than 50 years ago.
"It was a lived-in castle, a beautiful castle," said Corbin's wife, Verda, who still works at the store and is the co-author and author of several books on Clayton.
Like many small towns in upstate New York, Clayton suffered in the 1970s as businesses shut down and vacationers went elsewhere. But it's made a comeback in recent years as the community has restored its historical buildings, including the Clayton Opera House.
"I see Clayton as a very thriving and upscale river town," said Kathy Danielson, who transformed the village's movie house into a chic wireless coffee shop called Lyric Coffee House after the original 1914 Lyric movie theatre. It took the Toronto native and former Gananoque resident nine months to renovate the cafe, which features vintage movie posters and a flatscreen television monitor on the wall playing classic movies. Other popular shops include Michael Ringer's St. Lawrence Galleries and the renowned Gold Cup Farms 1000 Islands River Rat Cheese Store.
But it's the boats of North America's Venice that are generating some serious buzz here. Last month, the New York Times named Clayton's Antique Boat Museum as one of its 25 Northeast Getaways this summer.
Its extensive collection includes runabout speed boats and skiffs as well as Canadian boats from the Thousand Islands.
"We celebrate both sides of the border," said John MacLean, executive director of the Antique Boat Museum.
While a recent proposal to pair up with Gananoque for a Canadian campus has been shelved, the museum isn't ruling out other potential partners on this side of the border including Brockville.
"We would like to have a Canadian presence," he said. "We feel it's an international community."
Clayton had its first antique boat show 44 years ago as an informal gathering organized by boat owners. That has led to a world-class nautical museum that recently raised nearly $9 million for new exhibits.
"It's a priceless collection from all over North America," said MacLean.
It established the Thousand Islands Antique Boat Museum Trust as a bridge between Clayton and Canada's boating history. Canadian boats in the collection include a classic speed boat named Miss Canada.
The museum also offers St. Lawrence skiff rentals for rows and rides on runabout speedboats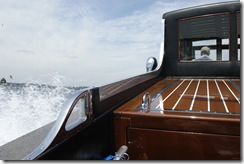 on the river as well as tours of the 106-foot houseboat La Duchesse, a waterfront museum of its own, featuring elegant rooms with fireplaces and even a piano. The grand houseboat was built in 1903 for multimillionaire George Boldt, manager of New York City's Waldorf-Astoria Hotel and has been on display since it was donated to the museum in 2005.
Photo by Kim Lunman,© Recorder and Times 
While more summer residents are buying second homes in the area, local residents have also returned to Clayton after moving away to return to their native Thousand Islands.
"We came back because of our incredible love of the St. Lawrence River," said Lisa Kessler, a native of nearby Cape Vincent, who moved to Clayton with her family after living in Colorado Springs. "It's in our soul." "People have a lot of pride here. Over the last 10 years or so there's been a lot of revitalization of the village. There's a quaint appeal."
by Kim Lunman KimLunman@ThousandIslandsLife.com

Kim Lunman is an award-winning Canadian journalist whose work has appeared in The Globe and Mail, The National Post, Reader's Digest, The Calgary Herald and other newspapers. She has returned to her hometown of Brockville, "City of the 1000 Islands," where she is a staff writer and photographer for the Recorder and Times. Kim recently included this article in a series on the Thousand Islands called "Island Treasures" published by Recorder and Times as a souvenir magazine in September 2008.