The tradition of worship in Half Moon Bay began in 1887.  People came from neighbouring islands and from Gananoque to meet for a Vesper Service early on Sunday evening during July and August.  Situated on Bostwick Island in the Admiralty Group, the place is a natural bay of carved rock, compliments of the retreating glaciers.  David Wallace, from Amesbury Massachusetts designated this land in his will "always for a place for the Worship of God and for no other purpose".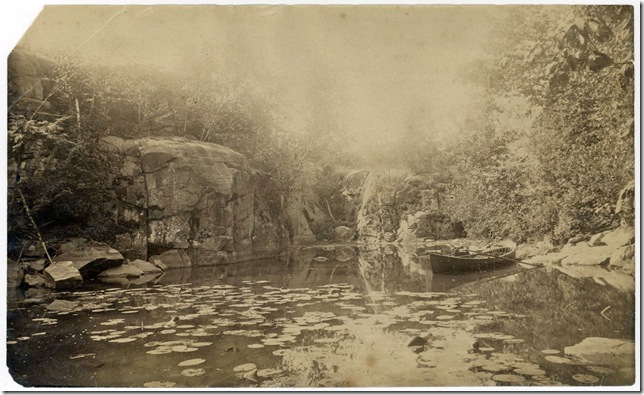 Photo: Sagastaweka Island family papers.
An 1887 photograph of a natural bay of carved rock, compliments of the retreating glaciers, which they called Half Moon Bay.
Photographs show the congregation in rowboats and canoes with the ladies in dresses, hats, gloves and the gentlemen wore suits or jackets, stiff-collared shirts and ties. Sunny skies brought forth the parasols.
As the years wore on, power boats joined the gathering.  Often a water taxi from Gananoque transported visitors who did not have boats of their own.  Local ministers were "rotated" to take the service, and preach.  A pump organ was brought in by barge to provide music. The parade of boats heading to Half Moon Bay on a Sunday afternoon was quite a sight.
Today the tradition continues with some modifications.
Although the bay looks much the same, the congregation and their mode of transportation don't - casual clothing, kayaks and "Sea-Doos", sailboats and power boats, plus the occasional family pet. Those attending still remain in their boats, rafting together or attaching to the rock cliffs.
Electricity on Bostwick Island has meant a musical change from organ to "keyboard" and often there are guitars, violins, a cello or a trumpet to join in. Attractive signs identify Half Moon Bay and list the Sunday-service dates - usually the first Sunday in July through to the second Sunday in August. The Services are at four o'clock.
Every week a different minister is invited to take the service,  For some, it is a return visit. For others it is a new experience and an introduction to this part of the Thousand Islands.  In the event of inclement weather - the service in not canceled but moved to the veranda of a nearby cottage.
Volunteers bring visitors from the PUC dock near the Gananoque Municipal Marina. A sign indicates pick-up times. No reservations are required and this service is free. However, if a large group wishes to attend it is recommended they notify a Foundation-board member so nobody is left behind.
Half Moon Bay is managed by a charitable foundation created in 1971 for the "acquisition, preservation, maintenance and operation of Half Moon Bay as an outdoor Church".  The members of the Board of Directors are volunteers.
Collection proceeds allow not only for the services to continue but also allow donations to local Canadian and US charitable organizations.
The services present a wonderful opportunity to meet ministers from various Christian denominations and to worship and give thanks in a beautiful-and-natural setting. It is a charming place for a wedding or a baptism.  So, come and worship and join your voices with the Saints of Old at Half Moon Bay.
By Carolyn Pratt, Half Moon Bay, call 613 530-3523 or 613 382-4015 for Information.
Carolyn Pratt is a fifth-generation Thousand Islander who has spent all but two summers in residence and can truly say she takes pride in helping to preserve the place she loves.  A nurse by profession and a volunteer by nature, many organizations in Montreal, Kingston and the Thousand Islands have benefited from the good works and deeds of Carolyn and her husband, Geoffrey.

 
Editor's Note:
The congregation at Half Moon Bay thank the Foundation board members, led by Douglas Goodfellow, and all those who over the years have volunteered in one way or another. Thank you to Tremont Islander, Thornley Stoker who designed a modern tag line:  "Tallest Cathedral Ceiling in the World" to the Don and Anne Byers family and to former TI residents Jane and Rob Hanson.  They stepped in many years ago and designed the service to welcome children, visitors and traditional worshipers.  We all benefit from their devotion.