Written by
Susan W. Smith
posted on June 13, 2018 12:32
"Thanks so much for sharing your wonderful talent with us." Such a simple thing to say, but when I wrote this to Stuart Arnett, I truly meant it.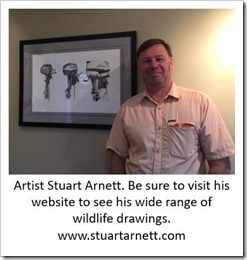 I discovered Stuart through an email message and soon after I invited myself to meet him in Ottawa…The tour of his walls was far too short.
Stuart grew up in Gananoque. Although not focusing on a career in fine art, he claims his love began in the summer of 1979, when his high school art teacher received a government grant to have his art class draw and create a calendar of several historic sites throughout the county. That summer, Stuart drew the Morton General Store, the Plum Hollow Cheese Factory and the Opinicon Lodge. Now forty years later he still captures his inspiration from these locations.

I have seen the logo of the "Artists for Conservation" before, but now I understand more and can appreciate why Stuart is proud to be a signature member. AFC is an international non-profit organization, representing 500 artists, from 30 countries, who are committed to conservation through their nature/wildlife art.

He is most adamant that the profits from his works support wildlife conservation. One of his past projects was helping to save the Philippine Eagle by forming a partnership with the Philippine Eagle Foundation.
Today he is concentrating on "Artistic Cartography". He says, "this combines a geographical map with graphite, Staedtler Marker and paint. This art form allows the subject matter to be paired with it's natural habitat."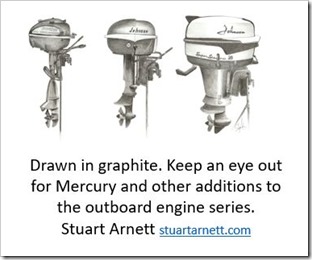 He also has captured motors – yes – motors, something dear to the heart of every Thousand Islander. "The Johnsons" is a progression of Johnson Sea Horses starting with a 1946 little one that used to come in Sea Green, then a 7.5 hp 1950's in Red & White, and finally a 1958 Super Sea Horse 35 hp, which came in Gold & White.
His interests do not end with a graphite pencil in his hand – he is also a proud beekeeper! One that likes to explore. The Arnett's have a Volkswagen Westfalia that looks like it never stands still. Their website. "Lifeisabuzz.com" tells the story.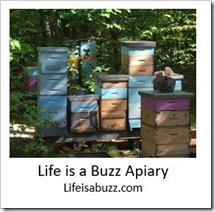 "Life Is A Buzz started as a desire to get back to the rugged basics of living. Growing up in the backwoods of Gananoque, ON, I've taken my fair share of dirt roads and day hikes to know that local and organic are more lifestyle than selling points. As an artist, I've oriented my career towards exposing the beauty of this harsh and flourishing environment and have been kept in constant connection with the affairs of the land. By combining the by-products of busy pollinators and my creative talents, we're taking steps in the right direction to preserve the wilderness."
So, don't take my word for it – have a look and join me in saying Thanks for Sharing.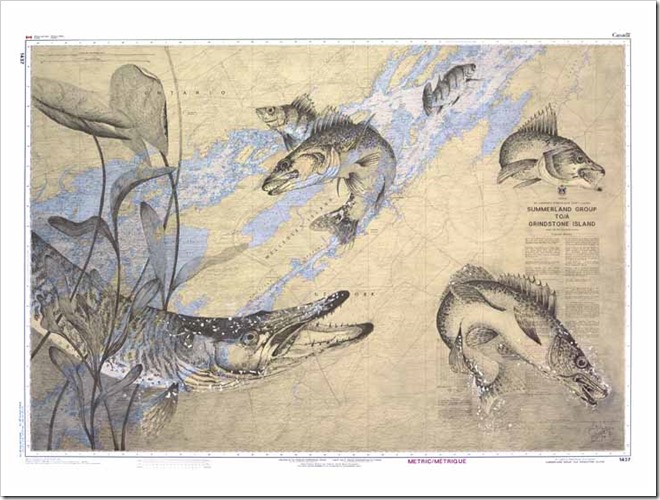 "Ambush" - this is a large piece done on a nautical chart of the 1000 Islands and pictures a huge Muskie coming out of the shadows trying to catch a pickerel (Walleye) and the fish scatter in an attempt to confuse the larger predator. This Artistic Cartography piece is done in graphite, Staedtler marker and watercolour paint.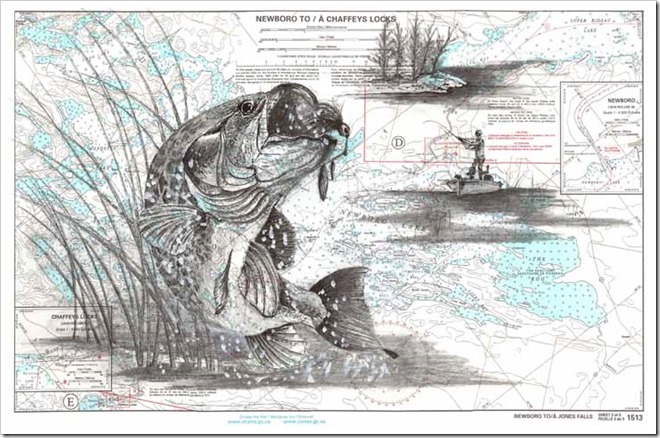 "Hooked" - this is another Artistic Cartography piece that was done for the Opinicon Project. The Rideau System is a huge draw for bass fishermen, from Ontario and the upper United States. Again, it is done in graphite, Staedtler marker and watercolour on a nautical chart of Newboro Lake, Clear Lake and Indian Lake.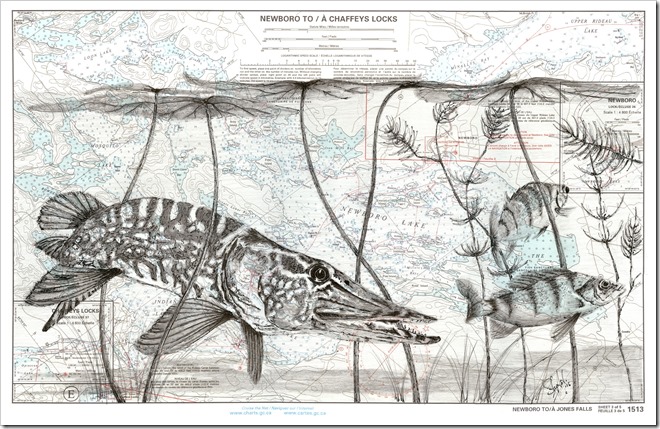 "The Chase", a matching piece for "Hooked", pictures the other main predator in the Rideau System - the Northern Pike. Northern Pike move into our cottage bay every evening, trying to catch some Perch. The Perch like the shallows and weeds, and usually travel in small schools, which help confuse the Pike when they move into attack mode.
The Perch and Sunfish are little drawings done in graphite and watercolour - to bring a little life to them. I used to paint in watercolour, when I was a lot younger, and this is a way to get back to those memories of fishing as a youngster.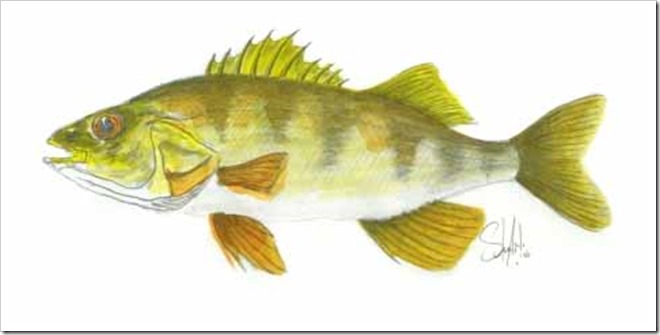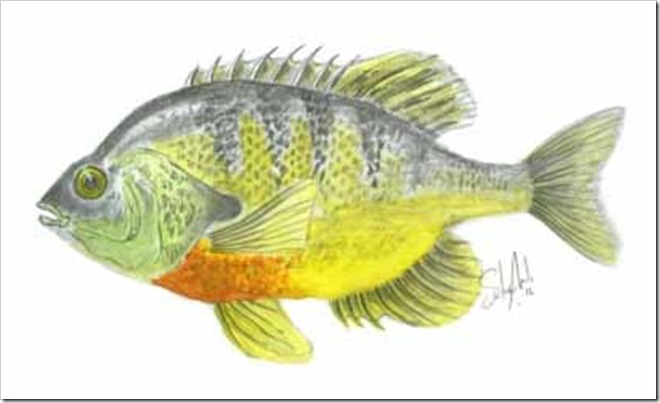 Stuart's artist statement includes, "Connections! You go through life making connections - either with people, wildlife, Earth, yourself, or so many other things in the World. For me, one of my most important connections is the one that I have with nature. It seems as I grow older, the importance of this connection grows ever so more important to my life."
There are many artists in the Thousand Islands, each with a personality. Stuart Arnett is one whose passion for illustrating our favourite places is much appreciated by this editor and I am sure TI Life readers.
By Susan W. Smith, Editor, www.thousandislandslife.com