Editor's note: Many in the region already know Colin Slack, but we suggested that he explain how he started writing music. His description is "right on," as he seems to describe in words, how many of us feel about our special River life.
__________________________
I began writing and performing original songs while attending Gananoque Secondary School, located in the historic Heart of the Thousand Islands. While it seems like a short time ago, it was actually a little more than thirty years. Time flies, marches or meanders I suppose, part of the incredible journey of life we are all granted an opportunity to experience.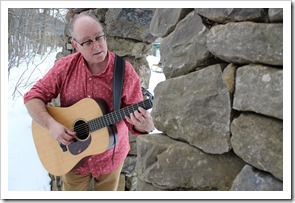 For me, writing and performing original music has been an integral part of that journey, and one I hope to continue in this beautiful part of the world. To me, songs, like friends, are gifts. They typically arrive without being summoned, introduce themselves without pretension and capture the imagination of those lucky enough to have been provided access. Sharing them with others is essential.
On May 27, 2018, I released the first CD of my original songs to a capacity crowd at the Firehall Theatre, a part of the Thousand Islands Playhouse and Springer Theatre organization.
The CD is entitled "Reasonable Secrets", and is comprised of fifteen original pieces, recorded at Concept Audio, in Kingston and manufactured through Westport's Summit Sound.
The songs are a product of my experiences, while growing up in the area, encountering an assortment of persons who made significant and lasting impact on me, both personally and professionally.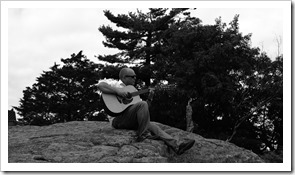 Personally, they catalogue topics like the impact of the demise of the manufacturing industry had on local residents ("We Work The Forge"), grief and recovery following the loss of a parent ("Down Here") and a desire to return home, while working in a distant and unwelcoming urban centre ("The River Rolls").
My professional work is captured through my experiences working in a secure custody and detention centre for young offenders. Also, my lengthy tenure as the Executive Director of the Canadian Mental Health Association of Leeds Grenville, contributed to the landscape of songs on the CD, highlighting the challenges and successes persons experience as a part of their recovery process.
Songs perform another important role for me, personally. They mark a spot in time or provide an anchor of sorts, allowing me to emotionally return to their place of origin, with little effort. Who doesn't associate a song to a memory, aligning participants, geographic landmarks or times of season, into a quasi-emotional compass for personal navigation?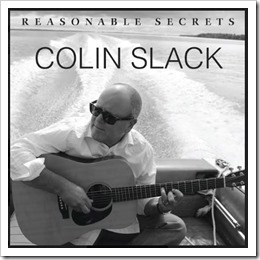 It reminds me of my first night trip, so many years ago on the St. Lawrence River, in a smaller, wooden inboard, named the Apothecary. Helmed by an experienced River navigator and the assistance from a long serving Boat Line Triple Decker Captain, a small group of us departed the dock of the Gananoque Inn, close to midnight, intent on experiencing the River, without the encumbrance of larger pleasure craft. We returned four hours later, none the worse for wear and in possession of the inerasable memory of incredible starlight, lapping waves and the deep sense of peace that the St. Lawrence has provided, to generations of local residents and wayfaring travellers for so many years. It also provided a line for a song I would write years later. "Grant me a half bright moon and a breeze to bring me back." (The River Rolls, C. Slack.)
For those who have not yet experienced the Thousand Islands, I encourage you not to hesitate or delay your visit. It remains an undiscovered paradise for many, and a welcoming friend to those of us fortunate enough to call it home. Best wishes to all of you.
Editor's Note:
Colin Slack will perform in venues across the Thousand Islands, throughout the summer. His CD, Reasonable Secrets, is available in select stores in Gananoque and Kingston and is also available online. For information on where to access Colin's CD, as well as a list of upcoming performances, visit his website, www.colinslack.ca
By Colin Slack
Colin Slack is a singer/songwriter and former Executive Director of the Canadian Mental Health Association of Leeds and Grenville, in Brockville. He is a stunning lyricist, vocalist and accomplished guitar player. Click on his website to learn more about where to access and purchase his music, see photos and videos and join his ever-expanding base of fans.