Have you ever walked across the Thousand Islands Bridge?
I've been crossing that bridge for the past 60 years (gulp!) but had never walked across until August of 2013. That's when the Thousand Islands Bridge Authority celebrated its 75th Anniversary and I decided, "Today's the day". I've taken that amazing walk across the American span every year since, and plan to do so when the Bridge Authority celebrates its 80th Anniversary this August. Come with me!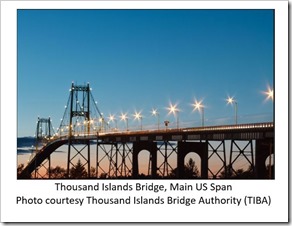 A Walk like No Other
Walking across the American span of the Thousand Islands Bridge is so much more than a scenic trip from the U.S. mainland to Wellesley Island. Still, it's every bit as scenic as you might imagine. On a bright, sunny day you can see at least ten miles upriver (toward Clayton); all the way downriver to the River's bend at Alexandria Bay. At the middle of the span you're about 150 feet above the River's surface, and there's usually a nice breeze that actually makes you part of the experience – you're much more than a spectator. Seagulls soar above and below you. With any luck, you might even see a ship passing beneath your feet, which offers a totally new perspective on ships (and how big they really are).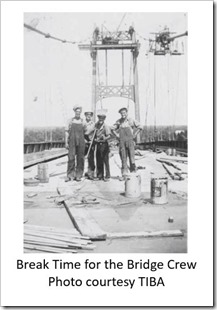 The U.S. span measures 4,500 feet from abutment to abutment. The pedestrian walkway, separated from vehicular traffic by a very substantial steel railing, is about three feet wide – enough room for two people to pass each other. There's greater uphill-and-downhill to the Bridge than you might guess from riding in a car. But if you walked steadily at an average pace, without stopping to watch the River, feel the breeze and take pictures (just try to resist!) you could be over and back comfortably within an hour. When I returned from that first walk across, a friend asked if I'd had any fear that the Bridge might collapse. "It's been here for seventy-five years," I replied. "It'll be fine for a long time to come."
Built to Last
The Thousand Islands Bridge was built to last, with consulting engineers Robinson and Steinman of New York City, retained by the Thousand Islands Bridge Authority for its design. In 1937, Dr. David Steinman was considered the world's foremost bridge designer and engineer. With his associates, Dr. Steinman designed more than 400 bridges on five continents, including the Mackinac Bridge, which connects Michigan's two peninsulas. His partner, Holton Duncan Robinson, was equally proficient in bridge construction work. Born in Massena, NY, Mr. Robinson also served as consulting engineer for the Benjamin Franklin Bridge in Philadelphia, Pennsylvania. Employed as Canadian consultant was the firm of Monsarrat and Pratley, of Montreal. The original firm of Robinson and Steinman, now Parsons Transportation, still serves as consulting engineer for the Thousand Islands Bridge Authority.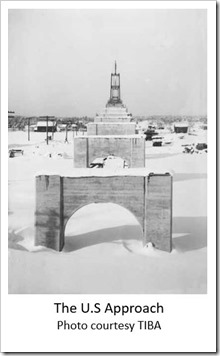 With the design complete, ground was broken for construction of the Bridge on April 30, 1937. The American span would replace the old Lewis Ferry to Wellesley Island, and was built almost directly over the ferry route. The project consumed 575,000 man-hours of labor and 20,700 cubic yards of concrete, made from 30,000 barrels of cement. 6,550 tons of structural and other steel were used in building the Bridge, along with 798 tons of reinforcing steel and 555 tons of cable material.
All seven spans of the Bridge, covering 8.5 miles from Collins Landing, New York to Ivy Lea near Gananoque, were completed in 16 months – 10 weeks ahead of schedule. On the reportedly lovely River day of August 18, 1938, President Franklin Delano Roosevelt and Canadian Prime Minister William Lyon Mackenzie King jointly dedicated the Thousand Islands Bridge in a ceremony attended by over 25,000 onlookers. Both the U.S. and Canadian governments regarded it as a symbol of cooperation and friendship between the two countries. President Roosevelt, speaking from a lectern located beneath the mainland approach to the American span, stated that the Bridge"… in the Thousand Islands, the Garden Spot of nature, stands as an open door." Prime Minister King called the Bridge "a symbol of international friendship and goodwill." After the dedication ceremony, President Roosevelt and Prime Minister King were the first dignitaries to cross the Bridge by car.
Well Maintained
Back in 1938, the Bridge's total original construction cost was $3,050.000 – a mere pittance compared to $28,000,000 in U.S. and Canadian Deck Replacement Projects through the following decades. In fact, since its completion, maintenance on the Bridge has been performed almost daily; it gets washed once a year and repaired as necessary. Painting is an important part of its perennially sparkling visage; this is normally performed from June through October each year. It takes seven years to paint one complete span. Notably, all maintenance is performed by Bridge employees – and paid for with Bridge tolls.
Over the years, many large-scale improvement projects have been completed. The Bridge's first major renovation took place in 1984, when it was widened and re-decked. Its stay cables were replaced in 1991. In the summer of 2000, the American span was re-decked, and further widened with removal of the east-side (downriver) walkway. So, naturally, we'll be on the upriver side when we walk across next month.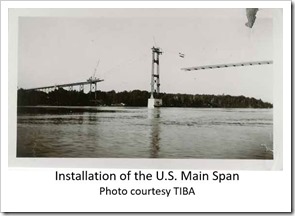 On Saturday, August 18th, 2018, exactly 80 years since the opening ceremony of the Thousand Islands International Bridge system, the Thousand Islands Bridge Authority will host a celebration from 10am-3pm at the former Waterfun Village site on Collins Landing. The day's activities will include a vintage car show, historical presentations, guest speakers, complimentary memorabilia, ice cream, performances by Fort Drum's 10th Mountain Division Band and the Brockville Drum & Pipe band. For more information on the festivities, click here. Especially if you haven't been to a Bridge Anniversary celebration in the past, you won't want to miss it.
Hopefully, we'll see you there! I'll be the guy walking across the Bridge in the Aussie-style hat. Come along; we'll make it a new tradition!
By Wayne C. Strauss
Wayne C. Strauss retired after 21 years as Vice President of OppenheimerFunds in Rochester, New York. An attorney licensed to practice in the State of New York, Wayne also holds several securities licenses. He has served on the Board of Directors and as a Proctor for Rochester Area Mensa, and is currently a member of the adjunct faculty of St. John Fisher College in Rochester. An Eagle Scout and member of Toastmasters International, he spends as much time as possible aboard his boat "Convexity," in the Thousand Islands. This is Wayne's 6th article for TI Life.